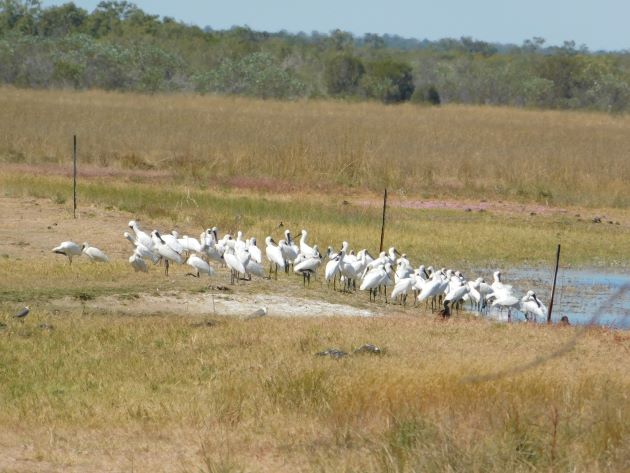 In Broome, one of the most reliable places to observe Royal Spoonbills is from the Broome Poo Ponds Barndarlmada Hut. The Royal Spoonbills roost inside the fence when they are not feeding on the mudflats of Roebuck Bay. For part of the year we can't access the local ephemeral lakes due to the land being flooded, but now we can go to them it is always rewarding to see what is there.
Last weekend we arrived at an ephemeral lake close to the highway to discover a large flock of Royal Spoonbills. Well, that was our initial impression as we pulled up to observe them through our binoculars. Not only was it one of the largest flocks of Royal Spoonbills that we have seen around Broome in recent years, but they were not all Royal Spoonbills. As we counted the Royal Spoonbills we realised that there were actually two Yellow-billed Spoonbills in amongst the flock.
There were a total of 69 Royal Spoonbills and 2 Yellow-billed Spoonbills, but you had to look carefully to see the two different species. Thankfully if the bill was hidden they had different coloured legs too! We had encountered a Yellow-billed Spoonbill in the area last year that appeared to have a stick embedded in its breast, but we have no idea if this is one of the birds now present. We know that Yellow-billed Spoonbills breed further south and no doubt start to roam around once they leave the breeding colony.
We always go bush-walking when we can and circumnavigating this expanse of water produced a great variety of birds. The stand-out bird species for the day was definitely the large flock of Royal Spoonbills, though. We chose not to try and get too close, but give them plenty of space. They were however easily disturbed and moved around the lake.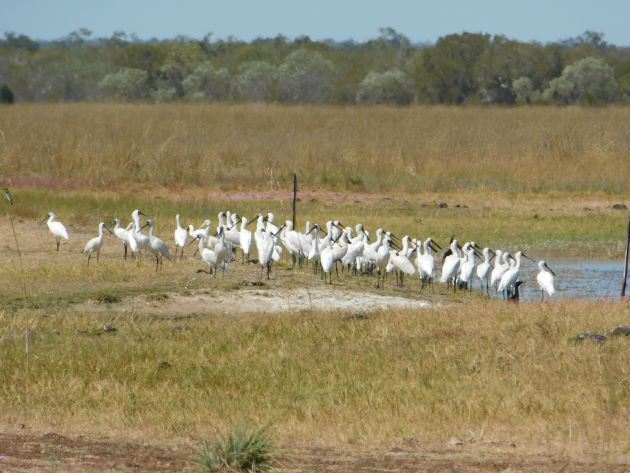 Flock of Spoonbills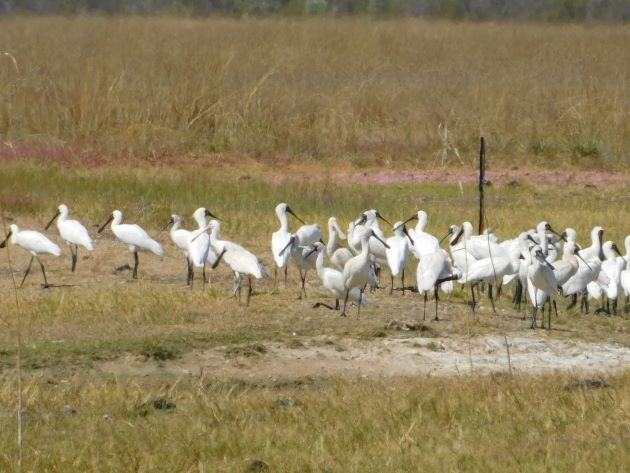 Yellow-billed Spoonbills left and centre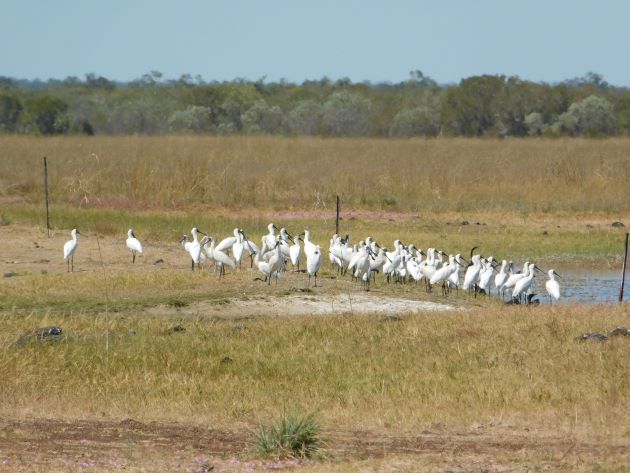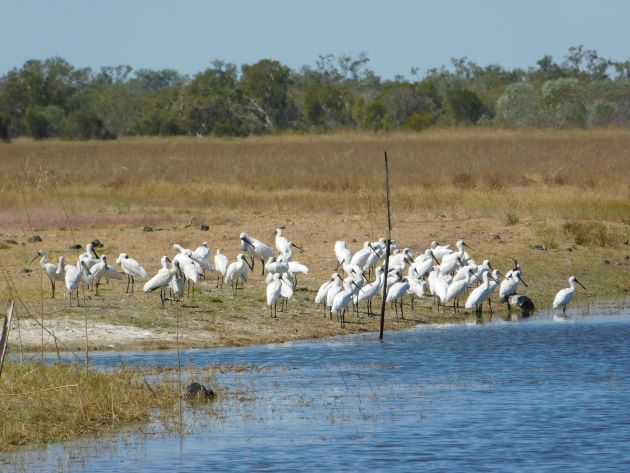 Royal Spoonbills and Yellow-billed Spoonbills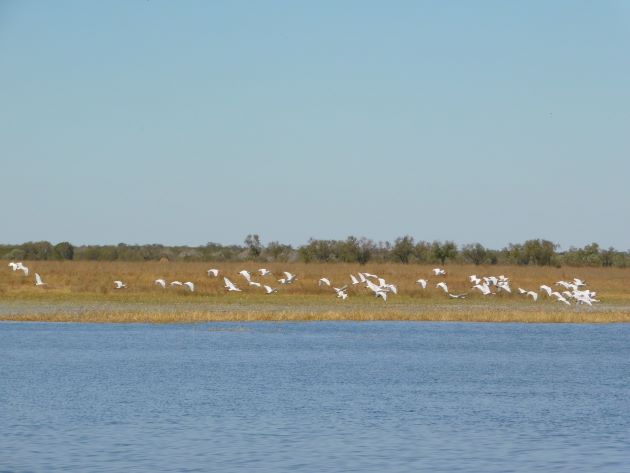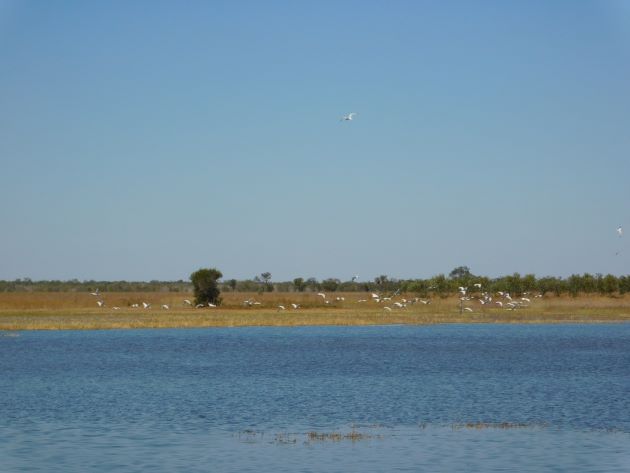 Spoonbills in flight
The Royal Spoonbills and Yellow-billed Spoonbills then landed amongst White Ibis, Glossy Ibis and Egrets, so then it was not as easy to count them!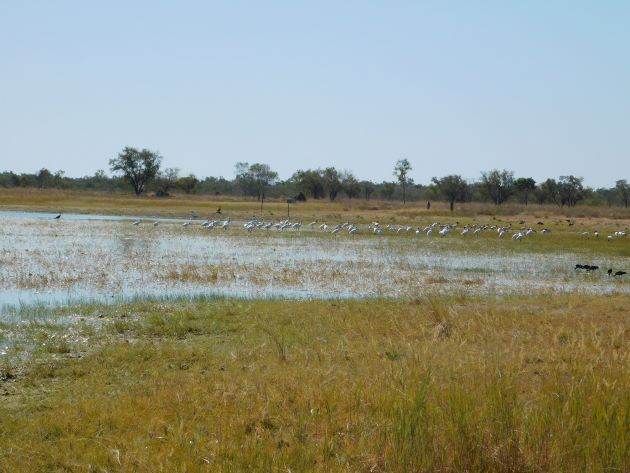 Feeding at the ephemeral lake
In case you are wondering about the pink hue in most of these photos it is our native flowers that thrive after good wet season rains. The first photo shows a type of sundew. These native flowers appear to be able to thrive in the poorest soil, but make for some nice colour in what would be an otherwise barren landscape.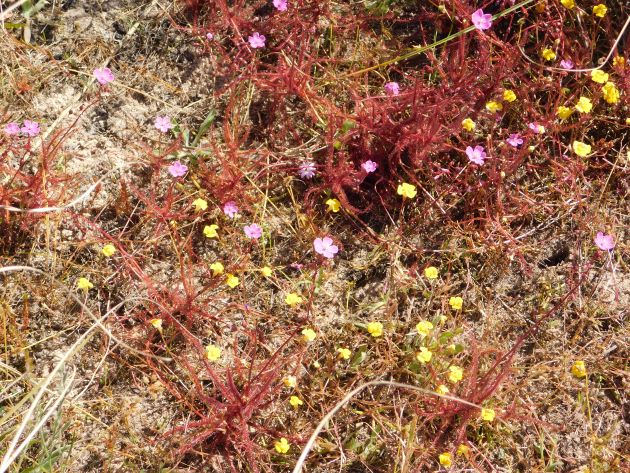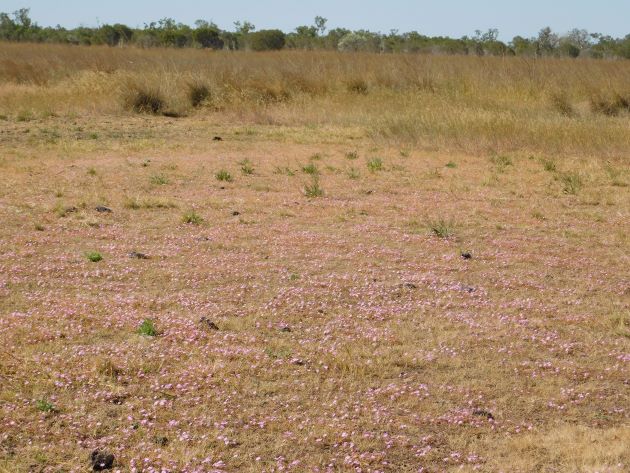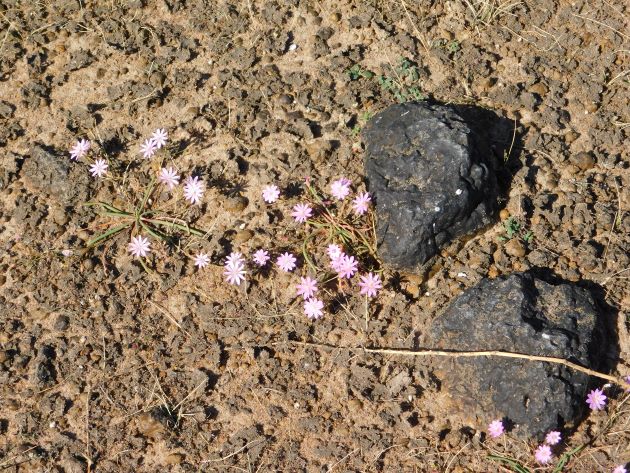 Native flowers
The land will continue to dry out over coming months and more and more birds will search for water. I have observed thousands of Plumed Whistling-Ducks heading to the Poo Ponds this week. It continues to be cold and sometimes foggy overnight and our socks are getting a run for their money this year!