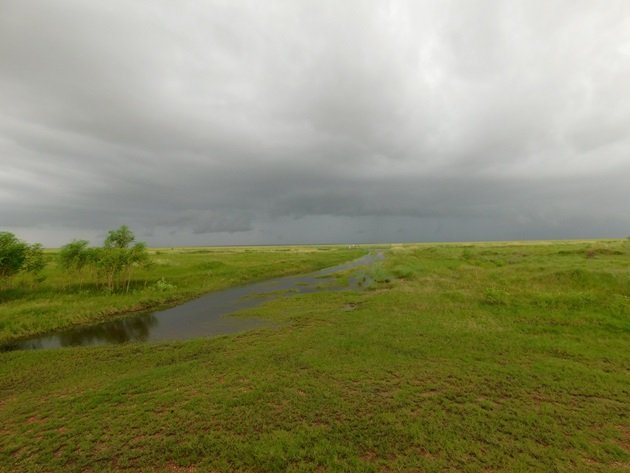 In Broome we have been getting some good isolated rain events recently. They are so isolated that it could be raining very close by, but not actually where you are. There has also been another tropical low that came very close to Broome dumping heavy rains and then continued around the coast of Western Australia. It didn't become a tropical cyclone thankfully and just brought rain. Major highways have been closed and it is advisable to check the Travel Map before setting off on any journey at the moment.
On Thursday we went out of town to check on the situation across Roebuck Plains from the main highway. Often more rain falls out there than in town and the landscape is now flooded and flowing in many sections. It is not flowing across the highway yet, but the situation can change fast. In fact it did not look like rain when we left home, but these isolated showers pop up out of nowhere sometimes. The header photo is the view out across the plains from the highway. This was the access track to part of the station, but it is now flooded.
Before we reached the plains there was roadkill and we observed three Wedge-tailed Eagles in a tree. It is not unusual to see Wedge-tailed Eagles around Broome, but rarely three all together. This bird species is known to travel large distances around Australia.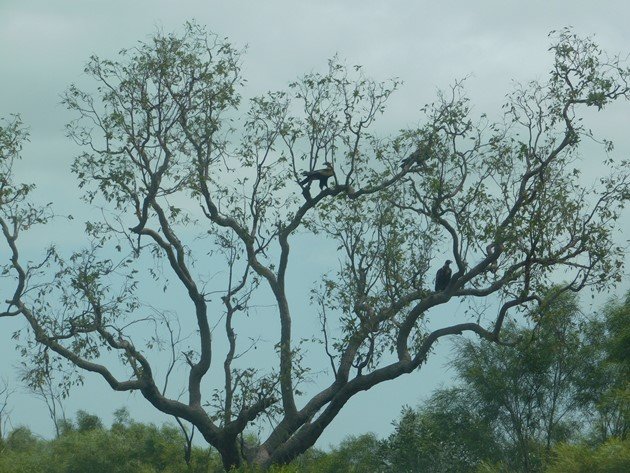 Three Wedge-tailed Eagles
The land is a lot more flooded than it was a few weeks ago. The Magpie Geese have dispersed from the previous area they were in, because it got too wet. They are no doubt breeding here once again this year. The Purple Swamphens are also nesting in the area. They are almost hidden until they take off!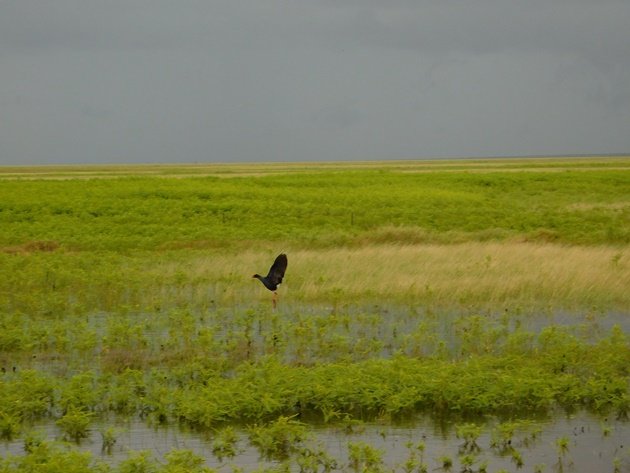 Purple Swamphen
We encountered around a thousand Glossy Ibis wandering through the long vegetation. They are quite possibly here to breed once again.
Glossy Ibis grazing
All of the station access is flooded from the highway and the birds are lining the tracks. Black-winged Stilt have been in the area in large numbers to breed in previous wet years. We expect more and more birds to arrive in coming weeks as we get more seasonal rain.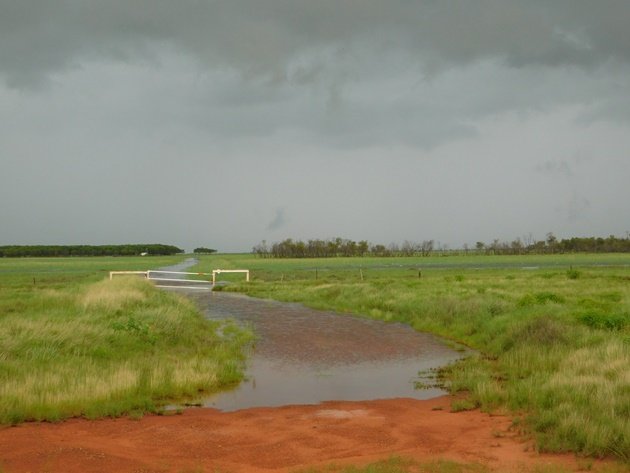 Black-winged Stilt lining the track
A fourth Wedge-tailed Eagle was perched on one of the posts as we drove across the plains. We also observed our first Swamp Harrier for 2021. It was keeping all of the other birds alert with its constant swooping.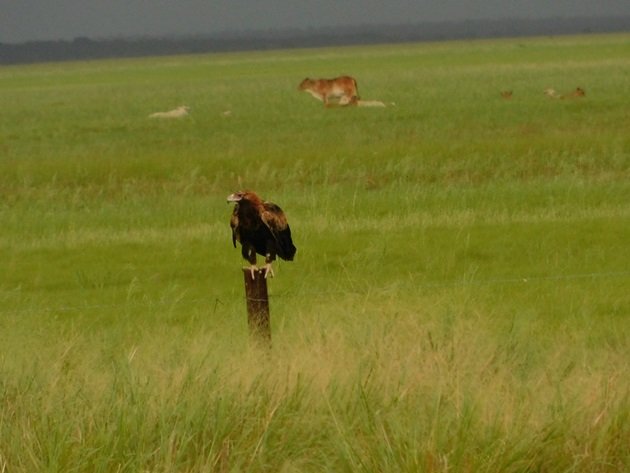 Wedge-tailed Eagle-bigger than the cattle!?
We also found our first Pink-eared Ducks for 2021 and also Red-kneed Dotterels. We expect the Red-kneed Dotterels will breed here once again. The weather was closing in and we turned to come home. The birds appeared to know they needed to move to and the Magpie Geese and Wandering Whistling-Ducks were flying away from the storm.
Magpie Geese on the move
The birds seem to know what is happening with the weather before we do! All of the Oriental Pratincoles have disappeared now and have likely started to migrate north once again. There are still plenty of locusts about, but the other birds will eat them.
We are looking forward to more tropical low systems dropping rain and none of them becoming tropical cyclones to make for a perfect "wet season".