This Sunday I once again made moves to marvel at the multitude of shorebirds that make Jamaica Bay a must-visit for any birder looking to garner a respectable number on a New York Big Year. Though my goal of 300 birds is modest I am starting to think that mudflats are my home away from home, especially the mudflats surrounding the East Pond at Jamaica Bay. This particular expedition was inspired by the facts that a Wilson's Phalarope had been haunting Jamaica Bay for several days and I had to pick up Daisy in New York for two weeks together up in Albany between her internship and her next semester at law school.
And, as if a shot at seeing a tough-to-find bird and getting to actually spend some time with the always-very-busy Daisy wasn't enough, I was also being joined at Jamaica Bay by Jory, who was very interested in tracking down the phalarope and other shorebirds he had not yet seen for the year. So we made tracks down to Queens and by 7 AM were putting on our boots and getting our gear together for our attempt to see a phalarope.
On the way in we met two other birders and agreed that they would walk down the west side of the pond while we covered the east side with promises to call each other if either group found the phalarope or any other species of note. But prior to strolling through the muck and mud we took a quick look at the bay and were pleased to see American Oystercatchers, Snowy Egrets, and a juvenile Black-crowned Night-Heron in addition to other common birds. The night-heron in particular was cooperative for photography, taking off and circling us, allowing for this flight shot: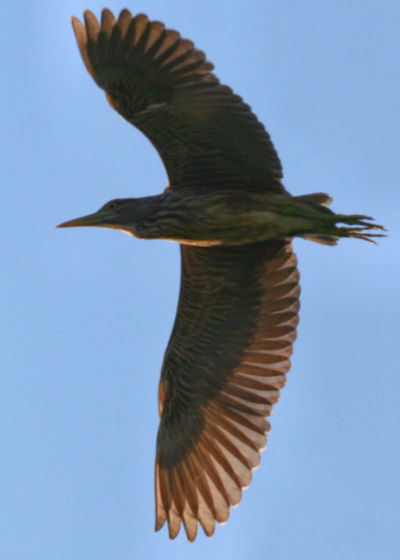 Once we had our fill of the bay Jory and I walked out onto the flats, stepping carefully to avoid the softer and deeper mud, and taking turns carrying and using his spotting scope. The shorebird numbers were low, but the variety was high, and as the tide came in more and more birds flew into the pond area as their feeding areas were inundated. Stilt, Pectoral, Least, and Semipalmated Sandpipers were joined by all the usual gull species, many Short-billed Dowitchers, a possible Long-billed Dowitcher, Forster's, Common, and Caspian Terns, Great and Snowy Egrets, Great Blue Herons, Glossy Ibis, flyover Willets and American Oystercatchers, huge numbers of Mute Swans and a variety of other birds. We also spotted at least four Northern Waterthrushes around the edges of the pond, pausing for some refueling on their southward migration.
The phalarope, however, refused to show. We did get a call from our fellow birders on the other side of the pond who were happy to report a Western Sandpiper that we managed to get extremely distant views of from across the pond through Jory's scope. We wanted a better look that we wouldn't get, but it was enough for both of us to check it off our year lists (though for me it was just a check on my New York year list as I had seen them in January in California).
On the way out for lunch we stopped to look at the bay again and this time it was a Snowy Egret that cooperated with my camera: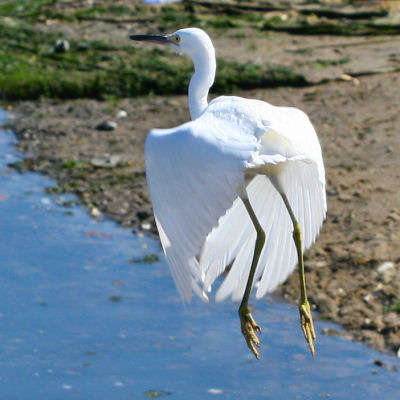 Once we were done with our lunch we headed a little south of Jamaica Bay to Big Egg Marsh, hoping to find Jory his first-of-the-year Saltmarsh Sharp-tailed Sparrow. We failed in that mission but did see many more shorebirds, terns (including a Least Tern), and a whole lot more birds than I expected to see there. I guess when high tide comes, the birds really flock to where they have room to land!
We returned to the East Pond, hoping the rising tide had driven more shorebirds to take refuge there. It had, but they were all of species we had already seen. Nevertheless, it was impressive to see the sheer numbers of birds: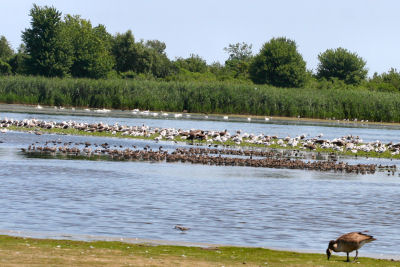 lots o' birds at the East Pond
So we stood in the muck and saw lots more birds and felt the sun beating down and then Jory had to leave. I, on the other hand, had gotten a call from Daisy to let me know that she had been bumped from her flight and wouldn't be in until 8 PM. So I went for a walk around the West Pond and didn't really see anything new, with the exception of a singing American Redstart in the North Garden. By the time I was done walking around the West Pond it was 4 PM and I was exhausted. So I bought the Sunday New York Times and sat in my car until Daisy's flight came in and then we drove back to Albany, getting in after midnight.
Talk about a loooong day. And for one lousy New York year bird. Oh well, I had a good time with Jory, got some pretty good pictures, and some good looks at shorebirds so I would say it was worth it.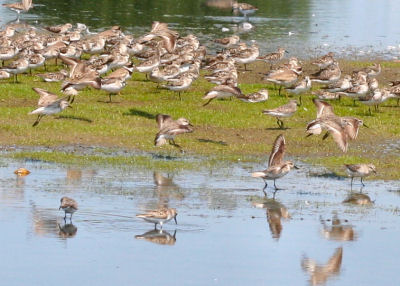 Semipalmated Sandpipers and Plovers