When one thinks of Western New York, seabirds don't immediately spring to mind. However, terns, sandpipers, plovers, and the like don't mind drifting hundreds of miles from the seashore, particularly to lands rich with lakes. The corridor between Rochester and Syracuse apparently suits shorebirds just fine since Montezuma National Wildlife Refuge is renowned for its summer supply of them. Seth and I aspire to visit Montezuma every August. This year, we made it just in time.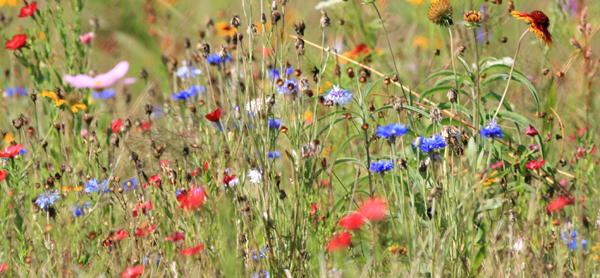 The remarkable wildspace has undergone some significant ecological changes recently, not the least of which is the lovely wildflower patch pictured above. Just last year, the refuge wardens drew down water levels in the Main Pool to simulate the natural drought cycle. This year, the waters have returned, and with them the American Coots, Common Moorhens, and Pied-billed Grebes I've come to associate with the refuge. Waterfowl and waders of every sort might be found here but we mostly viewed the most common: cormorants, mallards, black ducks, teals, shovelers, and Wood Ducks galore mixed in with Great Blue and Green herons. One of my favorite parts of visiting here in August is spying the rapidly-growing chicks.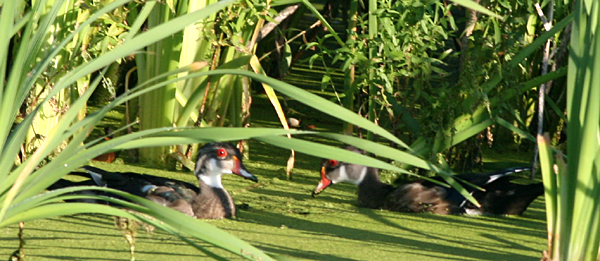 Another unexpected alteration to the ecosystem is that the shallow scrape that used to be so attractive to shorebirds now attracts little more than Canada Geese. Instead, the sandpiper party is being held right at the entrance to the refuge. We spied Least, Semipalmated, and Stilt Sandpipers along with Short-billed Dowitcher, Lesser Yellowlegs, Semipalmated Plover, and Killdeer, merely a sampling of the species commonly encountered here. Moving out to May's Pool didn't improve the shorebird outlook but did deliver a species we'd long given up on. You see, Seth and I have been stalking Montezuma for years for just a glimpse of one of the Sandhill Cranes that are known to haunt these mucklands. On every excursion until now, we have failed to attain a crane. But we all know how it works… the minute you put your quest aside and focus on different goals, your quarry glides unheralded into view. One moment, your heroes are combing the rushes unsuccessfully for bitterns, the next our eyes are glued to two sandhills in flight straddling that fine line between graceful and ungainly. Those exquisite attenuated silhouettes marked my very first cranes.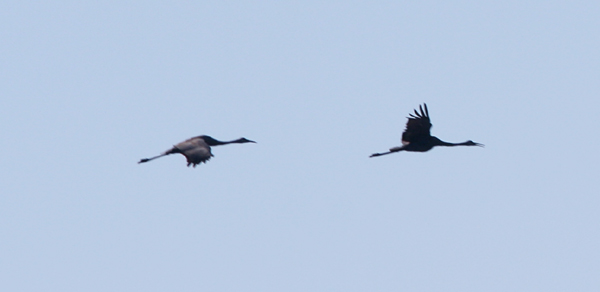 Amazingly, sandhills weren't our most unexpected sighting at May's Pool. In each of our last two visits to Montezuma, Seth and I had the very good fortune to encounter two extremely knowledgeable, not to mention friendly birders. Bob and Leona, stalwarts of the Eaton Birding Society, took us to see our first Trumpeter Swans on New Year's Day 2007. Last summer, another chance meeting saw us accompanying them along Towpath Road to Knox-Marcellus Marsh. In defiance of incalculable odds, lightning struck a third time as Bob and Leona strode on to the platform, scopes in hand. After a good laugh, we paid attention to the Caspian Terns, Osprey, and unexpected Black-crowned Night Heron before moving on to Tschache Pool for more of the same.

The party ended back at the Refuge Visitor's Center where we had an opportunity at last to repay some small portion of our friends' kindness by getting them on the Greater White-fronted Goose that's been loitering with the common Canadas. And with that, we were done. Although the day was still young and the weather perfect, I had to hightail it back home. No worries though, as I'll be making the scene at Montezuma soon enough. This excursion was enjoyable enough in and of itself but I also had an ulterior motive in mind… one that Corey will be sharing very soon…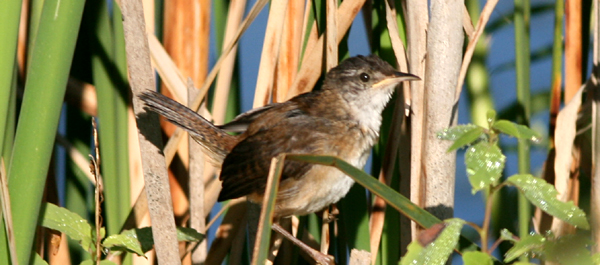 Ya'll come back now…