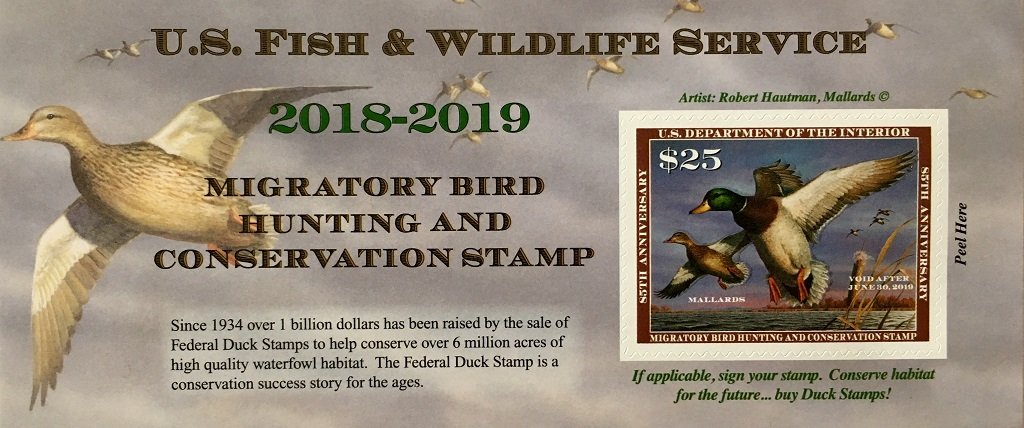 The Trump Administration was a challenging time for conservationists. Other than a sweeping public lands package in 2019 and the Great American Outdoors Act in 2020, there was little or no progress on the conservation or wildlife protection. Indeed, there was considerable cause for alarm.
But a handful of federal conservation programs have permanent and stable funding mechanisms that allow them to operate regardless of who is in the White House. These programs are effectively on auto-pilot. Among them are Federal Duck Stamps and related waterfowl conservation programs.
A Migratory Bird Hunting and Conservation Stamp costs $25 and income from sales goes into the Migratory Bird Conservation Fund ("MBCF"). There are several funding sources for the MBCF, but two predominate: (1) Duck Stamp sales, and (2) import duties on arms and ammunition. In fiscal year 2017, funds available to the MBCF totaled about $87 million. Duck Stamps and import duty contributions were similar, at about $34-38 million each.
Acquisitions made with the MBCF must be approved by the Migratory Bird Conservation Commission ("MBCC"). Membership of the MBCC is set by law: the Secretary of the Interior, the Secretary of Agriculture, the Administrator of the EPA, two U.S. Senators, and two U.S. Representatives.
By tradition, the congressional members are equally divided between Republicans and Democrats.  During the Trump Administration, they were: Senators John Boozman (R-Arkansas) and Martin Heinrich (D-New Mexico); and Representatives Rob Wittman, (R-Virginia) and Mike Thompson (D-California).
Thus, Duck Stamp money goes into the MBCF and the MBCC decides how to spend those funds. To date (since 1934), the MBCF has either purchased or obtained conservation easements for approximately 6 million acres of habitat. Those acquisitions include substantial parts of many of the Top 25 NWRs for birding.
In 1989, the MBCC was further tasked with approving projects under the North American Wetlands Conservation Act (NAWCA), which provides federal funds for partnerships to protect and manage wetlands and other habitats for migratory birds and to implement the North American Waterfowl Management Plan. To date, NAWCA has funded over 2,800 projects totaling $1.6 billion and 6,000+ partners have contributed another $3.3 billion in matching funds.
The MBCC meets twice a year, generally in April and September. During the Trump Administration, the MBCC met eight times and its activities are summarized below, with an emphasis on  impacts on popular birding locations:
Although the size of any individual project may be relatively modest, the MBCC dutifully approves projects twice a year, each and every year. For example, at all the meetings above, the MBCC approved millions of dollars of MBCF funds to acquire hundreds of acres for NWRs. And each meeting approved NAWCA grants to protect at least 90,000 acres. (For perspective, Santa Ana NWR in Texas is 2,087.50 acres, though it is a relatively small refuge.)
And the acquisitions are not just any land: these projects conserve habitat that has been strategically-selected to benefit migratory birds, typically along the major North American flyways. Moreover, once the land is protected, it is habitat that is permanently saved for the benefit of birds and other wildlife.
Even during the Trump Administration, some program of the federal government still worked to preserve and protect habitat for birds.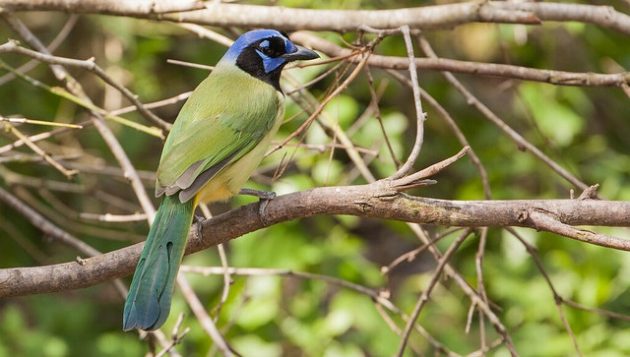 This post was originally published on July 9, 2019, and has been updated.
Photos:  Green Jay at Laguna Astascosa NWR by U.S. Fish and Wildlife Service Headquarters; Geese at Edwin B. Forsythe NWR with Atlantic City in background by U.S. Fish and Wildlife Service Northeast Region.