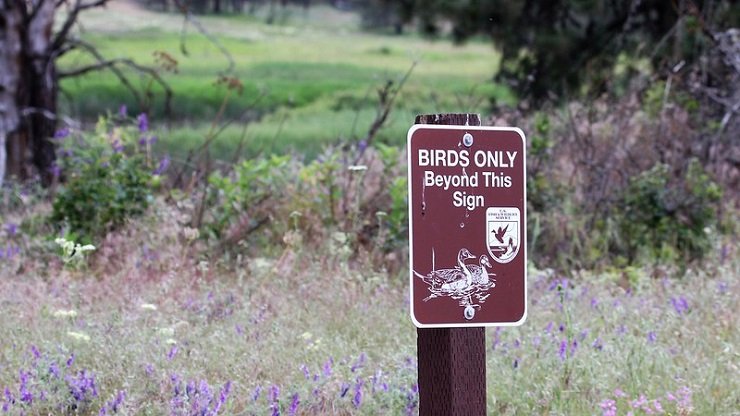 On June, 26, 2020, the 2020-2021 Federal Duck Stamp was released. Birders have been encouraged by the American Birding Association and others to buy Federal Duck Stamps. The argument is straightforward: birders buy stamps and the federal government turns around and obtains important bird habitat, no matter who is in the White House. Since appropriate habitat is both essential and quickly vanishing, the reasoning is that there there are few better ways to preserve birds.
But what kind of impact does it really have for birders? How important are 10,000 or 100,000 or even 1,000,000 acres and where are those acres anyhow?
In 2018, I posted a list of the 25 best National Wildlife Refuges for birding. And the U.S. Fish and Wildlife Service (FWS) has published a list of NWRs that have been created or expanded with Duck Stamp funds. I compared the lists to see whether any land in the Top 25 refuges was obtained with Duck Stamp funds and, if so, how much.
The short answer is that Duck Stamp funds have contributed enormously to many of the Top 25 refuges for birding, including many of the marquee NWRs.
The longer answer is below. But initially, some background is helpful.
# # #
A "Migratory Bird Hunting and Conservation Stamp," more commonly known as the "Duck Stamp," currently costs $25 and income from sales goes into the Migratory Bird Conservation Fund ("MBCF"). There are several sources for the MBCF, but two predominate: (1) Duck Stamp sales, and (2) import duties on arms and ammunition.
In fiscal year 2017, funds available to the MBCF totaled about $87 million. Duck Stamps and import duty contributions were similar, at about $34-38 million each. There was approximately $9 million carried over from the previous year and smaller contributions from a variety of other sources.
Acquisitions made with the MBCF are approved by the Migratory Bird Conservation Commission ("MBCC"). The members of the MBCC are set by law: the Secretary of the Interior, the Secretary of Agriculture, the Administrator of the EPA, two U.S. Senators, and two U.S. Representatives. Tradition dictates that the congressional members are divided evenly between Republicans and Democrats.
So Duck Stamp money goes into the MBCF and the MBCC decides how to spend those funds. To date (since 1934), the MBCF has either purchased or obtained conservation easements for approximately 6 million acres of habitat.
# # #
But what is the impact on the Top 25 NWRs for birding, and, by extension, birders? (For these purposes, we will set aside the obvious value of preserving habitat even if that land is not available for birding.) 
The answer ranges from virtually everything to nothing, depending on the refuge. But broadly speaking, the impact of Duck Stamps is enormous. FWS reports include the overall size of a refuge in acres and the number of acres obtained with MBCF funds. From that, FWS calculates the percentage of the refuge obtained with MBCF money. This provides a rough sense of the importance of MBCF dollars to a specific refuge.
For example, Santa Ana NWR in Texas is a legendary birding location and it was in the news because the Trump Administration proposed building part of the border wall directly through it. (It received a reprieve, though surrounding areas did not.) Santa Ana NWR is relatively small at 2,087.50 acres, but 1,980.50 acres, or 94.9% of the entire refuge, was obtained with MBCF funds. In other words, virtually all of Santa Ana NWR was purchased with MBCF money.
This is hardly unique, as several others also have more than 90% of their acreage purchased with MBCF funds, including: Bombay Hook NWR in Delaware (95.2%), Bosque del Apache NWR in New Mexico (99.2%), Horicon NWR in Wisconsin (98.7%), Lee Metcalf NWR in Montana (96.3%), Parker River NWR in Massachusetts (97.7%), Pea Island NWR in North Carolina (99.2%), and Quivira NWR in Kansas (99.1%).
The list of NWRs from 80-90% is impressive as well: Anahuac NWR in Texas (80.0%), Edwin B. Forsythe NWR in New Jersey (84.3%), Laguna Atascosa NWR in Texas (86.3%), and Ottawa NWR in Ohio (83.8%).
Others are between 25.0% and 80.0%, including: Aransas NWR in Texas (42.7%), Chincoteague NWR in Virginia (69.9%), and Malheur NWR in Oregon (25.8%). Of course, there are some with little or no land purchased with MBCF funds, including Harris Neck NWR in Georgia (0.0%), Desert NWR in Nevada (0.0%), and Kilauea Point NWR in Hawaii (0.0%).  A number of these NWRs were created with land transferred from other federal agencies, so the land was not purchased by FWS at all. For example, Kilauea Point NWR in Hawaii was created in 1985 with land transferred from the U.S. Coast Guard after the lighthouse there was deactivated.
Many of the NWRs that have received the most MBCF support contain hotspots in the eBird Top 100 in the U.S. (as to number of species in June 2020). They include:  Hotspot No.  No. 2 Bosque del Apache NWR (375, species and 99.2% of acres obtained with MCBF money); No. 3 Aransas NWR (367 species and 42.7% of acres obtained with MCBF money); No. 7 Parker River NWR (363, 97.7%); No. 10 Laguna Atascosa NWR (361, 86.3%); No. 22 Santa Ana NWR (348, 94.9%); No. 48 Anahuac NWR (331, 80.0%); No. 70 Pea Island NWR (322, 99.2%); and No. 72 Edwin B. Forsythe NWR (321, 84.3%).
In other words, some of the most popular and diverse marquee birding hotspots in America were disproportionately obtained with Duck Stamp/MBCF money.
A chart with the details for all of the Top 25 is below. While my Top 25 list is subjective and one might quibble at the margins, there is surely no denying the fact that many are among the most popular and highly-regarded birding locations in the country.
The bottom line for any conservation-minded birder is that many of America's best birding locations would not exist or would be much smaller if not for Duck Stamps and the MBCF. Although the statistics do not address the quality of the land purchased or other qualitative factors, it is safe to assume that when it comes to protecting habitat, size matters.
# # #
My view is that every birder should buy a duck stamp every year.  It is surely one of the cheapest and most effective avian conservation purchases a birder can make and it can be made annually.  As an added bonus, Duck Stamps are tiny works of art and allow free admission to any NWR that charges a fee.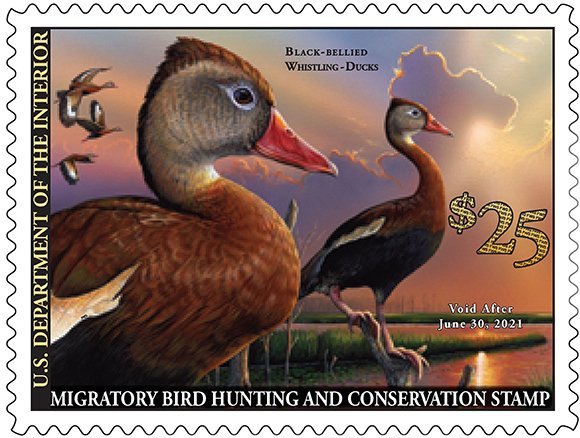 Top 25 NWRs for birding and percent of acres purchased with MBCF funds:
Anahuac NWR (Texas):  80.0%
Aransas NWR (Texas):  42.7%
Bear River MBR (Utah):  36.9%
Billy Frank Jr. Nisqually NWR (Washington):  56.3%
Bombay Hook NWR (Delaware):  95.2%
Bosque del Apache NWR (New Mexico):  99.2%
Chincoteague NWR (Virginia):  69.9%
Desert NWR (Nevada):  0.0%
Edwin B. Forsythe NWR (New Jersey):  84.3%
Harris Neck NWR (Georgia):  0.0%
Horicon NWR (Wisconsin):  98.7%
J. N. Ding Darling NWR (Florida):  7.4%
John Heinz NWR (Pennsylvania):  8.1%
Kilauea Point NWR (Hawaii):  0.0%
Klamath Basin NWR Complex (California and Oregon):  0.0% to 44.6%
Laguna Atascosa NWR (Texas):  86.3%
Lee Metcalf NWR (Montana):  96.3%
Malheur NWR (Oregon):  25.8%
Minnesota Valley NWR (Minnesota):  0.0%
Ottawa NWR (Ohio):  83.8%
Parker River NWR (Massachusetts):  97.7%
Pea Island NWR (North Carolina):  99.2%
Quivira NWR (Kansas):  99.1%
Santa Ana NWR (Texas):  94.9%
St. Marks NWR (Florida):  42.5%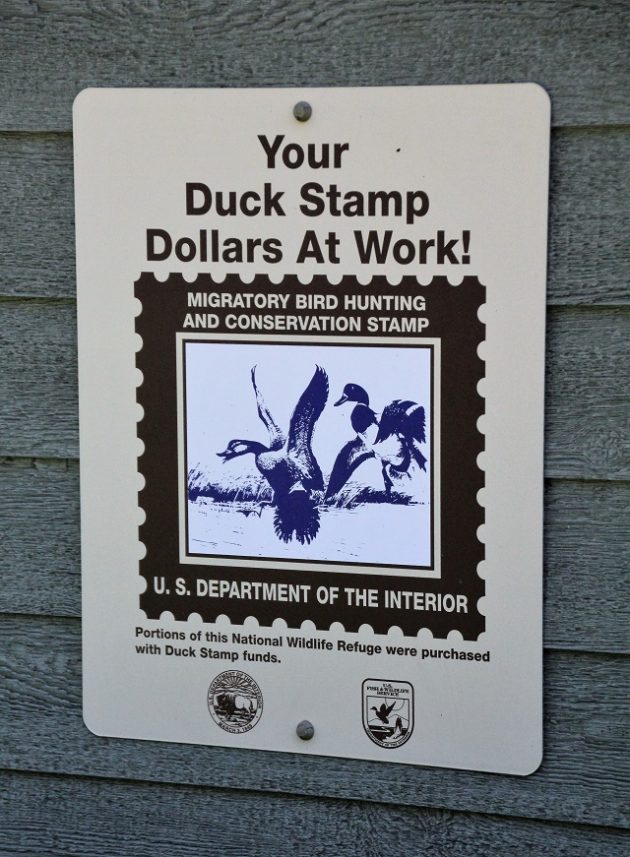 Photos:  Signs by Jason Crotty; Duck Stamp by USFWS. 
This post was originally published on August 14, 2018, and has been updated.