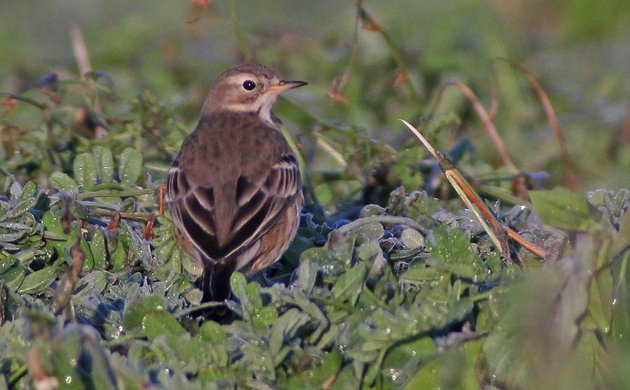 December in the Northern Hemisphere starts slowly but picks up relentless speed as the month hurtles downhill towards a new year. Hope you enjoyed some quiet times this weekend in preparation for the hustle ahead.
Car trouble shut down my big birding plans this weekend, but my local birds kept me entertained. My most interesting sighting involved a Sharp-shinned Hawk stalking and possibly taking a bird in a neighbor's yard. Corey enjoyed a great weekend that included plenty of birding on Saturday morning. While doing a survey of bird life at Edgemere Landfill he was pleased to see the largest flock of American Pipits he'd ever had in Queens. All twenty-two of them share honors as Corey's Best Bird of the Weekend.
How about you? What was your best bird of the weekend? Tell us in the comments section about the rarest, loveliest, or most fascinating bird you observed. If you've blogged about your weekend experience, you should include a link in your comment.