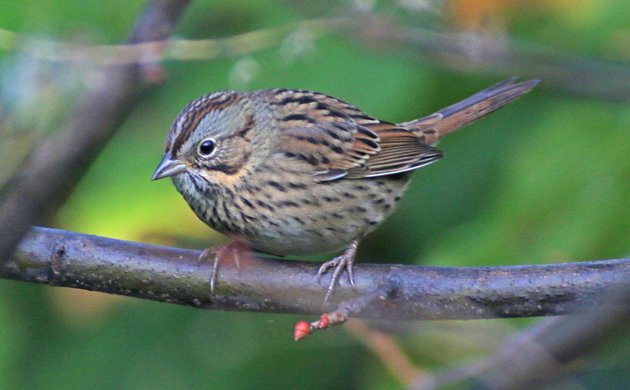 Some of us had long weekends and made them count. Some of us had short weekends or none at all and still made them count. No matter how much time you can spare, you MUST respond to the spectacle of migration taking place right now.
Though it is still September and not really proper sparrow season yet, Corey still managed to turn up a nice Lincoln's Sparrow at Kissena Corridor Park on Sunday morning, his first of the fall. Such a pleasant little sparrow, and easily Corey's Best Bird of the Weekend. My annual sojourn to the Eastern Shore of Virginia delivered all manner of tasty coastal specialties from Seaside Sparrow to Piping Plover to Red-headed Woodpecker (not always coastal, but still cool!) Nonetheless, Merlins in their migratory masses took the prize this weekend. They appeared in numbers everywhere, harassing each other or any other bird they could find. At Chincoteague NWR, I was amazed to spy a Merlin playing a dangerous game of cat-and-mouse over the ocean with a Black-throated Blue Warbler. The poor songbird darted back and forth, even falling briefly into the drink, until one last heroic surge led to safety hiding in the sand behind an oblivious beach-goer's chair.
How about you? What was your best bird of the weekend? Tell us in the comments section about the rarest, loveliest, or most fascinating bird you observed. If you've blogged about your weekend experience, you should include a link in your comment.