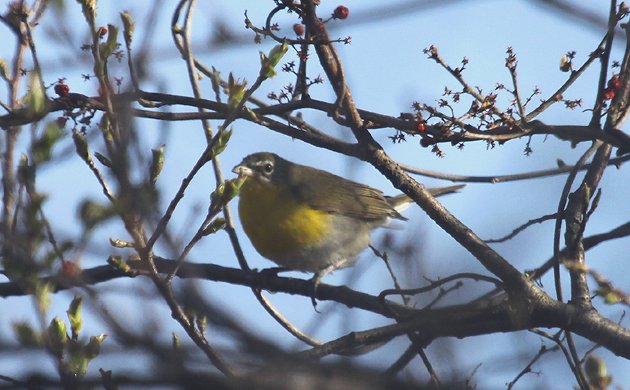 Here in the United States, April 15 is Tax Day, which means that countless Americans have toiled through the last 48 hours to prepare their taxes. Some are surely at it still. What a way to ruin a weekend!
With the foresight to get my taxes taken care of early, I was free to enjoy the cold spring weather and lingering winter species around here. It's nice to see that Red-breasted Nuthatches still haunt my home turf. Corey's Best Bird of the Weekend was a total surprise. He was walking along a trail at Jamaica Bay Wildlife Refuge when he saw a flash of yellow up ahead. His brain instantly shouted "Yellow-breasted Chat" but he refused to listen to it. You can imagine Corey's shock when he got a better look at the bird and it was, indeed, a Yellow-breasted Chat.
How about you? What was your best bird of the weekend? Tell us in the comments section about the rarest, loveliest, or most fascinating bird you observed. If you've blogged about your weekend experience, you should include a link in your comment.