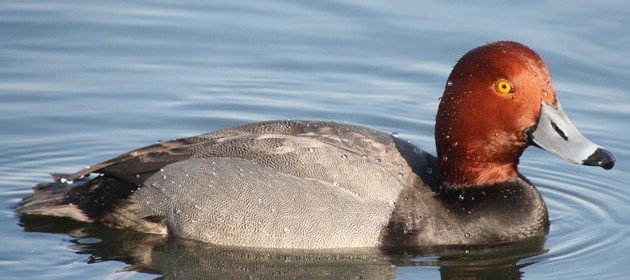 Get excited, bird lovers… a team with an avian appellation is headed to the Super Bowl! For the second year in a row, the Seattle Seahawks will represent the NFC, the Pacific Northwest, and bird lovers everywhere in pursuit of the NFL championship. Congrats, bone breakers!
My weekend wasn't as eventful as Russell Wilson's, but I did locate some open water in the icy Irondequoit Bay Inlet. A huge raft of seaducks included numerous Redheads, a species I don't nearly see often enough. Corey's Best Bird if the Weekend could have been any of several that he and David Ringer enjoyed on a run out to eastern Long Island chasing after rarities on Sunday. While the drake King Eider they spotted at Shinnecock Inlet was not the rarest bird they saw it was Corey's favorite, so it gets the nod.
How about you? What was your best bird of the weekend? Tell us in the comments section about the rarest, loveliest, or most fascinating bird you observed. If you've blogged about your weekend experience, you should include a link in your comment.