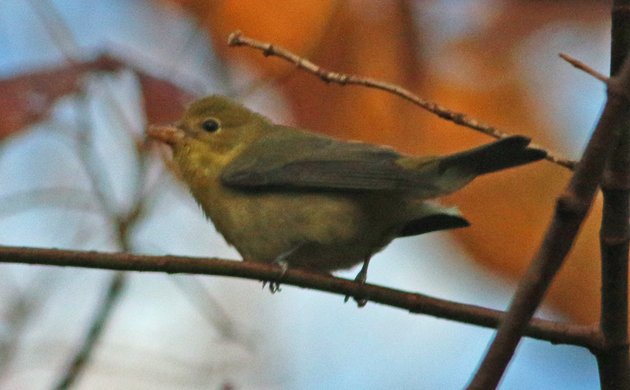 If the timing of Global Big Day means anything, this weekend saw massive birding excitement all over the world. Obviously, your experience may have diverged from the norm. How did it go for you?
Rochester did host a really rare and improbable vagrant this weekend, but I missed it. My consolation prize was a large raft of American Coots. Corey got out birding for awhile on Sunday and while he didn't find the rarity he was hoping to see he still enjoyed a nice autumn morning in the midst of migration. His Best Bird of the Weekend was a young Red-tailed Hawk that landed close by the beginner bird walk he was leading at the Queens Botanical Garden for New York City Audubon. Any time a predator stays still for everyone to get a scope look is wonderful! He didn't get a picture though, as he was busy making sure everyone got a good look. Instead, enjoy the Scarlet Tanager that he found earlier in the morning.
How about you? What was your best bird of the weekend? Tell us in the comments section about the rarest, loveliest, or most fascinating bird you observed. If you've blogged about your weekend experience, you should include a link in your comment.