10,000 Birds is running a series of articles by and about tour guides, tour companies, eco-lodges, and other birding travel organizations. We want to help the birding tourism industry come back strong from the COVID pandemic. Please consider using the services described in this post or any of the other posts we are sharing this February.
Herbert Byaruhanga, affectionately known as "Papa" or father of tourism, is one of Uganda's most distinguished bird guides. His respect comes from his dedication to building the professionalism in avitourism in his country. He is the leading skills trainer of the tour managers, and tourist guides especially bird guides, accredited by Bird Life International . He spends most of his time on birds, birding and photography. Herbert is the founder of Uganda Bird Guides Club, Uganda Women birders Club, Uganda Safari Guides Association, and is the Chairman of the Tourism and Hospitality Sector Skills Council of Uganda.
Herbert is Managing Director of Bird Uganda Safaris, LTD and his company offers a variety of birding and wildlife tours of the most naturally resplendent regions of Uganda, Kenya and Rwanda. He is also the team leader of the African Birding Expo which has made him a members of the World Bird Fairs Council. Herbert holds a B. A. in Tourism Management from Makerere University, Kampala. He holds a high diploma in Tourism.
Herbert travels broadly to attend birding festivals and fairs as an exhibitor and as a guest speaker on the topics of ecotourism development, community-based Skills training focusing on Women in tourism.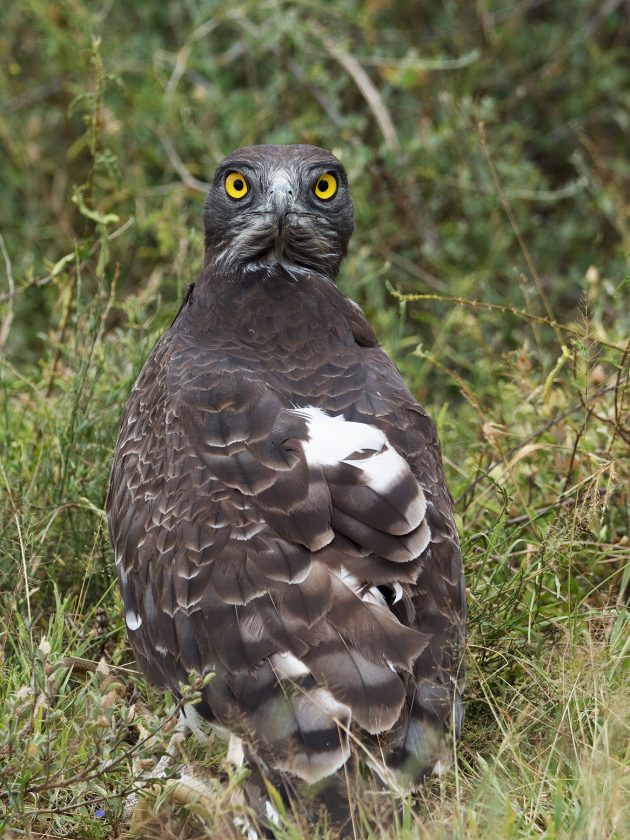 Black-chested snake Eagle with a snake at Matheniko Wildlife Reserve Eastern Uganda
Bird Uganda Safaris is one of the leading ground handler of the International birding companies in the USA, Australia, South American and Europe. Their guides are well trained, and have very rich experiences in birding and customer care, speak several languages, and understand their destination well.
Impact of COVID on Uganda Bird Guides: As it has happened to the avitourism industry globally, Uganda was not an exception. It is very possible to call the cellphone of a bird guides and you don't find it on for several weeks. The bird guides have not worked for over a year now, and of course being a young industry, most of the bird guides had invested in other alternative businesses. The most affected were the local guides and porters who live around national parks and depend entirely on tourism.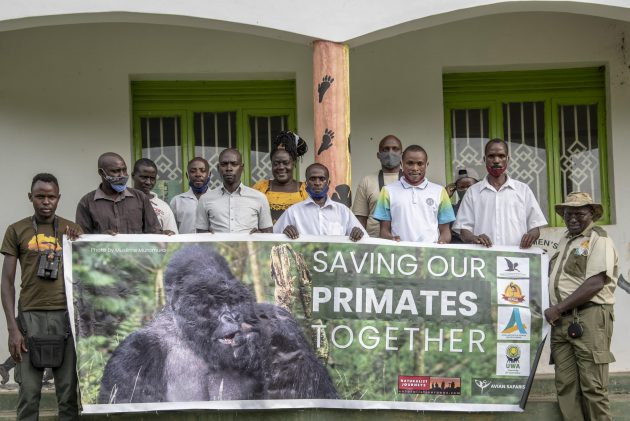 At Bird Uganda Safaris, Herbert and his team established a project Saving Primates through which they have been raising funds to support these groups with food relief, seeds to plant, and will further continue supporting the with more skills in various services that are demanded by tourists.
Nature conservation is one of the core objectives of Bird Uganda Safaris. Improving human livelihoods with alternative means of survival will keep the wildlife and habitats safe.
Learn more about Mike and Corey's adventures with Herbert at the 2019 African Birding Expo.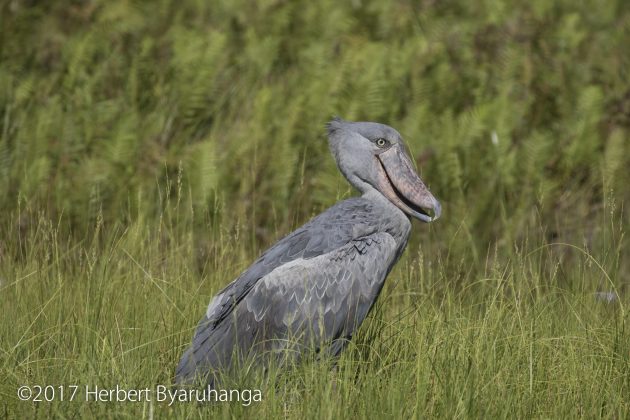 Shoebill at Mabamba Swamp