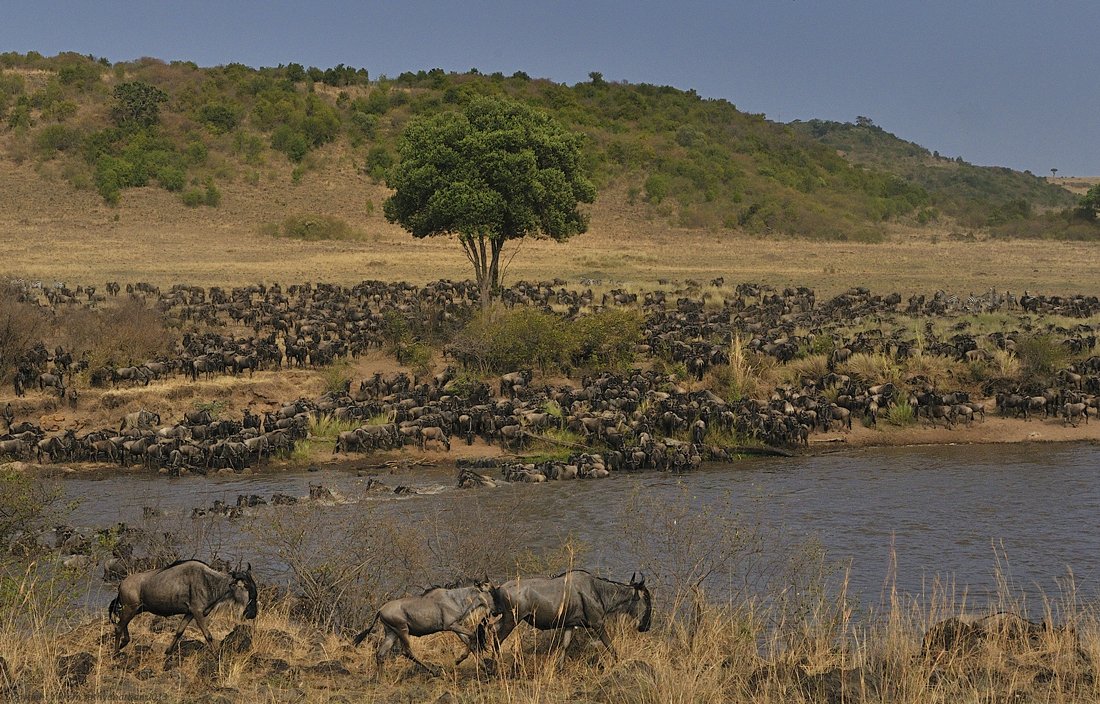 This is the second post in the Birding crème de la crème series (the first, focused on southern Asia, is here). This time we travel to Africa, or to narrow it further, to the Afrotropical region (since the north of the continent avifaunally belongs to the Palearctic).

The bird-richest region of Africa is its equatorial East: Kenya, Tanzania, Uganda, Rwanda and Burundi (unlike the rest, the last one, Burundi, is politically unstable and not recommendable). But the others are what our childhood dreams are made of… We all grew up watching TV documentaries filmed in those reserves – just read the name "Serengeti" and you'll know what I mean.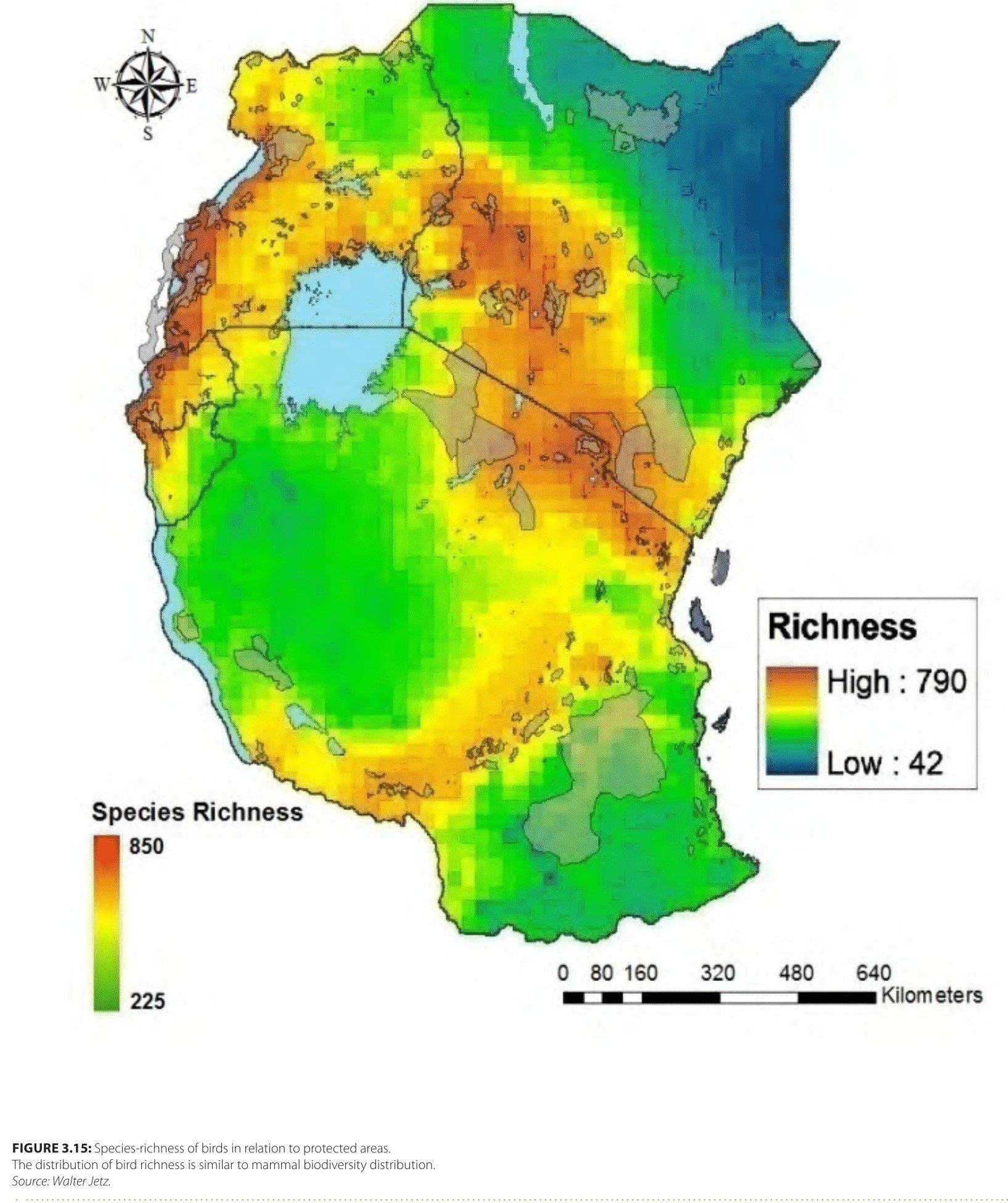 Geographic patterns of species richness for birds (1,558 species) in East Africa at 0.25° resolution (blue indicates low species richness, while brown indicates high species richness). From: Walter Jetz (2012): Report on the vulnerability of East African biodiversity to climate change: Integrating the knowledge base on VETERBRATES, Report of Phase I activities. Collaborative partnership with Yale University. SERVIR Africa Workshop.

As in the first post, I am using eBird as the main information source. At the time of writing, Uganda has 16 hotspots with 400+ so far eBirded species, of which one has almost 600 species. Tanzania has 14 400+ hotspots, of which the top-5 have 500+ (the first one, Ngorongoro Conservation Area even with 600+ sp.). Kenya has 13 400+ hotspots, one of them 500+.

African crème de la crème 500+ eBird hotspot list looks like this:
Tanzania
1 Ngorongoro Conservation Area–Ngorongoro Crater with 603 so far eBirded species
2 Serengeti NP 588 sp.
3 Lake Manyara NP 573 sp.
4 Arusha NP 565 sp.
5 Tarangire NP 519 sp.

Kenya
1 Lake Nakuru National Park with 506 so far eBirded species

Uganda
1 Queen Elizabeth II NP 585 sp.

Finally, South Africa has three 400+ hotspots, namely
1 Mkhuze Game Reserve 458 sp.
2 Phinda GR 447 sp.
3 Kruger NP–Skukuza Camp 428 sp.

I will not bother you with the entire list, but rather choose some of the essential birding areas for each of the three bird-richest countries of East Africa (having a choice, we'll stay within the 500+ reserves).

Tanzania

Tanzania has 1050 bird species, of which about 500 to 600 may be observed in 3 to 4 weeks. The best season for the north-west circuit is February to May, during the rains when most birds breed.

Ngorongoro Crater and Conservation Area
The Ngorongoro Crater is the largest unbroken volcanic caldera in the world. Located 180 km / 110 mi west of Arusha, this reserve covers some 8500 km2 / 3300 mi2 adjacent to the Serengeti Plains. This reserve has a list of 600 species, including the endemic Rufous-tailed Weaver. There are many species of waders and ducks, vultures, raptors and storks. Montane specialities along the crater rim include Hartlaub's Turaco and Eastern Double-collared Sunbird.

Serengeti National Park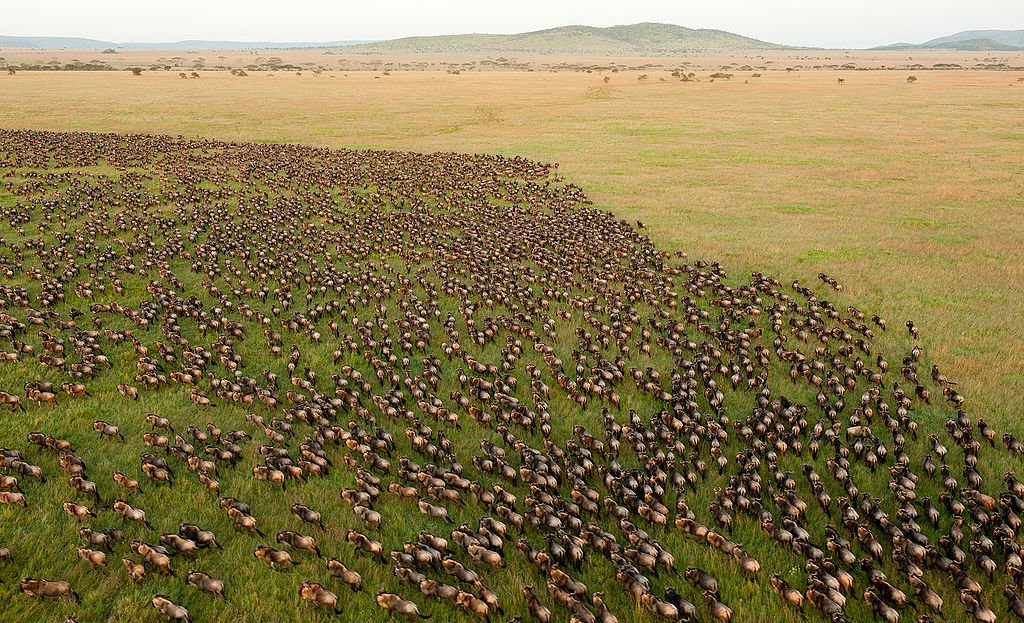 The greatest wildlife spectacles in the world! Photo ZGF / Wikimedia Commons
Serengeti National Park is located 325 km / 200 mi or 8-hour drive from Arusha. The access road passes the Lake Manyara NP and through communal farming lands within Ngorongoro Conservation Area. Serengeti NP protects a huge swathe of almost 15,000 km2 / 6000 mi2 in north-west Tanzania. Over 550 species of birds have been recorded in the park (588 eBirded), including nearly a 100 range-restricted birds, 11 of them endemic or near-endemic: endemic Grey-breasted Spurfowl, near endemic Hildebrandt's Starling, Fischer's Lovebird, etc. With the Wildebeest migration (calving season is January to February), this park is considered to offer one of the greatest wildlife spectacles in the world.

Lake Manyara National Park
Lake Manyara National Park is located about 90 minutes west of Arusha, making it the customary first stop for tours heading to Serengeti. When water levels are high, two-thirds of the park is covered by the alkaline Lake Manyara, but during dry seasons the lake evaporates entirely. Due to its range of habitats, over 500 species (573 eBirded so far) have been recorded and it is often possible to see over 100 species in a day, including a good selection of pelicans, storks, waders, ducks, kingfishers and hornbills. Raptor and vulture densities are particularly high.

Kenya

There are about 1100 species recorded in Kenya, and 500 to 700 may be observed in 2 to 4 weeks of birding. The best timing is during the rains, April-May and October-November, when birds breed.

Lake Nakuru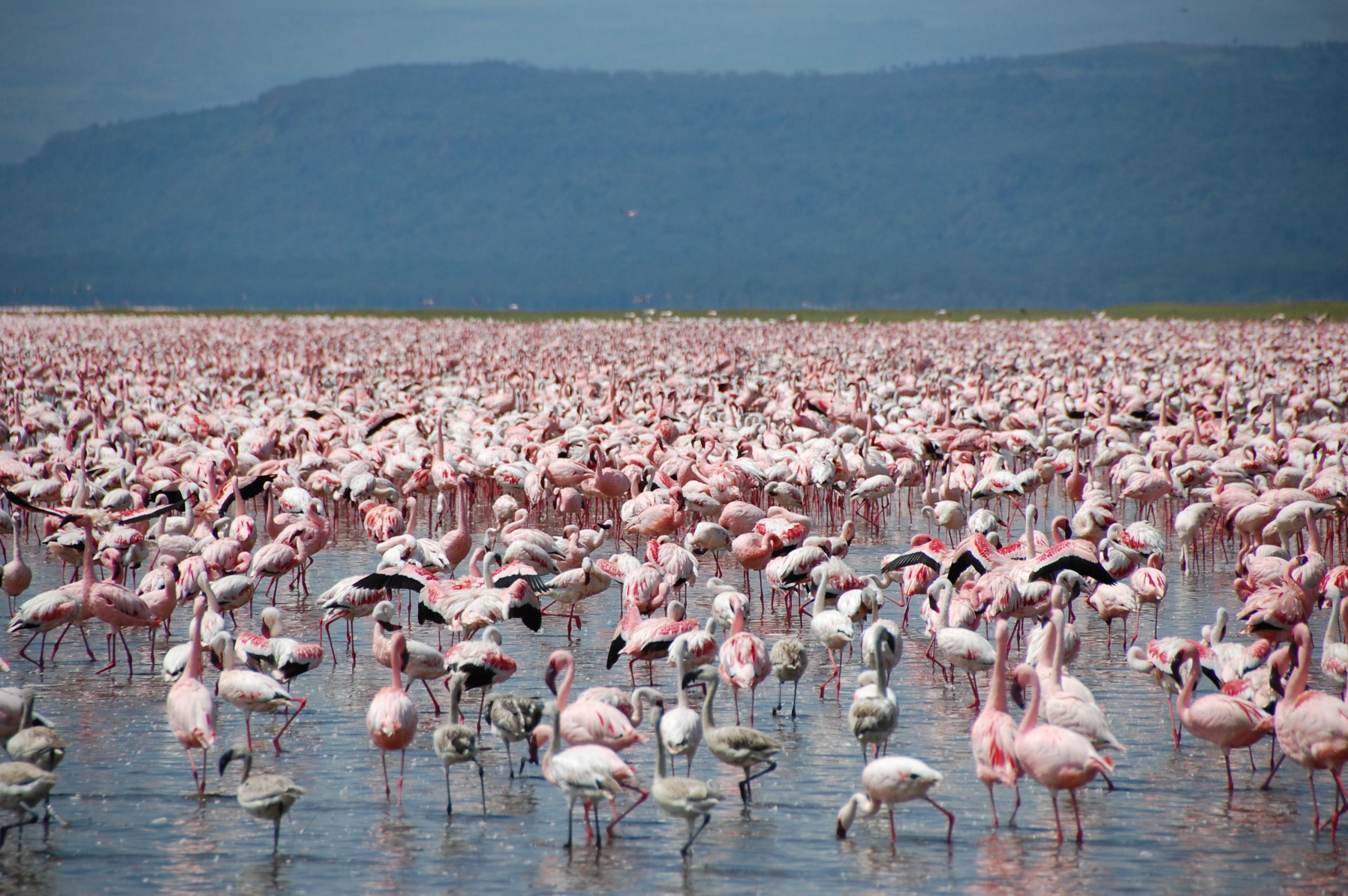 The most fabulous bird spectacle in the world! Photo Syllabub / Wikimedia Commons
160 kilometres / 100 mi of a surfaced road north-west from Nairobi makes Lake Nakuru the best-accessible of Kenya's reserves. As freshwater rivers enter the lake (and attract waterbirds), it is less alkaline than the other Rift Valley soda lakes. While this national park stretches over 200 km2 / 80 mi2, the lake itself reaches a maximum of 60 km2 / 20 mi2, but also contracts to a mere 5 km2 / 2 mi2! More than 450 bird species are known from the site (506 eBirded) and a record number of 1,496,000 waterbirds was counted here. Most of them were Lesser Flamingos, with over a million birds present at times. Roger Tory Peterson called it "the most fabulous bird spectacle in the world". Large numbers of Palearctic waders winter at Nakuru or use the site on passage. Also, the lake is the most reliable place for both Black and White Rhinos in the whole of East Africa.

Masai Mara
Masai Mara (cover photo) is located at the Kenya-Tanzania border in the southwest of Kenya. With its 1500 km2 / 600 mi2 of rolling grasslands with pockets of acacia woodland, Mara is an extension of the Tanzanian Serengeti National Park. There are more than 550 species on the Mara checklist and it is especially famous for its 57 raptors, including 7 species of vultures. Noteworthy species include Secretary Bird, Yellow-throated Sandgrouse and Red-throated Tit in the plains, as well as African Finfoot, Schalow's Turaco and Giant Kingfisher along the rivers. Wildebeest herds crossing the Mara River are best seen in July or early August, which is the dry season is not the best time for birding.

Lake Naivasha
About 90 minutes along a surfaced road north-west of Nairobi lies Lake Naivasha. It is one of the only two freshwater lakes in Kenya. Surrounded by Acacia woodlands, the lake is about 13 km / 8 mi across but is rather shallow, with an average depth of 5 m / 16 ft. Therefore it is home to large numbers of Hippos. Over 400 savanna and wetland species have been recorded here, with up to 30,600 waterfowl counted at once. Local birders here manage to spot 100+ species before breakfast, with Pink-backed Pelican, Goliath Heron, Allen's Gallinule and Malachite Kingfisher among them. During the northern winter, large numbers of migrant waders and ducks may be seen.

Uganda

There are more than 1050 bird species recorded in Uganda, and some 500 to 600 sp. may be observed in 3 to 4 weeks. The best season is December to February and July to September, when it is dry in the south. In "Where to Watch Birds in Africa", Nigel Wheatley says: "In terms of its size, Uganda is the richest country for birds in Africa."

Queen Elizabeth II National Park
Almost 2000 km2 / 800 mi2 of the Queen Elizabeth II National Park represent the most popular and accessible savanna park of Uganda. Add the astonishing 610 recorded bird species (585 of them eBirded) – there are only a few places on the planet with such lists, with 54 raptors among them, and suddenly you feel like "I must go there!" Now when you know where you want to go, birding is good anywhere, but especially at Mweya Peninsula (where a luxury lodge, budget hostel and a campsite are located), and the riparian forest of Ishasha. The furry kind is represented with 95 species – more than in any other Ugandan park, 10 primates among them, including the Chimpanzee.

Kibale Forest National Park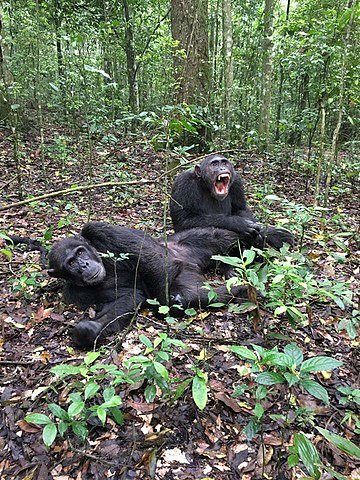 The primate capital of East Africa! Photo: Bosco of Enchanted Uganda Safaris / Wikimedia Commons
Kibale Forest NP stretches over more than 750 km2 / 300 mi2 of mostly rainforest, with patches of grassland and swamp. This park has inexpensive accommodation and experienced local guides, about 335 bird species (yet, rather unrealistic 522 eBirded species) and, among them, many West African birds at the eastern limit of their range. 4.5 km / 2.7 mi long trail at the Bigodi Wetland Sanctuary offers the Great Blue Turaco and the Papyrus Gonolek. Other wildlife includes 60 mammal species, 13 primates among them, Chimp tracking, Forest Elephants too. Keith Barnes of "Tropical Birding" calls Kibale "the primate capital of East Africa, and having Chimps screaming in the forest while you are birding adds to the fantastic atmosphere of the place".

Just one more thing, bird book of choice is the "Birds of East Africa" by Terry Stevenson and John Fanshawe, second edition (2020). Next time, see you in South America.

Cover photo: Wildebeest migration in Masai Mara, by Vikram Sathyanathan / Wikimedia Commons

Sources:
• eBird
• African Bird Club
• Uganda (Bradt Travel Guide) by Philip Briggs
• Kenya Highlights (Bradt Travel Guide) by Philip Briggs
• 50 Top Birding Sites in Kenya by Catherine Ngarachu
• The Birder's Guide to Africa by Michael Mills