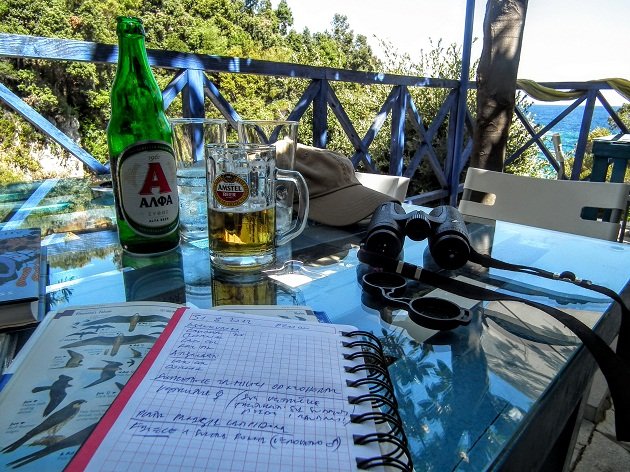 Winding between the old Olives, the road ahead of me veers into the hills of the Pelion Peninsula, near the harbour town of Volos. A movement in the corner of my eye… a buzzard. I stop the car and reach for binoculars, asking myself what other drivers think of a car parked in the middle of the road, with an elbow and binoculars protruding through the window.
In a split second, the buzzard shows rufous tail and disappears behind some trees. Not a single driver honks his horn, no one reacts to my rude parking style. One simply has to love Greece.
I continue to the next curve, stop, now I notice pale head and equally pale chest – markings of the Long-legged Buzzard, but now the tail appears darker and not so rufous… Was that impression only a reflection of the sun on the otherways dark tail? The bird is gone into the pines, about to land in some tree crown. Even if I put the tail aside, the only continuously pale headed and chested buzzard is the Long-legged, but I cannot say with certainty. I've had just two glimpses of it. If I only had the third to confirm… this way, it remains a possible LLB.
And the "possible" equals – nothing. Birding is either black or white – there are no gray tones. Something is, or is not. If in doubt – there is no doubt. Black and white world.
It may be the part of my utter addiction to it. As years go by, I see ever more shades of gray, and less black or white. Black is no longer just black, nor is the white really white; I am way too old to swallow that. Then, I go birding. And things become clear again. Like when I was 20 and knew all the answers, not like today when every answer simply forks further into new questions…
The road takes me ever higher up the Mt Pliassidi, overgrown by forests of Sweet Chestnut and, in Greek mythology, inhabited by centaurs, "who took delight in drinking wine, deflowering virgins and generally ripping up the countryside", if the Lonely Planet is to be trusted. There is another raptor over the ridge, light body and wings, dark head and chest – the Short-toed snake Eagle.
At the other side of the mountain, the road makes a series of horseshoe curves and than goes steeply down towards a rocky cove hiding a charming beach (a charm of any beach is inversely proportional to the number of people on it). Above that steep section, a bird hanging in the air on a strong wind… Should I stop the car? It has to be a Hooded Crow… nope, nothing grey on it… a Common Raven? Now I break (and think that I should put a "I break for birds" bumper sticker), bins… a falcon!
An Eleonora's Falcon, light morph, makes several circles above the Olive grove and it is gone. I am exhilarated – I have had only a handful of chances to observe this species! These falcons mostly feed on insects, but in the breeding season they catch migrating passerines – they even time their breeding to coincide with Autumn migration of passerines in late summer! Not just catch, as it was recently described that the Moroccan falcons pluck the flight feathers from their prey and push them into rock cracks and crevasses, to keep them alive and fresh for days! Such a fascinating species.
Eleonora's Falcons are migrants themselves. It really puzzles me, why they go all the way across the Sahara and Eastern Africa to overwinter as far as Madagascar, instead of staying somewhere closer, in continental Africa? How old are they as a species? Madagascar must have separated from Africa long before they evolved. Or did it? For some time, I have had a dream: to follow their migration across Africa and to blog about that flyway (sponsors are more than welcome!).
Further down the road, a flock of large swifts… about 60 Alpine Swifts, circling relatively low and giving a great performance – my biggest flock of this species ever! Just ten minutes later, another swift species shows, several Pallid Swifts above the outskirt of a seaside town.
I am looking for some shade to park and find an old Fig tree by the beach… only to hurriedly leave the car following one strange bird, a smallish gull with ghost-white wing-tips, without a slightest trace of black. (A black or white world indeed.) It has a coral-red beak with a black spot near the tip and a white head – the Mediterranean Gull in winter plumage, dwarfed by two Yellow-legged Gulls next to it.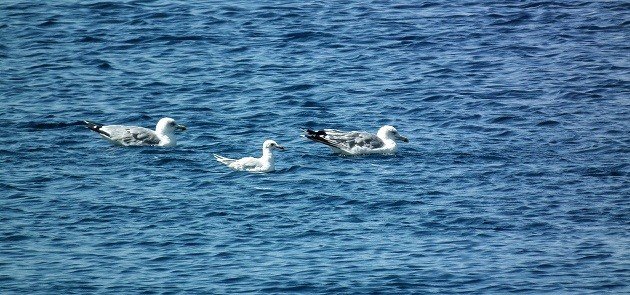 Lazy afternoon at another beach, having lunch in one of the taverns known Pelion-wide for excellent fish. It doesn't take long to spot five or six Yellow-legged Gulls and one odd bird among them. It appears similar, but smaller with narrow black stripes at wing-tips and, I believe, dark beak. That "I believe" will cost me the ID. I am almost certain that it was an uncommon Audouin's Gull – and that one would be a lifer for me – but there is no "I believe" when it comes to identifying birds. If you merely believe – it is not. Full stop. And deep inside I feel it was the Audouin's. Oh, well, one more left to chase another day…
It is sunset now, I hear some noisy birds from large Oriental Planes and go to investigate, when a shadow glides above me and lands on a plane branch – a sparrowhawk! Streaked chest reveal an immature, but a central throat stripe tells it is a Levant Sparrowhawk.
In the next plane crown, a small flock of Common Chaffinches and Great Tits are mocking the sparrowhawk. Every now and then, one brave bird would fly to the sparrowhawk's tree, to land some three feet from it, like a kid trying to provoke a big bully.
Naturally, I pay more attention to the hawk than tits and finches, but there are a few Eurasian Blue Tits among them, and… one or two Sombre Tits, too! Both Levant Sparrowhawk and Sombre Tits are quite uncommon and sure made my day.
But the day isn't over yet. Sipping ouzo on our veranda in a lush garden, in the dark, I have a late visitor. A young Red Fox visits the garden night after night, passing a mere 2-3 metres from me, taking a glimpse in my direction – then I freeze, not to look like a threat, so it gets used to me. Here it comes again, it is a young animal, then another, a fight, just a few metres from me, one ends up on its back in submission, the other one, happy to dominate, shows no further aggression and they go their separate ways.
I told you – one simply has to love Greece.