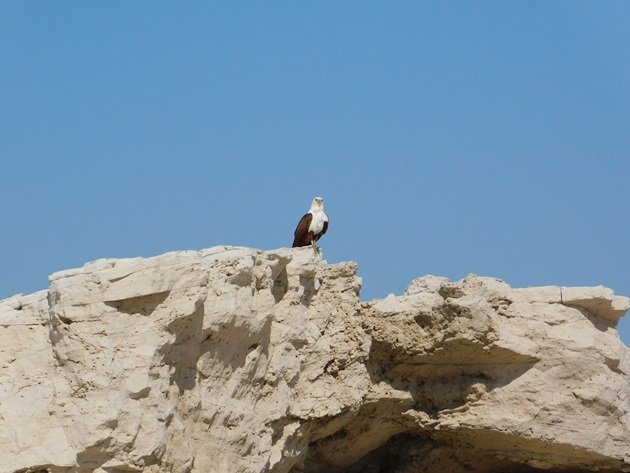 The Brahminy Kite Haliastur indus is an unmistakeable medium-sized raptor that we observe very regularly around Broome. We currently have a pair of Brahminy Kite nesting at the top of a dense tree in our local neighbourhood, but the tree is too tall and dense to take photographs. I was lucky enough to observe the birds carrying nesting material over a period of time into the tree in somebody's garden, because you would have no idea the nest was there otherwise. The distance to the coast for the pair of Brahminy Kites to collect fresh fish is not far. Dampier Creek and Cable Beach are both around 2 1/2 kilometres from the nest site, so it is perfectly positioned in that respect.
On our recent trip to check on the breeding success of the Pied Oystercatchers at the Northern end of Cable Beach a Brahminy Kite was quite obliging and posed for us. There are a few rapidly eroding sandstone cliffs in that area and it perched on top for some time. Brahminy Kites can often be seen perched on our street lights around Broome as they feast on recently caught fish too!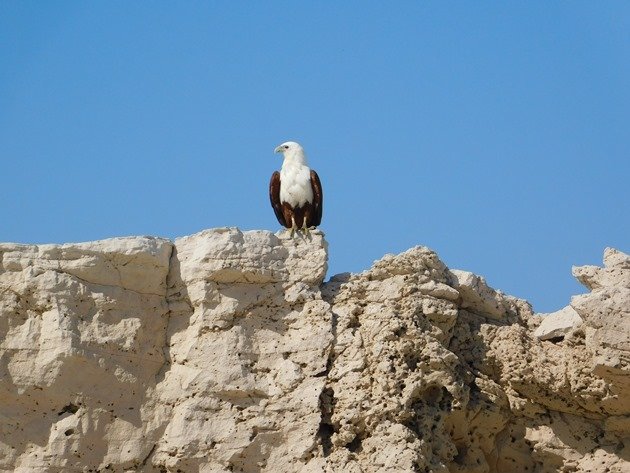 Brahminy Kite on the sandstone cliff
We carried on slowly along the beach enjoying the newly returned Sanderling and the Brahminy Kite continued to oblige. I took several more photos of its beautiful colouring against our winter blue sky!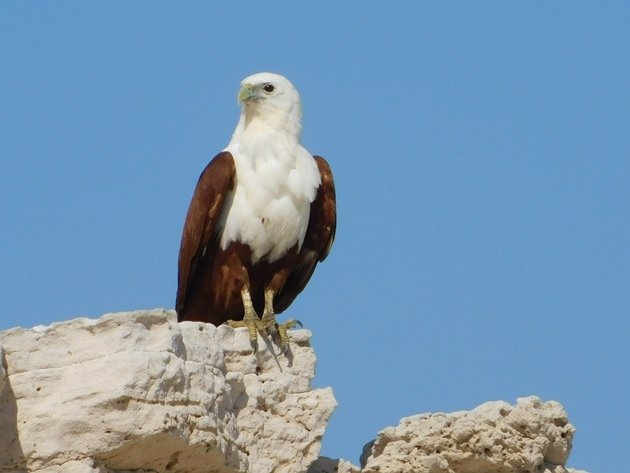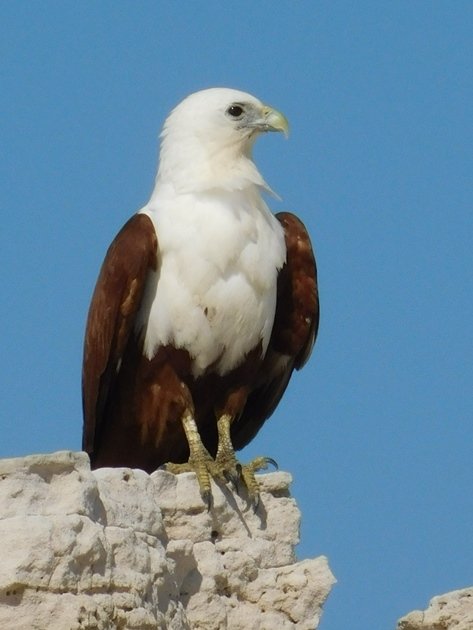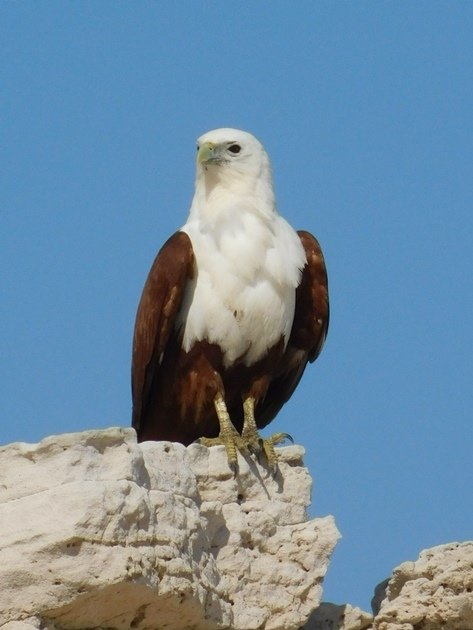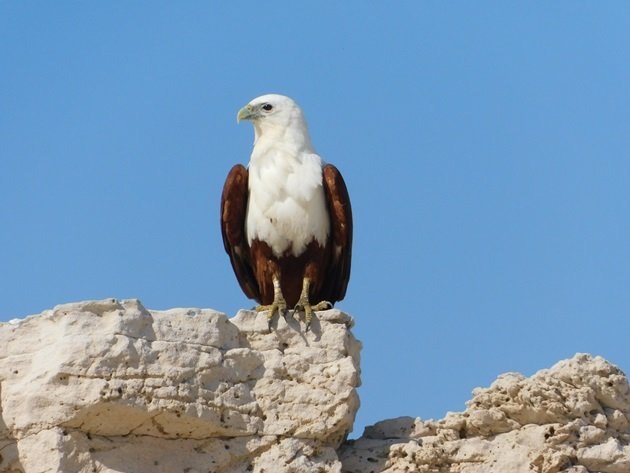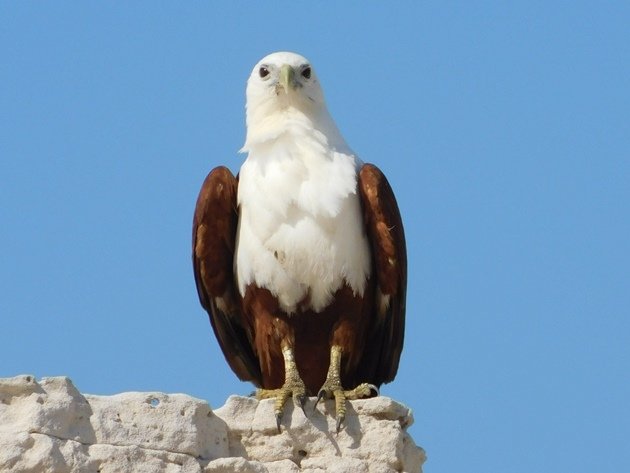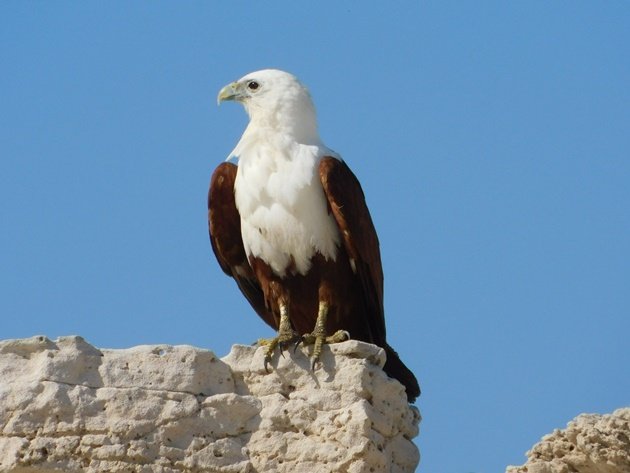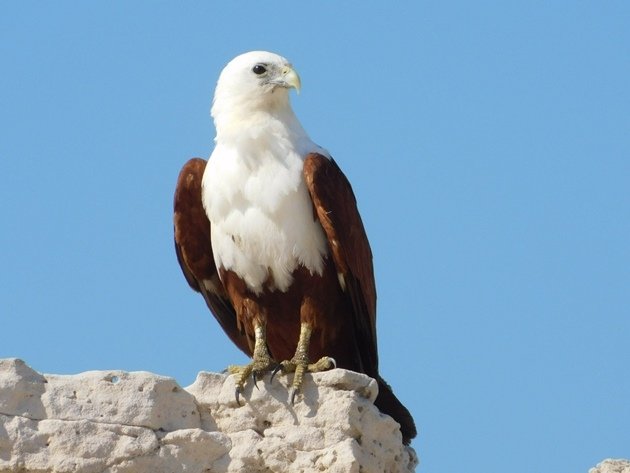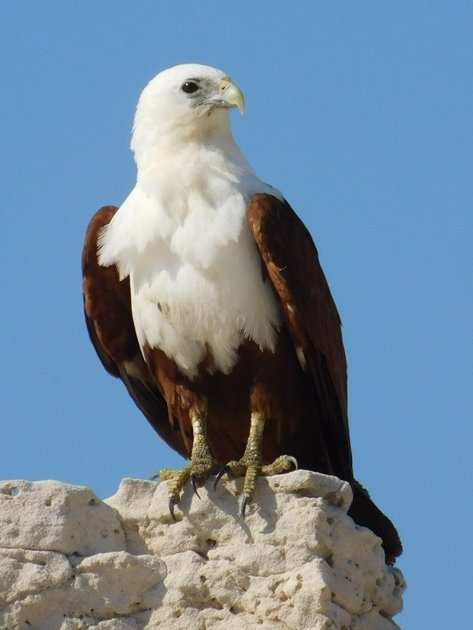 Brahminy Kite
As you can see above the Brahminy Kite does have some serious talons for catching fish! Our local Ospreys also have serious talons, but not the colourful plumage of the Brahminy Kite. Both bird species fish in the same locations around Broome, though. This sandstone cliff was only a few hundred metres from where we encountered the juvenile Wedge-tailed Eagle too. One more bird species with serious talons in the north of Australia!
The other kites that are regularly observed around Broome are the Black Kite and Whistling Kite. Black-shouldered Kites can be observed less frequently and are more common in our winter months most years. Raptors are well represented in Broome with Black-breasted Buzzards, White-bellied Sea-Eagle , Nankeen Kestrels, Brown Falcons, Australian Hobby, Spotted Harriers and Swamp Harriers all observed regularly around the area.
We are very lucky here in Broome that 333 bird species have now been recorded in the area. Not being allowed to travel is hard for everyone, but having such a diverse and varied bird population both resident and migratory makes life in Broome so much better than it could be. In Sydney my sister and family have just observed their first Pacific Koel from the north, so despite lockdowns nature continues to function normally! No more sleeping in there now! Winter is over!