My June 2010 trip to Panama was perfect and unforgettable in so many ways. I was in Panama as a guest of Raúl Arias de Para, the visionary who founded both the Canopy Tower and Canopy Lodge. My first morning in Panama was enjoyed at the Tower but I actually got to know the lodge first. Let me assure you, the Canopy Lodge is the consummate Neotropical ecolodge, endowed with everything a birder or nature lover could ask for!
The Canopy Lodge is located in the town of El Valle de Antón, beloved both because of its unique geology (inside the caldera of an extinct volcano) and remarkable natural attractions. After one enters the gate and cuts through a small trail, a bridge crossing a rocky mountain stream leads to the Lodge's open-air dining and community space…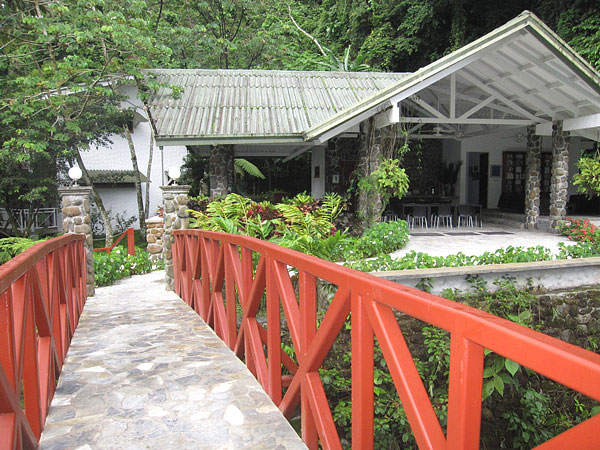 Funny story about this bridge, and by funny I actually mean tragic! A Sunbittern, which is a highly coveted tropical waterbird, routinely crosses beneath this bridge during dusk and dawn. I held lonely vigils well before sunrise each morning, gripping the rails while scanning the stream below intently for Sunbittern sign. Alas, the "walking duck" eluded me here and everywhere else I looked, even taunting me one morning with its eerie whistling cry.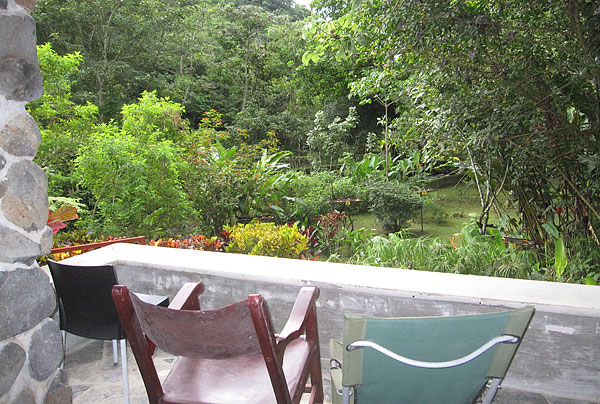 One of the Lodge's main attractions is its dynamic array of bird feeders. While these feeders are dominated by Thick-billed Euphonias and Clay-colored Robins, the rotating cast of characters dropping in for a banana snack is so interesting and unpredictable — even basilisk lizards like to lunch there — that I've seen some visitors spend entire days enjoying coffee and keeping feeder lists!

Blue-gray Tanager

Crimson-backed Tanager
On the subject of coffee, the food at the Canopy Lodge was nothing less than amazing and abundant. On the subject of birds, I can happily say the same. In my first hour at the Lodge, I added at least 10 new life birds. An incomplete tally of species seen on the grounds over 3 days includes Palm, Blue-gray, Crimson-backed, Plain-colored, Bay-headed, Golden-hooded, Flame-rumped, and Dusky-faced Tanager, Yellow-faced Grassquit, Variable Seedeater, House and Bay Wren, Chestnut-headed Oropendula, Gray-headed Chachalaca, Rufous-capped Warbler, Bat Falcon, Snail Kite, Boat-billed Flycatcher, Dusky-capped Flycatcher, Orange-billed Sparrow, Scaled Pigeon, and Amazon Kingfisher. Southern Rough-winged Swallows, so much more handsome than their northern counterparts, swarmed everywhere as did the aforementioned euphonias and robins. A variety of hummingbirds visit the Canopy Lodge's feeders but I most saw Rufous-tailed Hummingbirds with a smattering of Stripe-throated (Little) Hermit, Violet-headed Hummingbird, and Green Thorntail. Also note that as day fades to night, the hummingbird feeders are taken over by adorable Orange Nectar Bats!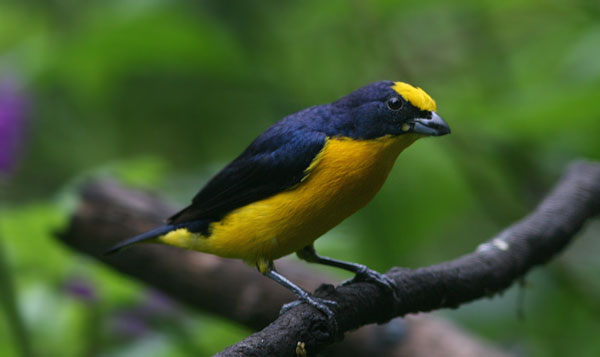 Thick-billed Euphonia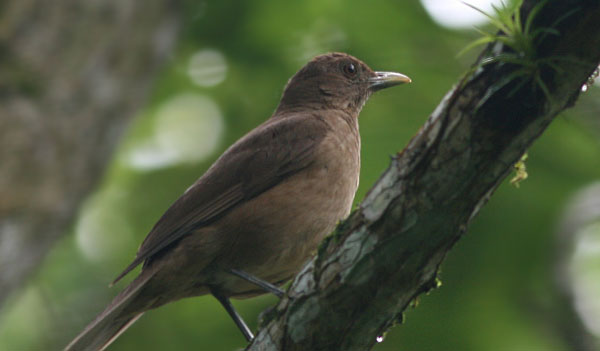 Clay-colored Robin
The Canopy Tower possesses a certain utilitarian charm as a result of its military history. The Canopy Lodge, on the other hand, is pure eco-luxe! Not only was my room spacious, gorgeous, and comfortable…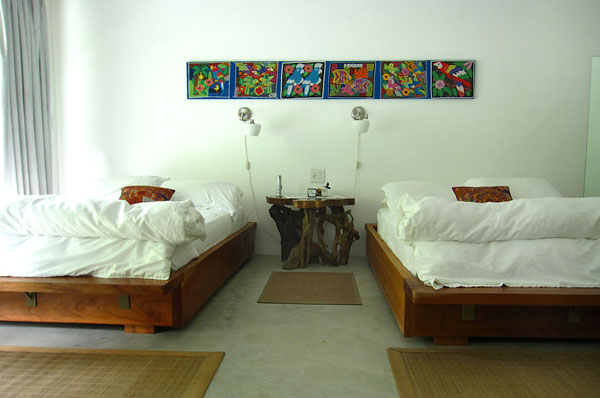 …but the view from my balcony was lush and lovely with colorful birds. I'm on record as declaring anyplace from which I can see Blue-gray Tanagers from my room a birding paradise so I'm placing the Canopy Lodge in the pantheon!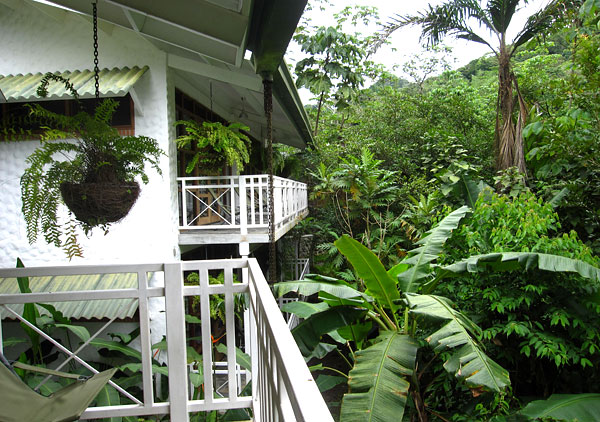 Simply put, the Canopy Lodge in central Panama is amazing in every way a visiting birder or nature lover could want. Every aspect of the lodge itself, from the food and accommodations to the staff and service, meets or exceeds expectations. Even better, the Canopy Lodge lies in close proximity to a plethora of top-notch birding sites I can't wait to tell you about. Better still, the guides at the Lodge that I traveled with — Danilo and Tino — were among the most skilled I've ever seen. Seriously, the guides at the Canopy Lodge are world-class. Plus, the Lodge perfectly complements the Tower, so smart travelers will spend time at both.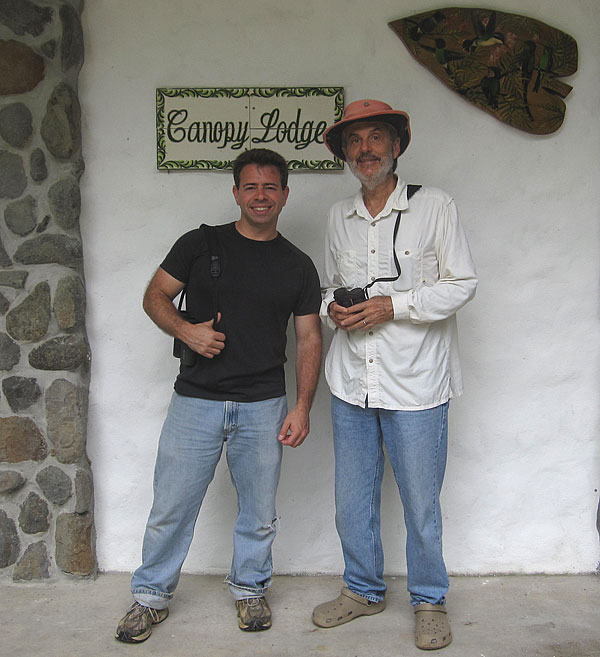 Mike with Raúl Arias de Para
If you're lucky, you'll get a chance to enjoy a meal with Raul himself. Ask Raul about the history of the Canopy Lodge and the Canopy Tower, as well as his own long and rich experience as a birdwatcher and lodge owner. And if you want to make him as happy as you'll undoubtedly be as his guest, ask Raul about his record-setting bunch of bananas…