So there I was in Guatemala, where it's cool to eat cookies before dawn. A murderer's row of local and international scientists, conservationists, guides, tourism agents, optics ambassadors, and birding industry writers, editors, and organizers queued up, well before sunrise of course, for the short flight from Guatemala City to the Peten. Time in the terminal and during our brief puddle jump was sufficient for socializing; this crowd hit the ground optics blazing. Grackles and vultures and White-winged Doves were a cinch from the plane. Gray-breasted Martins danced overhead while Mangrove Swallows sunned themselves lazily on the runway like dogs on a summer afternoon. While waiting for baggage, ace birders scoped distant specks, picking out Groove-billed Anis, Eastern Meadowlarks, and even a caracara or two. Even during our sumptuous breakfast on the shore of Lake Peten-Itza, people couldn't pull away from the Northern Jacanas and Purple Gallinules cavorting in the grassy marsh below. Trust me, you wouldn't be able to either in an environment like this.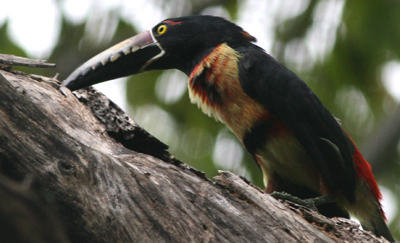 Collared Aracari
Though our tiny prop planes disgorged a freight of neotropical birding specialists so sharp-eyed, sure-handed, and relentless in their unceasing surveys that a lesser biome might well have crumbled if not suffered total ecological collapse under its weight, the Peten was more than up to the challenge. My explorations of Cerro Alux and Finca El Pilar provided a thrilling education in the nature of Guatemala's highland regions but the Peten is a different animal altogether. In these northern lowlands, one notes influences of the Yucatan and Atlantic seaboard suffused with the full flavor of the tropical rain forest. Heady stuff indeed. While the mountain forests of the central highlands presented a decent diversity of avian species, they are considered barren next to the profusion of wintering migrants, vagrants, and year-round residents of the Peten. Of the 720 or so species reported in Guatemala, more than 400 of them appear in the northermost departmente. Have you gone insane yet? I did once we arrived at our lodging, the Hotel Villa Maya.
Villa Maya is an impeccable ecolodge situated within a complex forest environment alongside a large lagoon, one which, I should add, harbors large (Morelet's?) crocodiles. From the open-air check-in and dining to the breezeways, paths, and niches throughout, every aspect in harmony allows for a thoroughly tranquil and enjoyable stay. But I'm here to talk about the birds, which are, as you might have surmised, incredible in the truest sense of the word; I could scarcely believe the massive breadth and depth of species encountered over just a few hours here and there. As we approached, Olive-throated (or Aztec depending on your taxonomy) Parakeets and Acorn Woodpeckers flanked the road while a chorus of exotic calls filtered from the dense woods. Unexpectedly, as we crossed a shaded channel, many were treated to the sight of a Sungrebe, a highly coveted tropical species, fleeing for more private quarters. No sooner did we all check in than we plunged back into the jungle, immediately pulling crowd-pleasers like Black-headed and Violaceous Trogon, Red-billed Pigeon, Stripe-throated Hermit, Wood Thrush, and Red-legged Honeycreeper, each one a stunner in its own right. Speaking of stunners, A Collared Aracari, a toucan so visually arresting that it should be arrested, treated us to unforgettably long, lingering looks. This is what tropical birding is all about.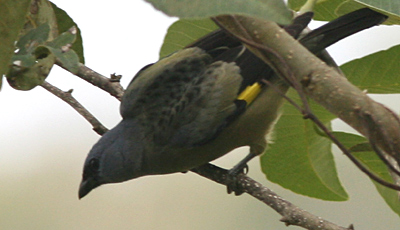 Yellow-winged Tanager
With so many detectives on the scene, the grounds little by little yielded its secrets. A White-capped Mannakin here, a Keel-billed Toucan there, and soon everyone was worked into a lather. For example, Steve Howell, distinguished author of the epic A Guide to the Birds of Mexico and Northern Central America, spotted some Rufous-tailed Jacamar nests by the gatehouse. Anyone who knows how special this shy bird is will understand the alacrity with which many of us hit the trail; while I didn't spy the jacamar here, we did run into Canivet's Emerald and Wedge-tailed Hummingbird at the site along with Roadside Hawk, Tawny-crowned Greenlet, and Plain Xenops along the way. For the record, I have no idea what a xenops is supposed to be but that dainty, sharply upturned bill has boatloads of charm.
The more secluded corners of the hotel grounds certainly promised elusive rarities (and perhaps an angry Fer-de-lance or two) but the feature that earns Villa Maya my imprimatur of Birding Paradise, no mean feat indeed, is how magnificent the birding is from the common areas. Splash around in the pool, stroll around the lake, or just hang out at the bar. It doesn't matter what you do because the brightly colored songbirds are flying fast and furious. Social Flycatchers are easy to find in most settings, but here, they draw attention to trees dripping with Black-cowled, Baltimore, and Orchard Orioles, not to mention Yellow-winged Tanagers. Walk two steps in one direction and you'll spot White-collared Seedeaters and House Wrens. Go another and you might note Ringed Kingfisher, Snail Kite, or even Howler Monkey by the lagoon. The action is so rich, so variable and exposed that, in one quick break from a conference to stretch my legs, I picked up, without optics of any kind, a Yellow-breasted Warbler and Common Tody-Flycatcher in perfect plumage at eye level. I'm telling you, birds ham it up when a camera isn't around!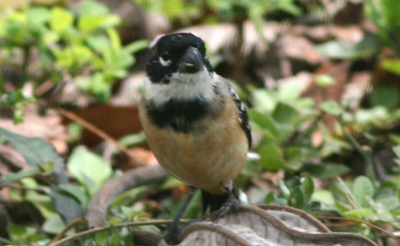 White-collared Seedeater
Perhaps I'm biased because Hotel Villa Maya seems home to large numbers of one of my favorite bird species. The only other time I've visted this part of the world was back in 2003 when Sara and I toured Tikal as well as the jungles of Belize. I recall one hot afternoon coming upon a small tree light on leaves but clustered thick with Blue-gray Tanagers lazing about like aquamarine mangos. The silvery complexion of Thraupis episcopus, so cool when most birds flash hot, earned this species a special place in my heart. Right next to it is now this ecolodge at which I was able to spy my beloved tanagers from the balcony of my room. Sipping stellar coffee on a warm, winter afternoon while Blue-gray Tanagers are joined by Yellow-throated Euphonias and a rotating series of brilliant songbirds as close as can be… how is that not paradise?