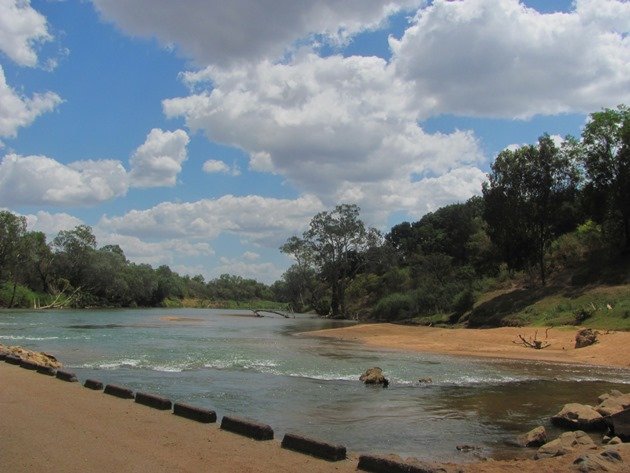 One particularly good place to go birding in the Northern Territory is Daly River. It is easily accessible by bitumen and the town itself is only small with a population of about 500 people. Most people have heard of Daly River, because it is well-known for fishing and also crocodiles. Barramundi are often caught in the Daly River and it is supposedly the best place to catch them in Australia. Our trip to Daly River saw us travelling from just south of Adelaide River along the windy single lane highway called the Dorat Road until we turned down the double width Daly River Road. Just before you reach the new bridge that takes you over the Daly River there is a beautiful lagoon on your left, which you can easily access via a gravel track. It is important to note that Red Lily Lagoon is not to be accessed all the way around and there are restrictions around the rocky outcrop, where a sign advises you that it is an area set aside for traditional women only.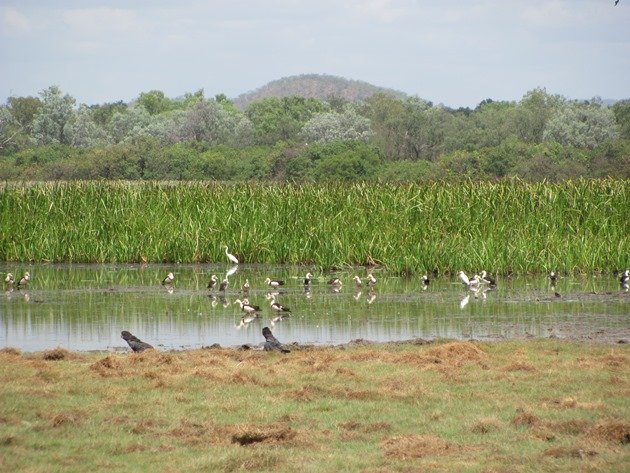 Radjah Shelduck, Egrets and Red-tailed Black Cockatoos at Red Lily Lagoon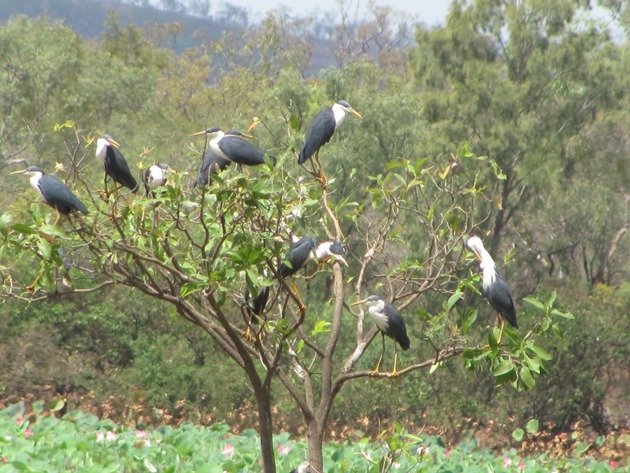 Pied Herons at Red Lily Lagoon
The header photo shows the old crossing and having visited the small community of Nauiyu, which was originally the site of a Catholic mission we went in search of a nice location to pitch our tent close to the river. We had already observed a great variety of birds in the area and had decided to overnight in the area along the river somewhere. There are a few accommodation options along the Wooliana Road in Daly River, but the sign below appealed to us! We are used to camping in the bush, so steer clear of resort style camping at all costs!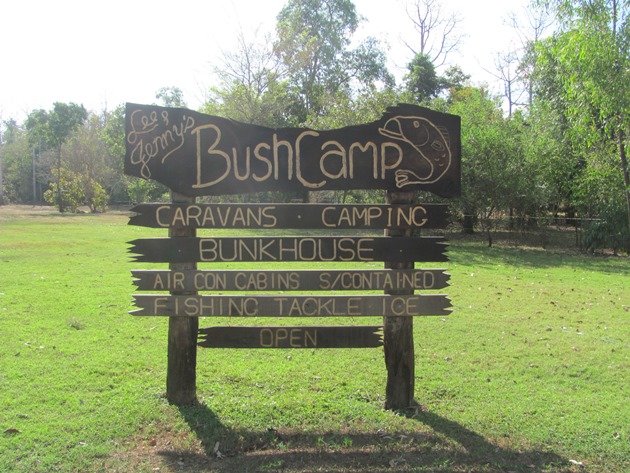 Lee & Jenny's Bush Camp
After a friendly welcome into a small, green camping area with a good variety of birds we were soon set up and advised to wander back across the road to the little area they had set aside for river access and relaxing! We had already observed Spangled Drongo, Australian Figbird, Double-barred Finch, Little Friarbird, Lemon-bellied Flycatcher, Willie Wagtail and Varied Lorikeets.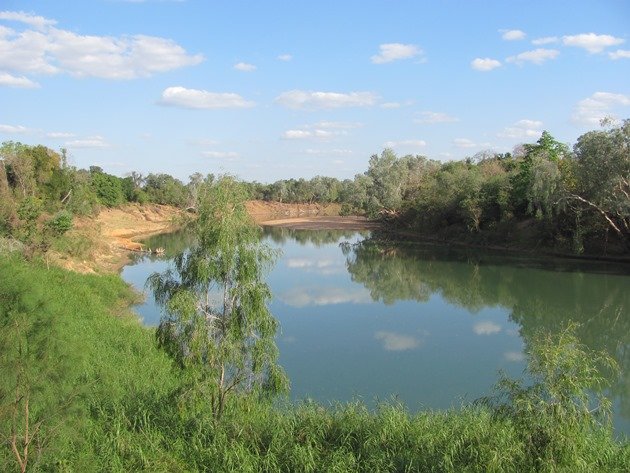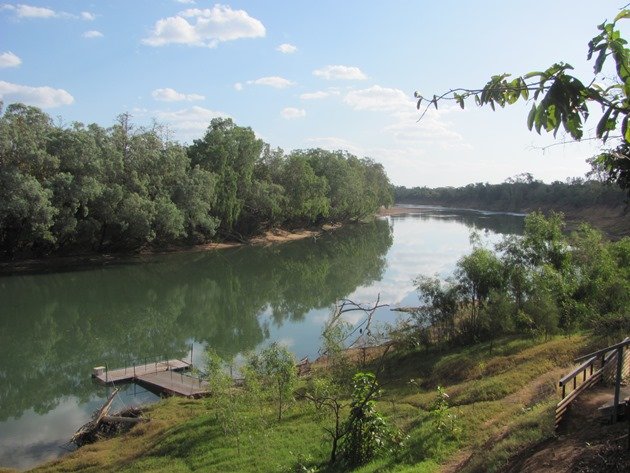 Daly River views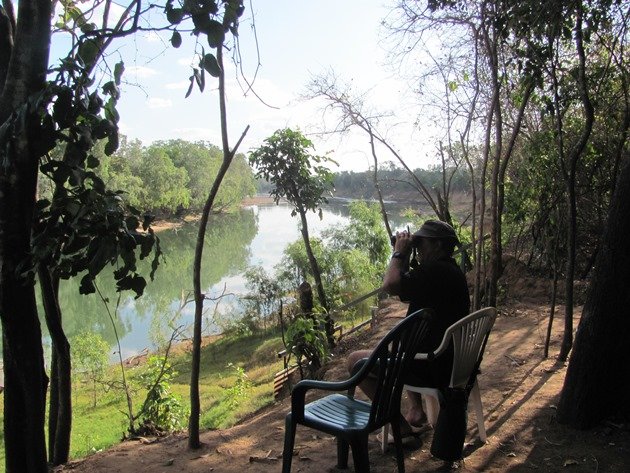 Birding in the shade at the Daly River
It didn't take long for us to see a huge variety of birds! Satin Flycatchers and Paperbark Flycatchers were on both sides of the river and around the camp area. Royal Spoonbills, Little Pied Cormorants, Intermediate Egrets, Radjah Shelducks, Plumed Whistling Ducks, Straw-necked Ibis and Masked Lapwings were represented along the river. Shortly after sitting down there was the familiar sound of a Golden-headed Cisticola and it was soon popping up through the tall grass to see what was going on late in the afternoon!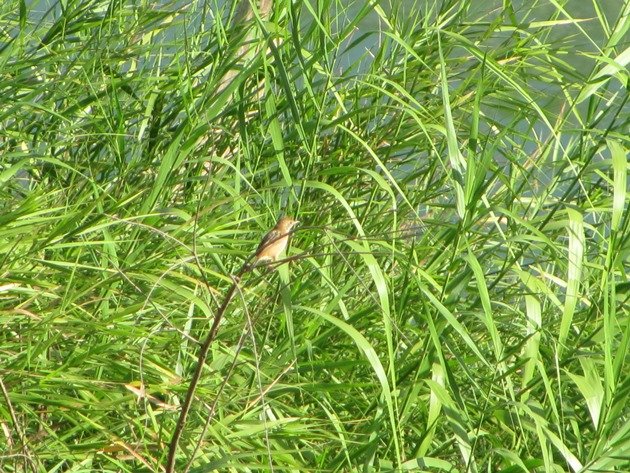 Golden-headed Cicticola
There were good flocks of Crimson Finch coming down to drink at the water's edge and Varied Trillers were very common around the area we were sitting.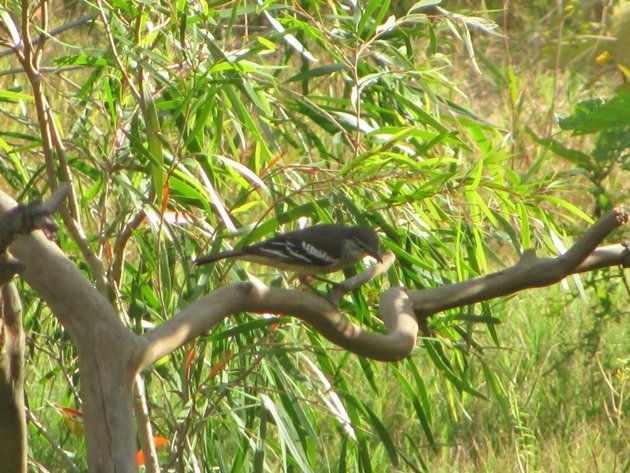 Varied Triller
The Honeyeater family were well represented in the Daly River area by Rufous-banded Honeyeaters, White-gaped Honeyeaters, Blue-faced Honeyeaters, Dusky Honeyeaters and Brown Honeyeaters. The later evening brought in the White-breasted Woodswallows, Red-collared Lorikeets and Rainbow Bee-eaters. Red-tailed Black Cockatoos, Little Corellas and Sulphur-crested Cockatoos were vocal as they passed over the area! Dollarbirds had already arrived from the north to breed! A sudden crash below us saw the arrival of a Pheasant Coucal!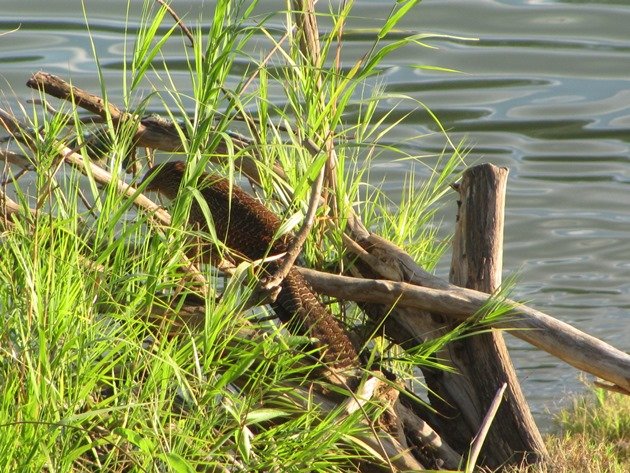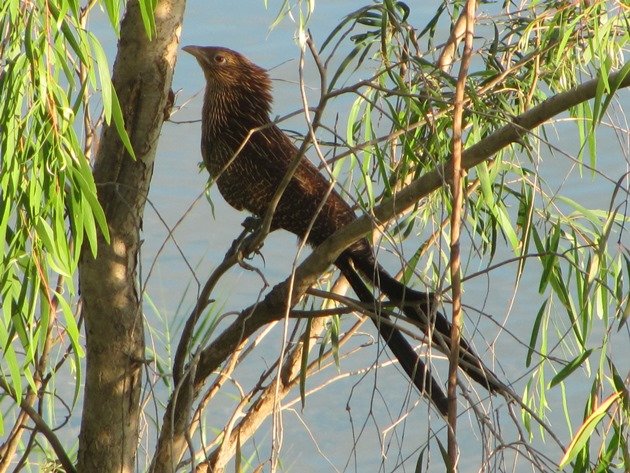 Pheasant Coucal
The wail of the Bush Stone-curlew was expected in this area after dark! One short call by an Australian Owlet Nightjar was welcome and we slept soundly until the Blue-winged Kookaburra awoke us! Of course we soon made coffee and walked back across the road to sit by the Daly River once again! Before long there were several Torresian Imperial Pigeons in the top of the trees on the other side of the river. It was a more humid morning with some cloud and a White-bellied Sea Eagle had positioned itself near to the river bank further along.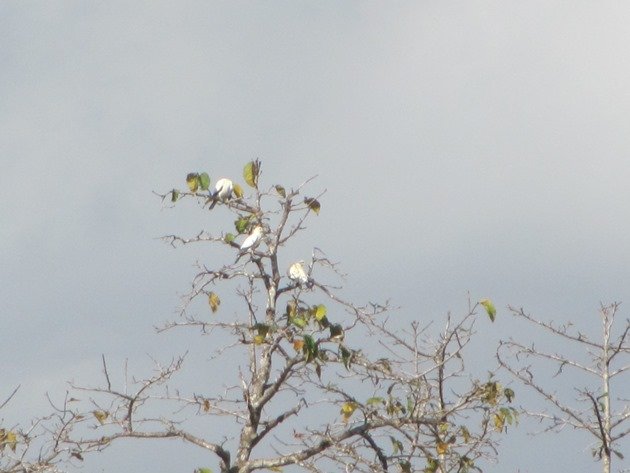 Torresian Imperial Pigeons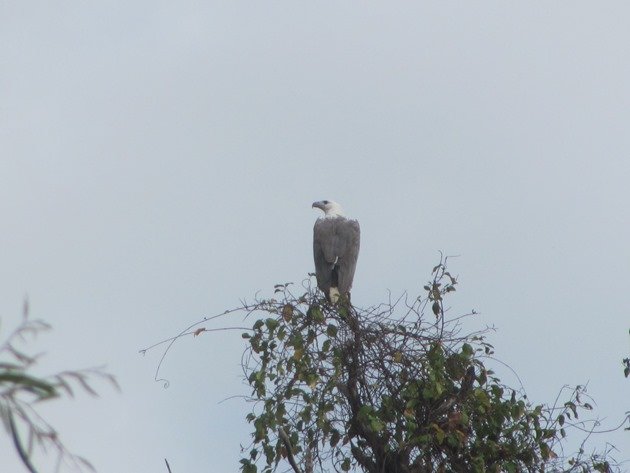 White-bellied Sea Eagle
Other birds observed during our visit to the area were Yellow Oriole, Forest Kingfisher, Little Kingfisher, Sacred Kingfisher, Brown Goshawk, Whistling Kite, Black Kite, Square-tailed Kite, Great Egret, Magpie Goose, Little Shrike-thrush, Bar-shouldered Dove, Peaceful Dove, Great Bowerbird, Galah, Black-fronted Dotterel, Mistletoebird, White-bellied Cuckoo-shrike, Black-faced Cuckoo-shrike and Little Black Cormorants.
An amusing event as we sat by the river bird watching was a Green Tree Frog climbing up a pole beside the river bank! We watched it climb in and turn around and subsequently realised it was the home to no less than seven Green Tree Frogs!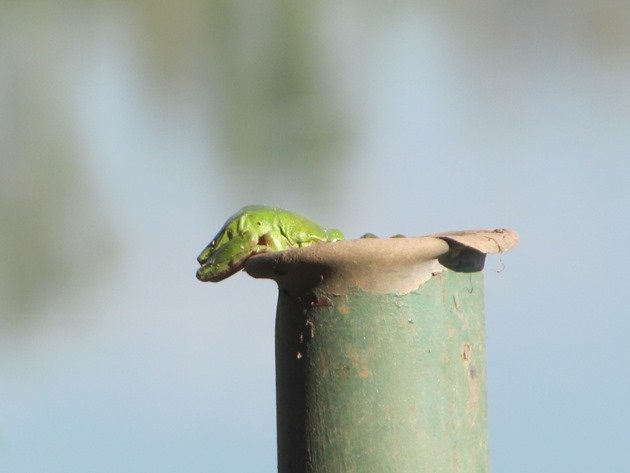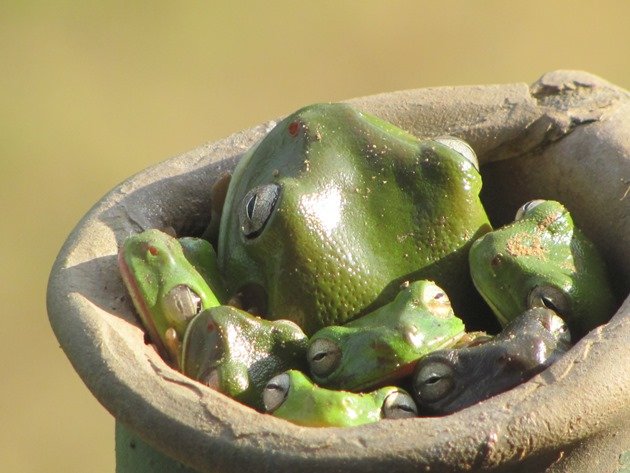 Green Tree Frog home!
Lee & Jenny's Bush Camp is a really great place to overnight at Daly River, whether you are chasing a Barramundi or some great birds! They are currently a bit too small to have a website, but they do have a swimming pool!