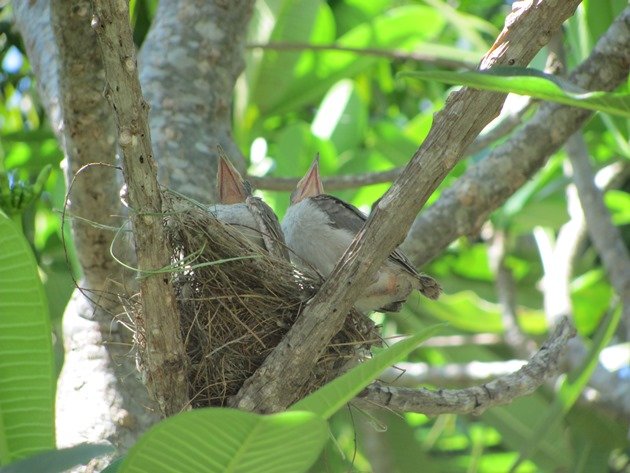 Last Wednesday we were visited by our neighbour's children and their friends, who are all about 8 years old, asking for help. It is general knowledge to our neighbour's children that we "know about birds" and they have asked about all of our "pet birds" that fly around without cages and wonder how that works. They see all of the Double-barred Finches, Peaceful Doves, Bar-shouldered Doves and various Honeyeaters flying in from the bush for food and water and to them it appears we have our own "pet birds". We have explained that all you need to do is provide water and you can have your own "pet birds" too! Anyway, they had a Little Friarbird in a box and told us that they had found it on the ground after it had come out of the nest on a very windy afternoon. It was almost dark, but they told us they knew where the nest was and they could not go near it because the other birds were attacking them and there were more baby birds and they had already named them…..oh dear!!!!
We went to see where the nest was and to see what we could do and it was on the front of someone's property against the park where the Little Curlew was last year. It was very high up in a frangipani tree and was really hanging down dangerously. It was too high for a ladder and too high to fix, but it was possible for Grant to get high enough to reach it to lower it and the two remaining chicks down. By now there was a gathering of small children watching carefully in the failing light. The decision was made to reposition the nest in a good place not quite so high and more protected from the wind. The parent Little Friarbirds were swooping, but a new position was found and the nest was already overfilled with the two remaining chicks. The new position allowed for a slight stretch of the nest and with the use of some long grass Grant could restitch it in place. He was then able to fit the third chick back in and by then it was dark. All of the children were called in for bed-time and they would be left in peace until the next day when they would all be checking on the named chicks on their way to school.
We returned the next day and two of the Little Friarbird chicks were already part way out of the nest and the parents were feeding them constantly. You can see the grass stitching repair work that Grant did in minimum light holding it in place. We knew it would not be too long before they were out of the nest anyway and this little repair job had given them more time to be prepared….even if it was in a new location.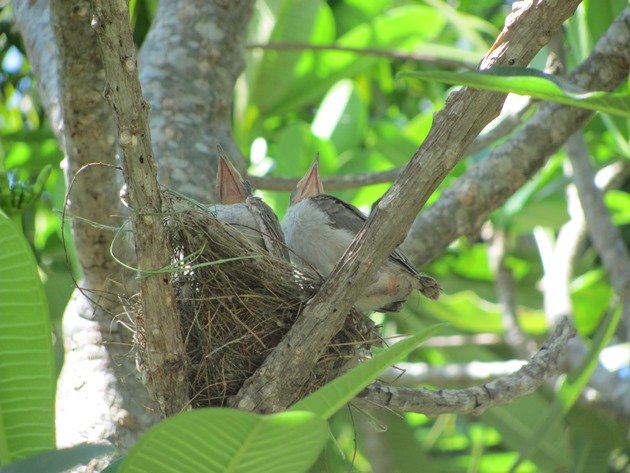 Two Little Friarbirds climbing out of the nest
By Friday mid-morning all three of the Little Friarbird chicks were out of the nest and the parents now had three chicks all in different positions to keep an eye on and feed.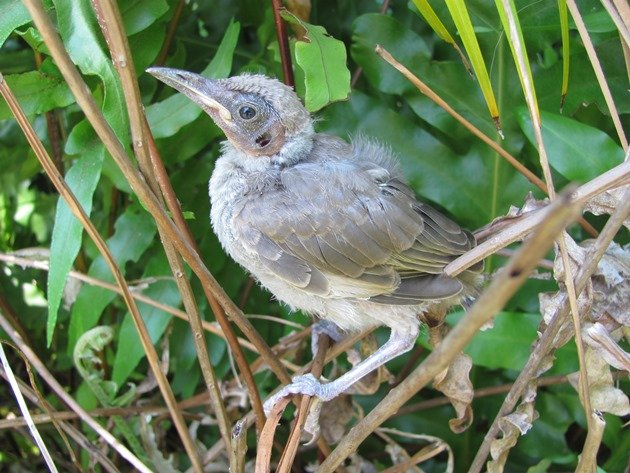 Little Friarbirds out of the nest
The nest remains in its new location and with the next lot of strong winds it will no doubt be destroyed, but the little bit of stitching using natural grasses worked well. The pale green is the sewing handiwork that Grant did in the dark!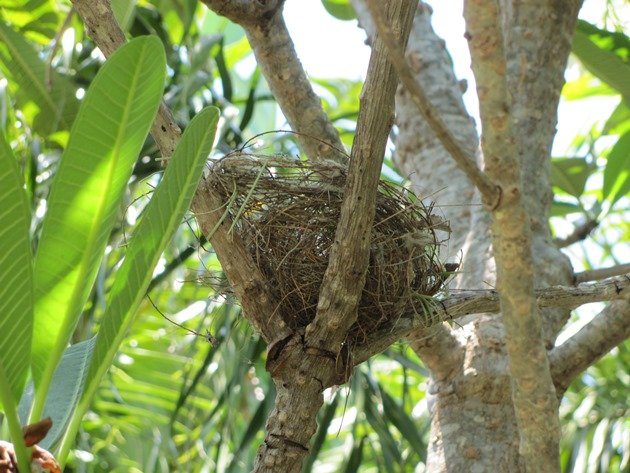 After last week's challenge of moving a feisty, but grounded, Brown Booby it was Grant's turn to help some birds because everyone knows that boys are better than girls at climbing trees!