Word on the web is that Corn Creek, the gateway to the Desert Wildlife Refuge, is one of the finest spots to go birding in all of Nevada, certainly the best in the Las Vegas area. I certainly can't imagine better. Corn Creek is a lush oasis in the midst of a surprisingly verdant desert and thus attracts all sorts of avifauna. This patch is so productive, I didn't mind waiting in the rain for hours to get a shot at it.
Let me back up and remind everyone that I'm out here in Vegas for business. I was fortunate to be able to arrive a bit early to visit the desert. I was unfortunate to arrive in the midst of an uncharacteristically persistent thunderstorm. I drove out to Corn Creek, about 30 miles north of the Strip, in the rain. I arrived, the only person in the parking lot, in the rain. And I waited patiently in the rain, heavy drops like a drum roll on the corrugated steel roof that sheltered me from the fitful storm.  Of course, good things come to those who wait. In my case, what came were some delightful desert birds.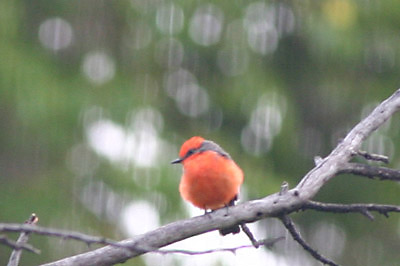 Vermilion Flycatcher
Between the squalls, I spotted my life Verdin, Phainopepla, Lazuli Bunting, Western Wood-pewee, Lincoln's Sparrow, and MacGillivray's Warbler, brilliant birds all. Birds of prey included American Kestrel, Peregrine Falcon,  Turkey Vulture, and, to my surprise, Northern Harrier, working the brush as methodically as they usually course the marshes. There were a few familiar birds like Belted Kingfisher and the ubiquitous Song Sparrow, but many great new ones escaped my meager ability to identify. For example, I saw a ton of flycatchers, but could only confirm the aforementioned pewee, Say's Phoebe, and the utterly arresting Vermilion Flycatcher above, my first in the US.
Perhaps my favorite moment of the day was getting practically within touching distance of a friendly, albeit bedraggled Greater Roadrunner. I haven't seen one of these big birds in a decade, but then again, we don't hang out in the same places. My only regret is that Sara wasn't here to share the moment.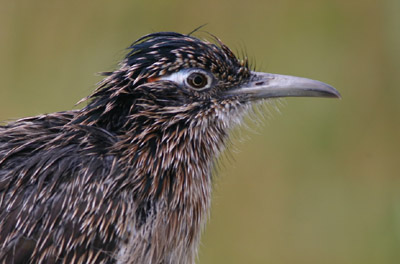 Greater Roadrunner