I have only maybe ever seen one Green-tailed Towhee.  It was back at the end of 2005, the year that I had started birding.  I was at Meadows Park in Temecula, California, and the newness of all of the birds was kind of overwhelming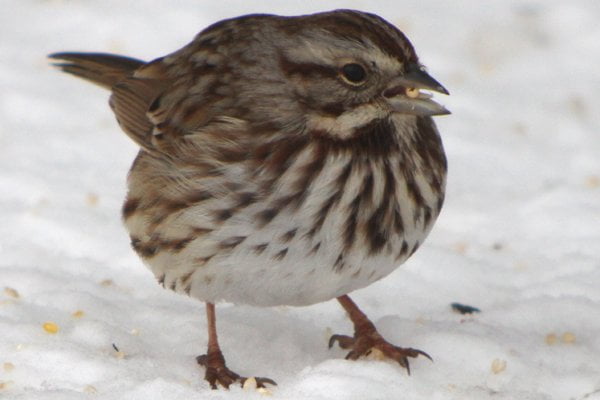 and lifers were all around me.  I wrote down Green-tailed Towhee on my day list, and, several years later, when I started putting my lists into eBird and figuring out which of my earlier birding records I could trust and which I couldn't I realized that I had no actual recollection of having seen Pipilo chlorurus.  Now it is not as if Green-tailed Towhee is an absurdly rare species in winter in southern California but it is also not as if it is such a bland bird that I would be likely to forget having observed it.
I erred on the side of caution and did not include Green-tailed Towhee on my life list.  A couple of years ago I had a shot at rectifying that absence but, for whatever reason (time, money, and lack of a car are all likely culprits), I did not chase the bird in New Jersey that many others managed to see.  Green-tailed Towhee has not appeared on my radar since.
You can imagine, then, the joy I felt when I realized that our route from New York to Essex County, Massachusetts, to compete in the Superbowl of Birding was within half-an-hour of a staked-out Green-tailed Towhee that was, for whatever reason, wintering in Rhode Island.  Because it would be a life bird for both Andrew and me our fellow travelers, Jacob and John, were willing to indulge us and help us find the bird (that and if they weren't willing I would have overruled them anyway because I was, after all, the driver).
As we approached Sachuest Point National Wildlife Refuge, on the outskirts of which the bird had regularly been seen at Second Beach Campground, we realized that we were not only driving on Purgatory Road, but passing Purgatory Chasm.  This did not seem to bode well at all for our expedition.  Interestingly, Purgatory Road pours into Paradise Avenue, which certainly seemed like a more positive omen, and we briefly sojourned in paradise before turning onto Hanging Rock Road and then Sachuest Point Road, which led us to our destination.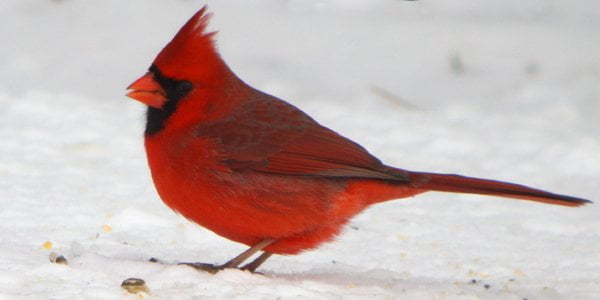 Northern Cardinal, which is, of course, not a Green-tailed Towhee
Now the towhee in question had been regularly seen at the east edge of the campground, behind some wire fencing.  Helpful folks had been putting down seed regularly so we had hope that the bird had found enough food to survive the most recent winter storm that had dumped a bunch of snow.  The four of us got out of the car, strapped our optics on, and trudged through the snow to where we would have a good view.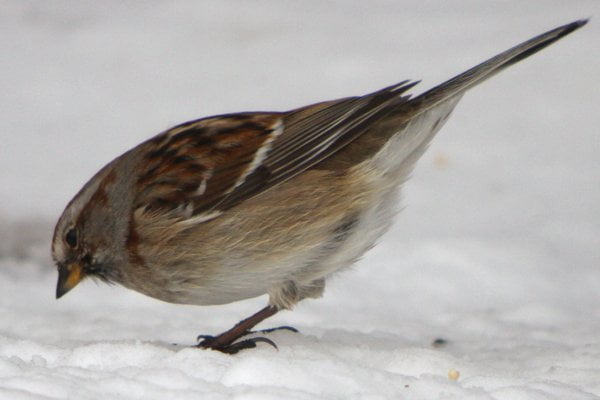 American Tree Sparrow, which is, of course, not a Green-tailed Towhee
We waited.  And waited.  And waited.  In the meantime we were seeing quite a few nice birds, including a variety of sparrows, a Northern Harrier, a Carolina Wren, and always-fun-to-watch Black-capped Chickadees.  We shifted positions.  We chatted.  We scanned with scopes and binoculars.  And we waited.  And waited.  And waited.  Savannah Sparrows, both regular and Ipswich, were a nice distraction but they were not our reason for having endured purgatory.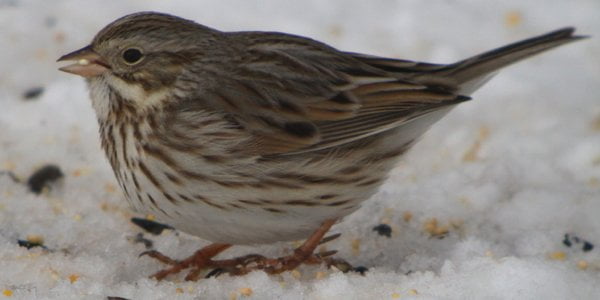 Savannah Sparrow, which is, of course, not a Green-tailed Towhee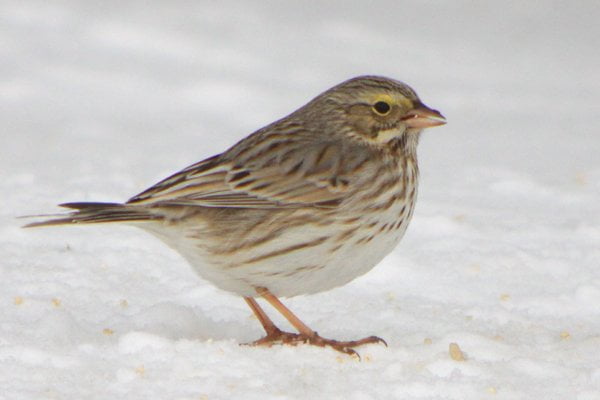 Ipswich Savannah Sparrow, which is, of course, not a Green-tailed Towhee
Eventually, sadly, reluctantly, we had to pack it in.  After all, we still had some driving ahead of us and we wanted to meet up with our Superbowl of Birding teams to get some last minute scouting in before dark.  We headed out, having dipped on Rhode Island's Green-tailed Towhee and assuming that the bird had succumbed to the weather.  Heavy traffic meant that we didn't make it to Essex County in time to get any scouting done.  An email on the Rhode Island listserv indicated that the bird had been seen the day after our visit.  This concerns me.  Currently, I do not have a real nemesis bird but if things don't improve soon Green-tailed Towhee might become one…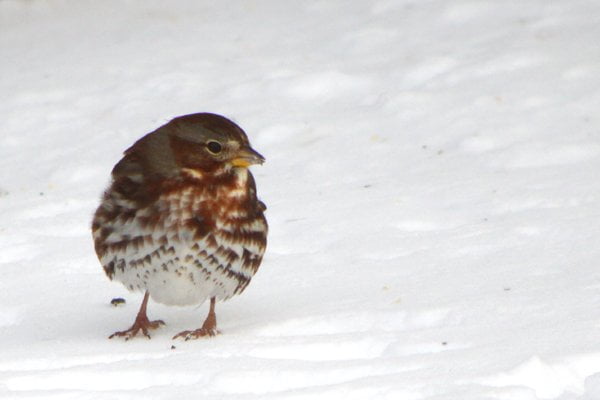 Fox Sparrow, which is, of…oh, you get it already!
…