I haven't had any major birding expeditions over the last week and a half but I have had several small ones.  Now that fall migration has picked up a bit I am hitting Forest Park often again, savoring every last warbler, vireo, and flycatcher that I can spot, knowing that each time I see a migrant it might be the last one of its species that I see until next spring.  Unfortunately, the dry weather and strong sunshine we've had of late has left the waterhole completely waterless so to get to where the birds are I have to walk most of the way across Forest Park to the pond on the other side of Woodhaven Avenue.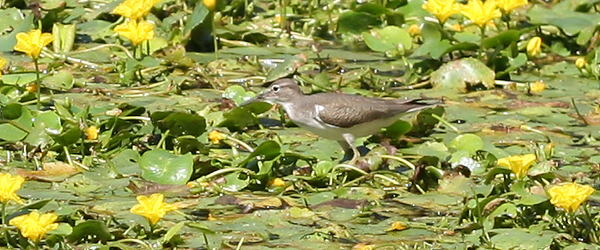 Spotted Sandpiper
The pond, as you can see above, is thickly covered with an invasive plant, but the Spotted Sandpipers don't seem to mind as it makes a perfect platform from which to catch bugs and other invertebrates.  As many as three at a time have been feeding at once and though they lack their telltale spots they are still easy to identify by their habitual tail bobbing.
They are not the only birds that I have tracked down in Forest Park for the first time this fall.  Eastern Kingbirds also use the vegetation on and around the pond as launching pads for their flycatching expeditions, and they are joined by Eastern Wood-Pewees (one is still singing!) and unidentifiable Empidonax flycatchers.  I even tracked down my first-ever-in-Queens Olive-sided Flycatcher the other day!
And the wood-warblers, the wonderful wood-warblers!  Yesterday morning no fewer than three Blue-winged Warblers were foraging near the pond as well as a single Canada Warbler and a Northern Waterthrush.  Black-and-white Warblers, American Redstarts, and a lone Ovenbird rounded out my other recent wood-warbler sighting in Forest Park: not bad for August!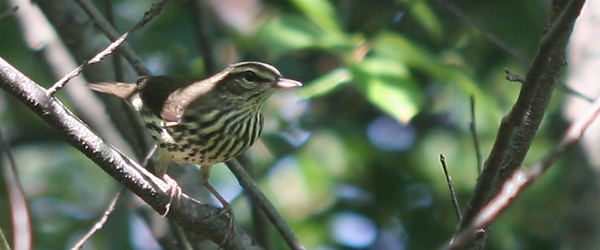 Northern Waterthrush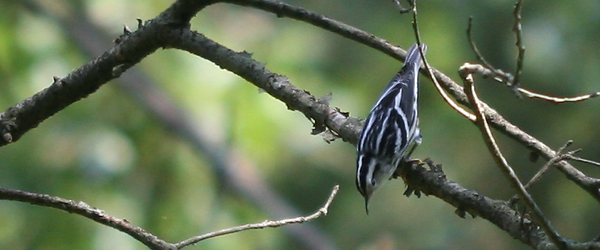 Black-and-white Warbler
And there are vireos around too!  No Yellow-throated or Philadelphia Vireos (yet) this fall migration but I have managed to find Warbling Vireos (which most likely nested near the pond) several Red-eyed Vireos (which definitely nest in Forest Park), and, best of all, a juvenile White-eyed Vireo!  Now White-eyed Vireos breed at Jamaica Bay, which isn't far from Forest Park, but except for a single unseen one singing back in May I had never known them to be present in Forest Park.  Is it a wanderer from Jamaica Bay taking part in some post-breeding dispersal or is it a migrant from somewhere north?  I don't know, of course, but a White-eyed Vireo that is not old enough to have a white eye is a pretty puzzling bird to see, and it was a real head-scratcher until something in my brain finally clicked.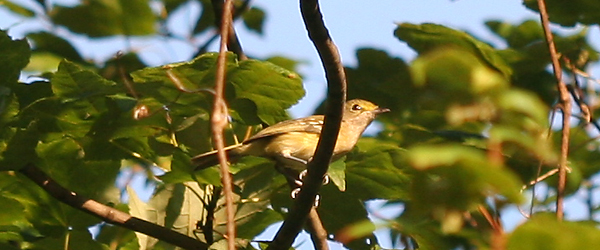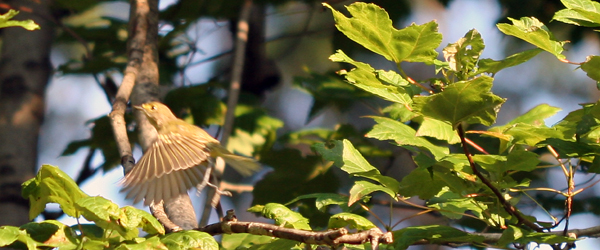 So get out there and get looking for the fall migrants.  If you don't you will surely regret it when they are all gone until spring (and you'll really regret it if someone reports a rarity in your local patch that you miss).