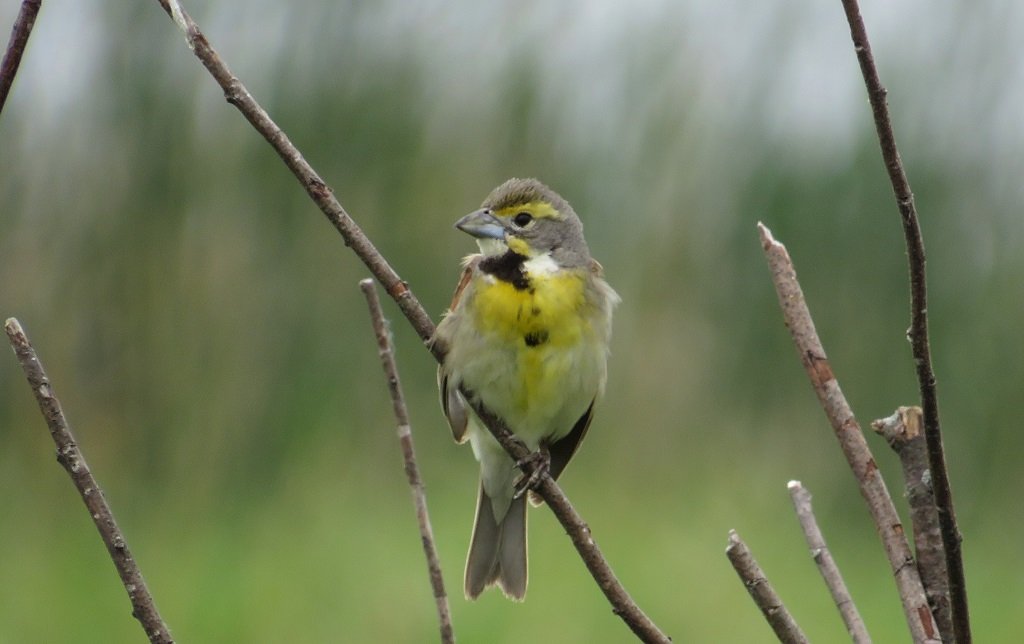 Once I was fully vaccinated and air travel became an option, I looked for a location for my first birding trip since 2019. I have a running list of trips to do, but many are best in spring, fall, or winter, not summer. And I wanted to be able to fly directly from Portland, so I would not lose a day to travel. Thus, I limited my options.
I settled on Wisconsin, which is home to one of the Top 25 NWRs for Birding that I have not visited: Horicon NWR. Additionally, I have written about Waterfowl Production Areas (WPAs), which are important but underappreciated parts of the National Wildlife Refuge System. However, I had never actually visited a WPA, and Wisconsin has several relatively close to Horicon NWR. So my criteria were as much about birding locations as they were about birds.
In late June, I flew into O'Hare and drove north to Fond du Lac, Wisconsin. My first birding stop was Horicon Marsh, one of the largest freshwater marshes in the United States and a critical rest stop for thousands of migrating waterfowl — it is a Wetland of International Importance. Horicon NWR covers the northern part of the marsh and the remainder is a state wildlife area.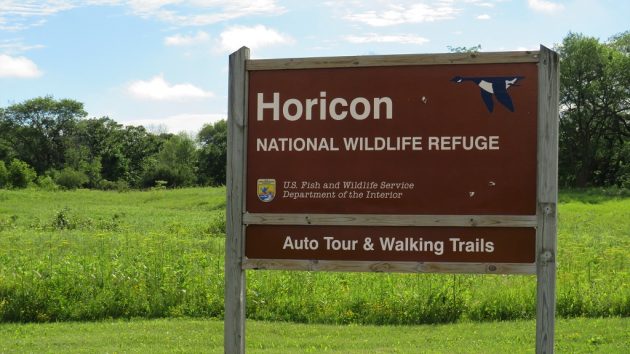 On eBird, Horicon NWR has nearly 300 species observed, more than 18,000 checklists, and 13 hotspots. There is an auto tour route with several trails along the route. In mid-summer, the refuge is full of breeding birds, including Canada Goose, Mallard, Wood Duck, Blue-winged Teal, Pied-billed Grebe, Virginia Rail, Sandhill Crane, Black Tern, Tree Swallow, Barn Swallow, Yellow Warbler, Common Yellowthroat, etc.
Once of the more unique trails is Egret March Trail, a floating boardwalk that leads to an observation deck. During the summer, in addition to rails and bitterns, there are dozens of Black Terns ferrying little fish back to the nest, a treat for any birder.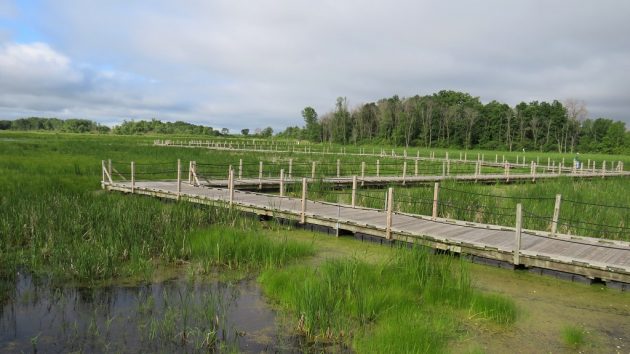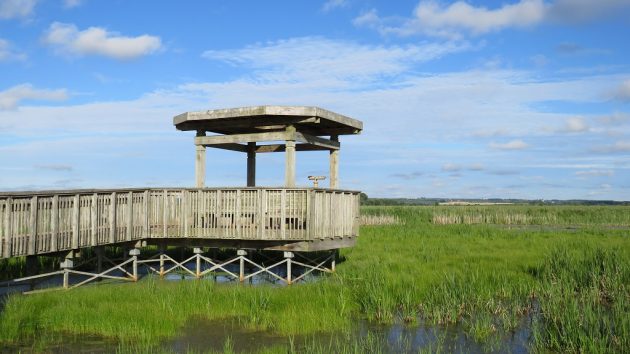 Other trails wind though grasslands and feature Bobolinks, a good bird for a west coast birder. Horicon NWR, which I visited several times on my trip, is a fine birding location and well-deserving of its Top 25 listing.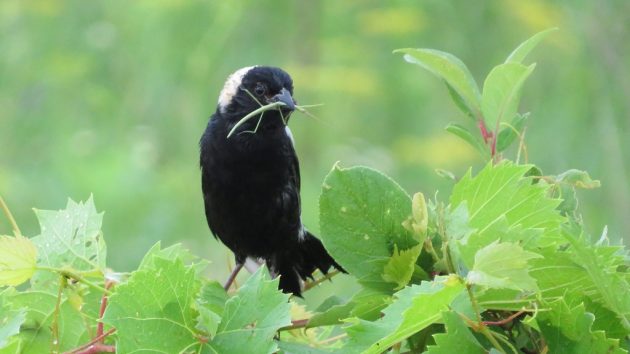 As to birding WPAs, Leopold Wetland Management District manages approximately 13,500 acres of WPAs in 17 southeastern Wisconsin counties, including some of the most important waterfowl areas in the state. Most WPAs are small, and many have no facilities or amenities for birders, even though they are generally open to the public.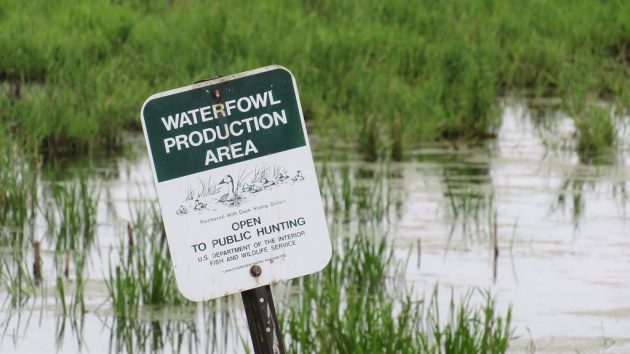 However, two WPAs – Uihlein WPA and  Schoenberg Marsh WPA – have parking lots, kiosks, and trails, so I put them on my list.
Uihlein WPA (an eBird hotspot) has a small parking lot and an unpaved road that serves as part of a trail though the nearly 2,000 tract, which is large for a WPA. There were few visitors and expansive views from the trail, as much of the WPA is a large low-lying cattail marsh. It is a fine birding location. Like several of my excursions, my visits were cut short by rain.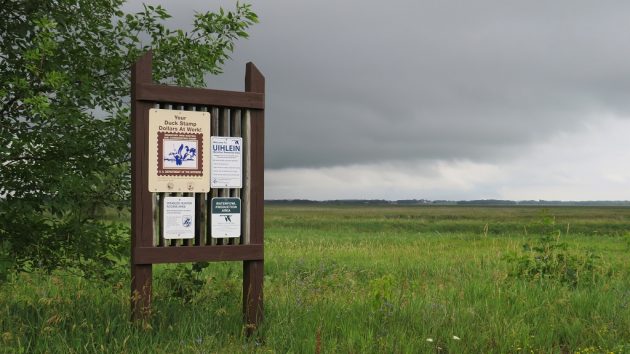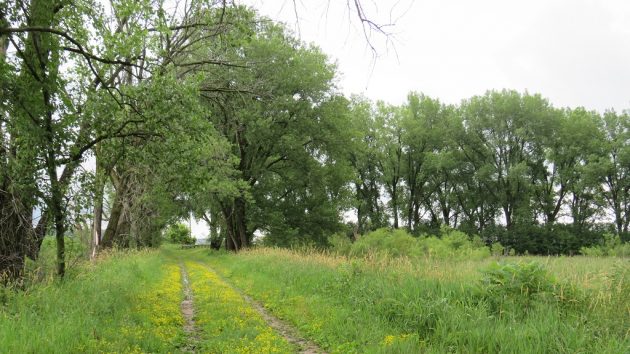 Schoenberg Marsh WPA (also an eBird hotpot) is 730-acre parcel with trails and an observation platform. My trip was also shortened by rain, and some areas went unexplored, but there was a singing Dickcissel (photo at top of this page).  It too seems a fine birding location.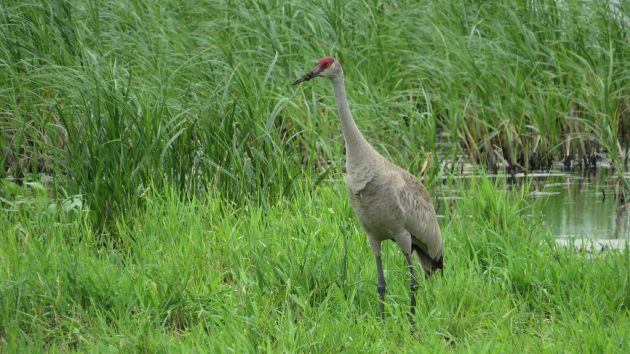 Perhaps more representative of a typical WPA is Anderson WPA, a small (40-acre) tract along a county road. There is little parking, but there are a few areas to pull off the road and you can bird along that road, staying alert for the occasional car. The highlight was a pair of Sandhill Cranes with two tawny colts.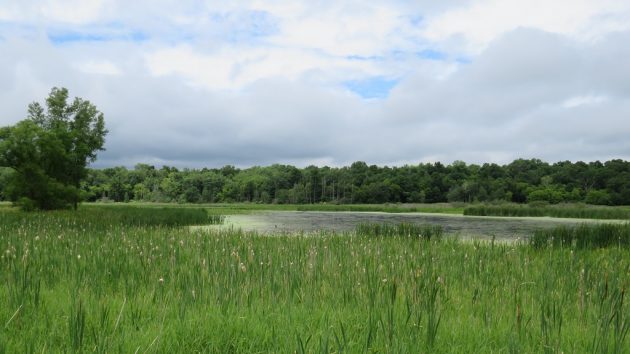 Like many of the best NWRs for birding, Horicon NWR (and most of the WPAs I visited), were purchased with funds from the sale of Duck Stamps. Indeed, 98.7% of Horicon NWR was purchased with MBCF funds (i.e., Duck Stamp funds).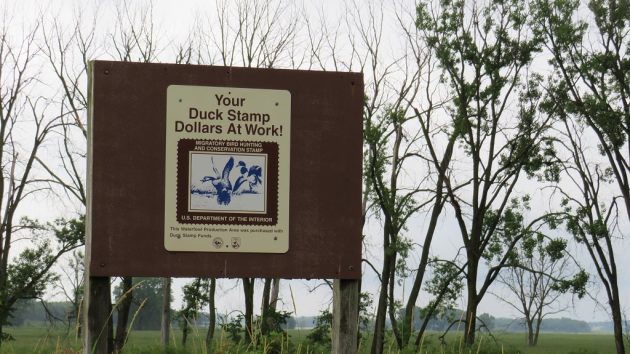 On the drive back to Chicago, I made a brief stop at the Schlitz Audubon Nature Center, a 185-acre preserve on Lake Michigan in Milwaukee, that is well worth a visit. It is a popular eBird hotspot with nearly 13,000 checklists and 260 recorded species.
Back home, I discovered that somehow the 10,000 Birds Collaborative had not yet covered Wisconsin on eBird. But now it has.