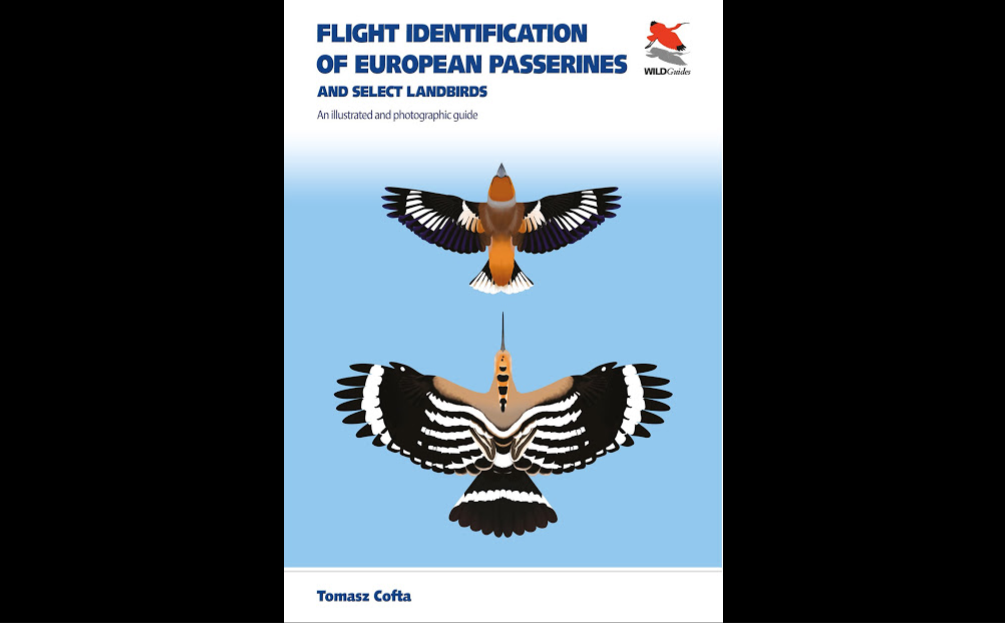 Since the 2nd edition of the Collins Bird Guide (published as "Birds of Europe" in the US) from 2009, the field guide market for European guides is practically dead. Knowing how good Collins 2 is and how high standards it has set, no publisher seems to dare to challenge them on the continental level (there are a few single-country guides, e.g. for Cyprus).

And that is one of the reasons I am impressed with the "Flight Identification of European Passerines and Select Landbirds: An Illustrated and Photographic Guide", though it is not a standard field guide. Weighing 2.88 pounds, it is a hefty book, not something you would want to carry on foot, but rather leave at home or in your car. But first and foremost – it is a beautiful book.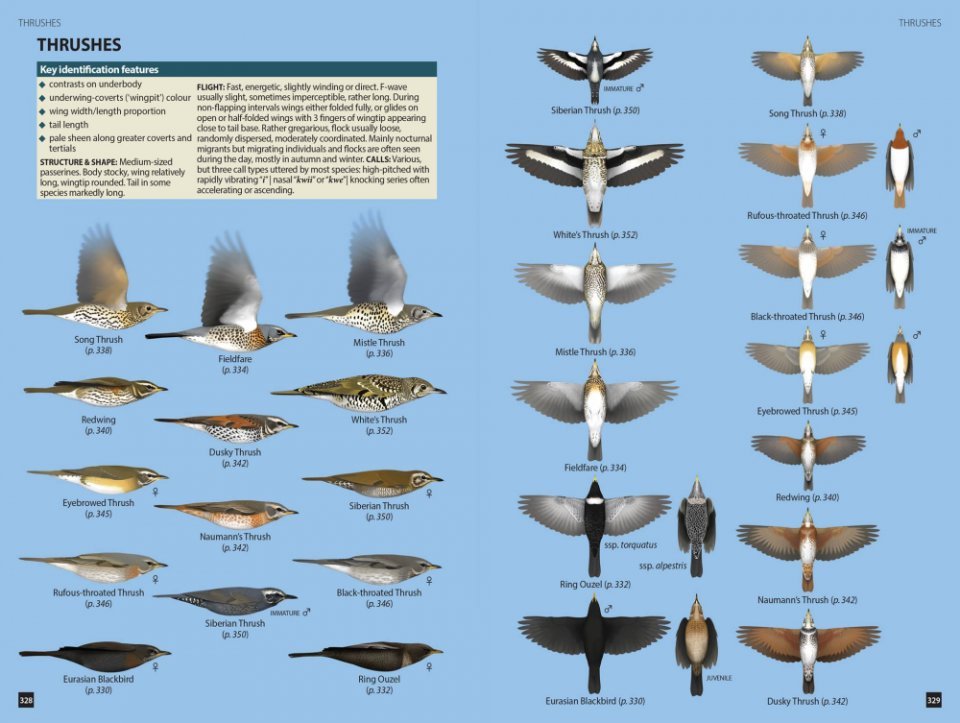 Each family is given a double-page spread
So if it is not a standard field guide, what is it? For Europe, this is the first of a kind, giving each family a double-page spread, and each species two (sometimes 1, sometimes even 4) pages for a small photo of a standing bird and large illustrations of it in flight, with wings fully spread, usually from above and below, plus a composite photo made of a dozen flight images (in some cases, made of several dozen images). For easier comparison, confusingly similar pairs are shown on the same page, side by side. 850 illustrations by Tomasz Cofta are both accurate and stunning, and 2,400 photos by Michal Skakuj and 189 other photographers from Europe and Asia are good documentary shots.

There is also a short description of each bird species (which may be quite detailed where necessary) covering the size, structure and shape, colouration, flight (the flight manner of individual birds), flock (the structure and behaviour of flocks), transliterations of flight calls followed by sonograms, and with QR code to 131 online recordings. Each species is described only by features that may (although not always) be seen in flight; those impossible to notice in flight are omitted.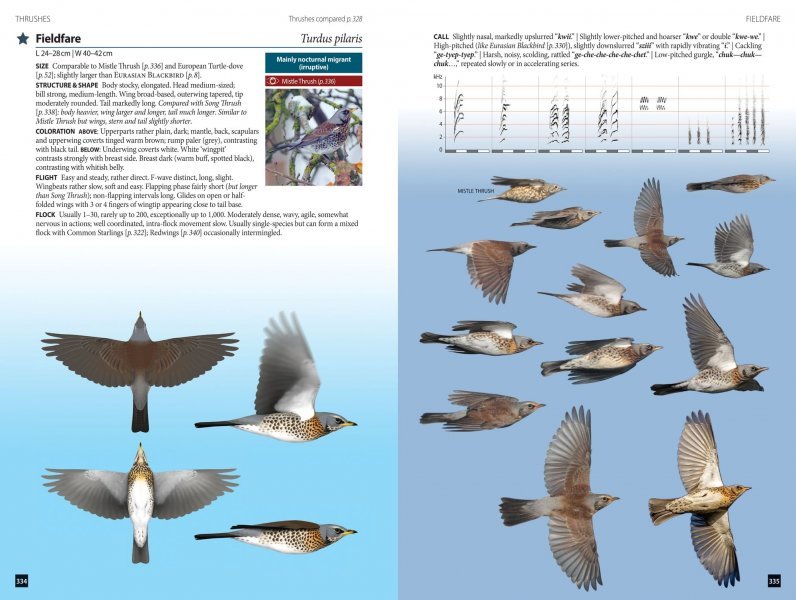 Each species gets two (sometimes more) pages

This unusual guide covers 205 European passerines and 32 non-passerines living in or visiting Europe and Turkey, including several vagrants from Asia (pipits and thrushes). Excluded are non-migratory species from the Atlantic and Mediterranean islands and a few resident species of the Caucasus (as well as vagrants from America). The non-passerines described in the book are 7 pigeon species, 2 cuckoos, 5 swifts, 3 kingfishers, 2 bee-eaters, 10 woodpeckers and European Roller, Common Hoopoe and Rose-ringed Parakeet.

This kind of information is normally given very little space – if any – in standard field guides. For example, songbird flight illustrations in the Collins Bird Guide are tiny, while here they cover the better part of a page. All this sounds great as an idea, great as a reference and did I mention that illustrations are gorgeous?  

But how does it work when you try to use it? E.g., I recently flushed a pipit, either a Water Pipit or a Meadow Pipit, and when I came home, I thought: let's try that new book, I am curious to compare the amount of white in their outer tail feathers, clearly visible when the bird is taking flight. That kind of feature is something you cannot clearly see in those tiny illustrations in the Collins Bird Guide. And the result? Well, both species are shown from below and sideways, but there is no illustration – nor a photo, showing them from above, the way you see the bird you have just flushed.
Still, fascinated with this flight guide, I shared my views with an elderly ornithologist who, unimpressed, asked what's the purpose of even trying to ID a fast-flying dot in the sky? It is often impossible and I think it will remain so even with this book, but if the bird has some visible light-dark contrasts or more noticeable colouration, it could be done even with binoculars only. And that is where we reach the new area of opportunity: bird photography.

When I see a bird in flight, if I have any hope of IDing it, I'll reach for binoculars. Yet, one local teenage birder has recently IDd the Red-throated Pipit, a rare species around here, from a flight photo he managed to shoot, slightly blurred, but not enough to obscure its pale reddish throat. And the number of people birding with a camera has never been larger and is likely to grow further. It is not just the young generation, but the older as well, I know an ornithologist who often visits his local patch only with a camera, not even with binoculars. I also know one brilliant herpetologist who birds with camera only, and is a great birder.    

And every bird photographer has a pile of images that he/she considered non-identifiable until now. Bird-ringers (banders) will find this book priceless, despite already having specialised ringing guides. A refreshingly new concept and a very useful guide for every birder – I sure recommend it.

Flight Identification of European Passerines and Select Landbirds: An Illustrated and Photographic Guide
Text and Illustrations – Tomasz Cofta
Photographs – Michal Skakuj and 189 other photographers from Europe and Asia
Voice Recordings – Tomasz Cofta and 14 other authors
Publisher: Princeton University Press (Series: WILDGuides)
Number of pages: 496
Format: 6.13 x 9.25 in, 156 x 235 mm
Weight: 2.88 pounds
ISBN-10: 0691177570
ISBN-13: 978-0691177571