This morning I woke up at the crack of dawn and was in Forest Park, binoculars and camera at the ready, when the first fingers of light hit the forest floor.  The birds weren't quite awake yet.  I waited patiently and ended up seeing the same darn birds that I saw this past Sunday.  Not that I'm complaining: any birds are good to see as far as I am concerned, but I am trying to see 250 birds this year without the aid of a car and not seeing something new is kind of a bummer.
Nonetheless, when the sun did start to shine with some intensity, the bird song began in earnest.  Northern Cardinals, Tufted Titmice, White-throated Sparrows, American Robins and Black-capped Chickadees combined don't make the most impressive dawn chorus but hearing birds singing their hearts out is certainly nice on an early-March early morning.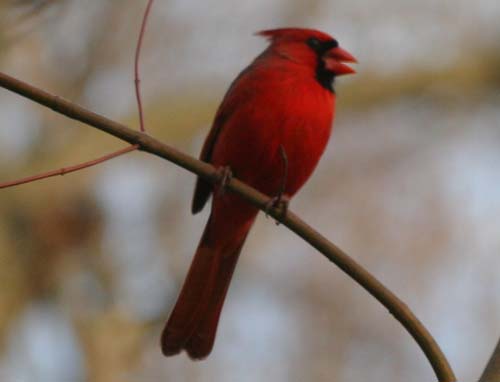 Northern Cardinal
I spotted what was likely the same Red-tailed Hawk I saw last time I was in the park, and the same Brown Creeper and Eastern Towhee as well.  I explored a few new paths but didn't find much of interest, just a horde of Eastern Gray Squirrels.  Then I had to hustle home to get showered and changed and get to work.  However, on my walk home, a pair of Common Grackles flew over, probably headed for Flushing Meadows Park, a new bird for my Anti-Global Warming Big Year list.
This weekend I'll go further afield, testing the outer limits of New York City's fine subway system, but, until then, I'll leave you with a White-throated Sparrow.