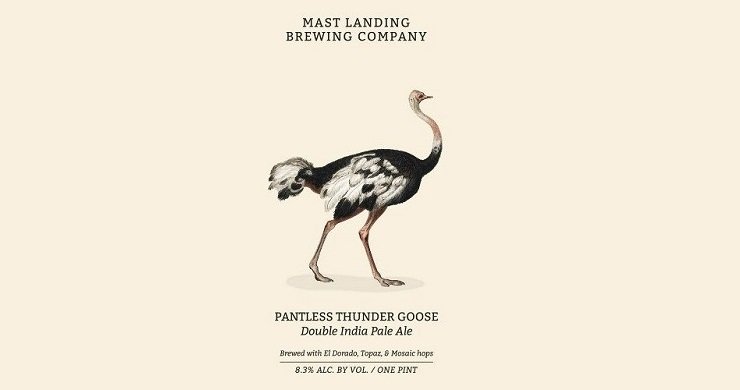 The Guinness toucan is easily the most iconic bird mascot in beer history, but the storied Dublin brewery also boasted an ostrich and a pelican in its colorful, avian advertising menagerie of yesteryear. Truth be told, any of the three Guinness birds illustrated by John Gilroy would be a tough act to follow in the world of brewery marketing, but this week's featured beer makes a worthy attempt by featuring the world's largest bird – the Common Ostrich (Struthio camelus) – in all its barelegged magnificence.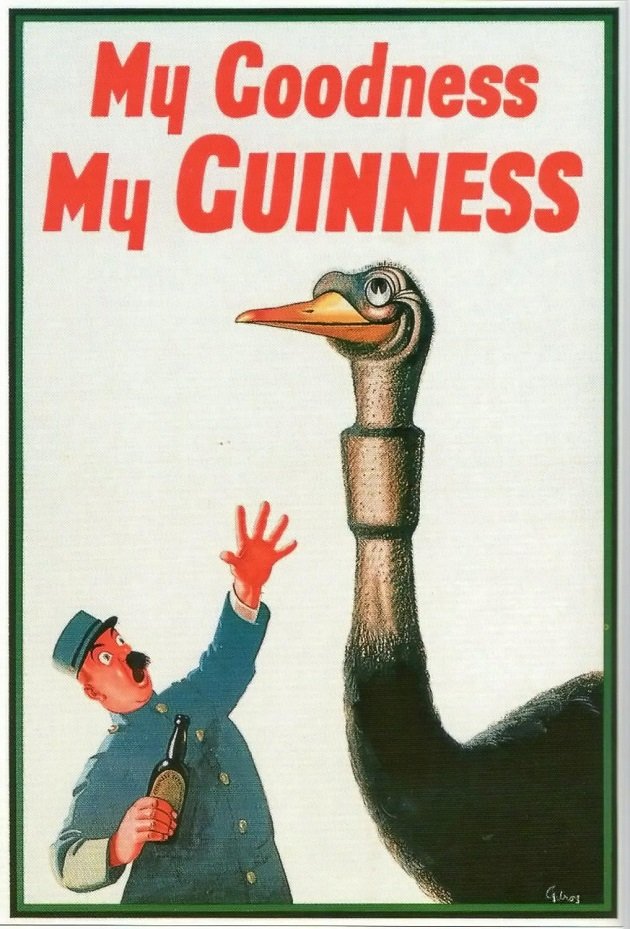 A vintage Guinness advertisement by English artist John Gilroy (1898-1985), still the gold standard for marketing featuring struthionids.
The improbably named Pantless Thunder Goose is a double India Pale Ale by Mast Landing Brewing Company of Westbrook, Maine. Devoted internet observers may recognize this beer's unusual name from a humorous fad that emerged several years ago in the wake (pardon the pun) of the Boaty McBoatface controversy, when that dubious name won what had been intended as a serious online poll to name a scientific research vessel. For some time after that, the hive mind of the internet was inspired to engage in an infantile but good-natured effort to bring forth a whole host of silly new names for animals, resulting in a wholesale renaming of living organisms not seen since Carl Linnaeus published his Systema Naturae in 1735. The best examples of this crowd-sourced taxonomic exercise – dubbed "#TheInternetNamesAnimals" – reduced each zoological form to its most basic defining characteristics with childish but uncanny simplicity, generating such humorous neologisms as "beach chicken" for members of the family Laridae, "stab rabbit" for the porcupine, and – yes – "pantless thunder goose" for the ostrich.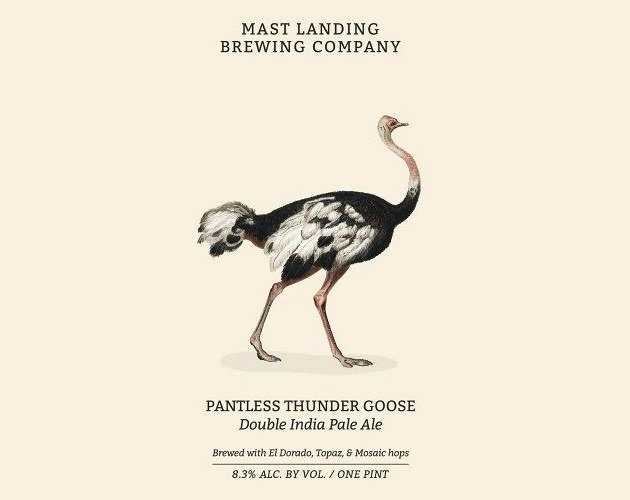 Pantless Thunder Goose is brewed in the hazy New England IPA style and hopped with El Dorado, Topaz, and Mosaic hops, three varieties known for their pungent and fruity aromas. The intricate bouquet offers tropical layers of mango and pineapple, the sweet perfume of ripe summer peaches, and hints of spearmint and freshly sliced watermelon. Beneath the soft, billowing head lies a seemingly sun-kissed brew bursting with bright citrus and lychee flavors, with a slight nip of piney bitterness in the finish.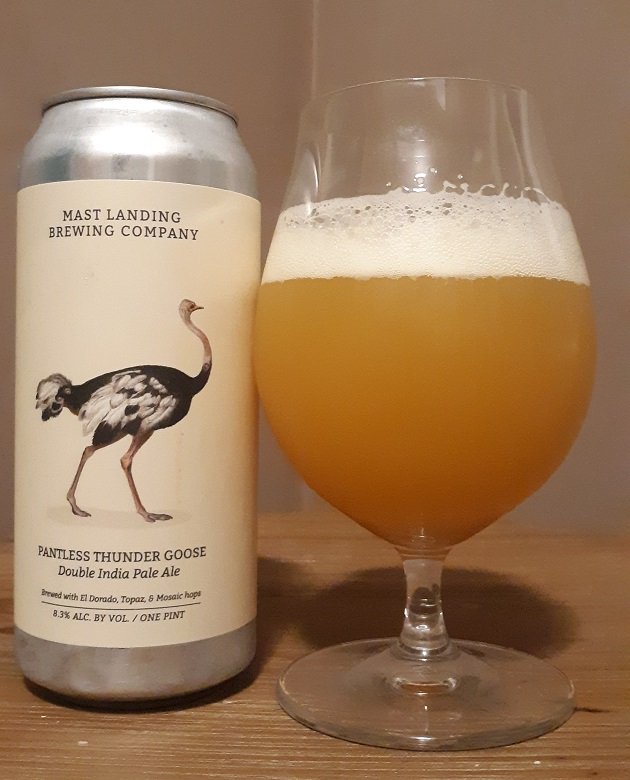 A note of caution about this beer's alcohol content: at a walloping 8.3 percent by volume, having more than one 16-ounce can could mean you're headed for a drunken argument about whether this thunder goose is actually "pantless" "pantsless", "pant-less", or "pants-less", depending on the pedantry of the company you keep. Consider yourself warned.
Good birding and happy drinking!
---
Mast Landing Brewing Company: Pantless Thunder Goose Double India Pale Ale

Four out of five feathers (Excellent)