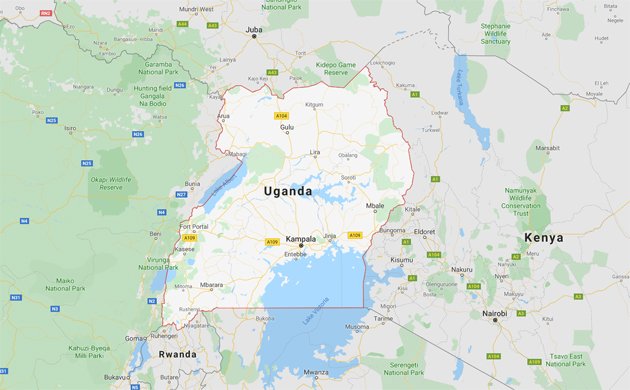 This coming Thursday both Mike and I will be jetting our way to a continent neither of us have ever visited. Yes, we'll be heading to Africa, more specifically the "Pearl of Africa," Uganda. We'll be attending the 3rd African Birding Expo and the pre-Expo familiarity tour. You may remember back in 2017 when Nate participated in this trip or maybe you followed along in 2018 as the Birdchick dazzled us with her experiences there. But now it is time for Mike and me to explore the wonders of places like Murchison Falls, Bwindi Impenetrable Forest, and Lake Mburu. We will trek to see Mountain Gorillas, seek out Shoebills, and hope to avoid being trampled by Hippopotami.
Uganda boasts a checklist of well over one thousand species of birds and host of mammals, reptiles, and interesting insects. Though we both have gotten yellow fever vaccines and are well stocked with malaria pills, neither Mike nor I feel the least bit prepared for over two weeks surrounded by what will be an almost entirely new avifauna for us to experience. I think I speak for both of us when I say I just hope I don't embarrass myself by not knowing what anything is. I mean, what even is an alethe? Or a hyliota? (For the record alethes are "medium-sized forest thrushes which are generally brown above" and hyliotas are "small active warblers of the canopy." That helped, right?)
Both of those descriptive quotes come from Birds of East Africa by Terry Stevenson and John Fanshawe, which has been my constant companion for the last month-and-a-half during my commutes to and from work, before I fall asleep, and even, I am not afraid to admit, when I sit on the toilet. I'm seeing illadopses in my sleep and tchagras in my dreams. (Illadopses are "shy and secretive dull brown and gray babblers" and tchagras are "rather shy gray-brown bush-shrikes.")
Want to follow along on our adventure? We will likely be blogging occasionally depending on our ability to stay awake after long days of birding and travel and we will definitely be posting wonderful images and videos on our 10,000 Birds Facebook and Instagram accounts, so make sure to like and follow them! (You can like us on Facebook by clicking the link in the sidebar and follow us on Instagram by clicking those gorgeous photos down at the bottom of the blog.) While we're gone we're just hoping the beat writers don't run amok too much, but if you see a rapid increase in the quality of our blog content while Mike and I are away don't be surprised. After all, when the stern taskmasters disappear the beats will be free to write as creatively as they wish with no one to tell them not to.
We'll be forever grateful to the Uganda Tourism Board for inviting us on what will undoubtedly be an amazing familiarization tour. That is, we'll be forever grateful provided our heads don't explode from all of the new birds we see. On a trip as long as ours it's not unusual for people to see five-hundred-plus species of bird so we will likely have a hard time surviving this one. Wish us luck and make sure to follow us on Facebook and Instagram!
…