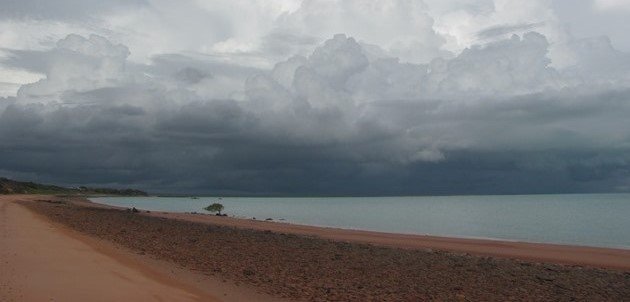 We have been experiencing some monsoonal weather recently and many a day we are faced with the encroaching black sky as shown above. We have started to carry an umbrella on our shorebird walks, but have yet to use it! Invariably the storm swings around over Roebuck Bay and we return home without getting wet….beyond the perspiration from the high humidity! Our first cyclone for the season has formed, but it is to the north of us and heading east and we are expecting one or two cyclones in coming months and hopefully some birds blown off course with it!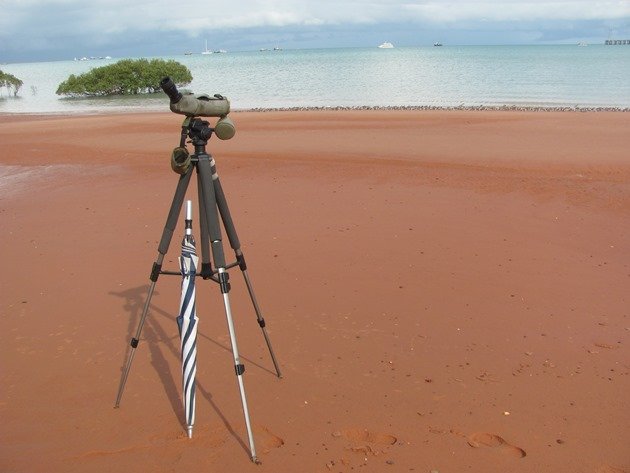 Observing birds, but ready for any weather!
The beaches around Broome are now home to many migrant shorebirds as well as our resident shorebirds and they will sit out any storms that head our way. At high tide each day they can no longer feed on the mud-flats and they fly to various beaches to roost. This is an ideal time to observe the huge variety of shorebirds present along our shores and ideally you should visit after the tide has turned when they are most relaxed. The disadvantage to this is the shorebirds may well be so relaxed that they are lying flat on the sand with their bills tucked in. If you are relying on leg colour or bill colour or bill length then you will really have quite a challenge sorting through all of the species present, but with perseverance you will eventually work it out!
The flock roosting below includes Bar-tailed Godwit, Great Knot, Red Knot, Curlew Sandpiper, Terek Sandpiper, Grey-tailed Tattler, Red-necked Stint, Common Greenshank, Greater Sand Plover and Lesser Sand Plover. They are all in non-breeding plumage to add to the challenge, though some male Bar-tailed Godwit are still carrying a trace of colour. At this time of year we do find shorebirds that have been individually marked overseas along the Flyway and they will remain with us throughout the coming months. The Bar-tailed Godwit is the largest bird among the flock and has a distinct long bill, with the female bird being significantly larger than the male of the species.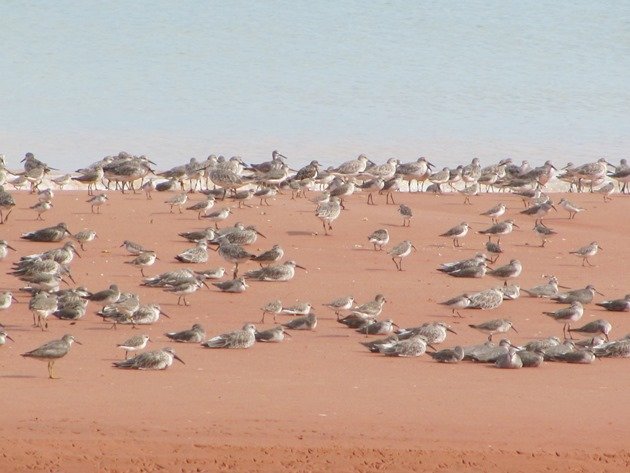 Mixed flock of roosting shorebirds at high tide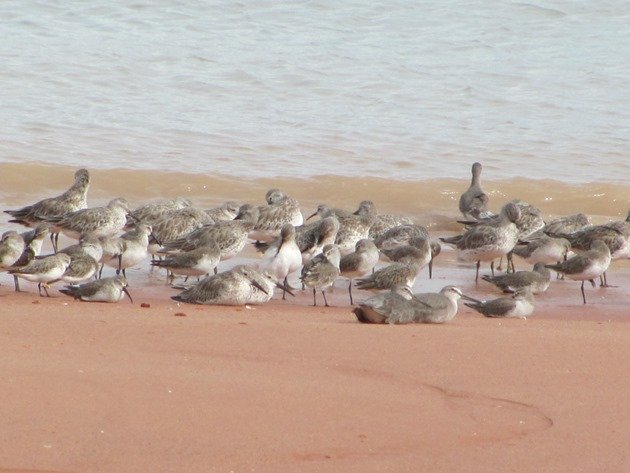 Great Knot, Grey-tailed Tattler and the Curlew Sandpiper lying on the left with its down-turned bill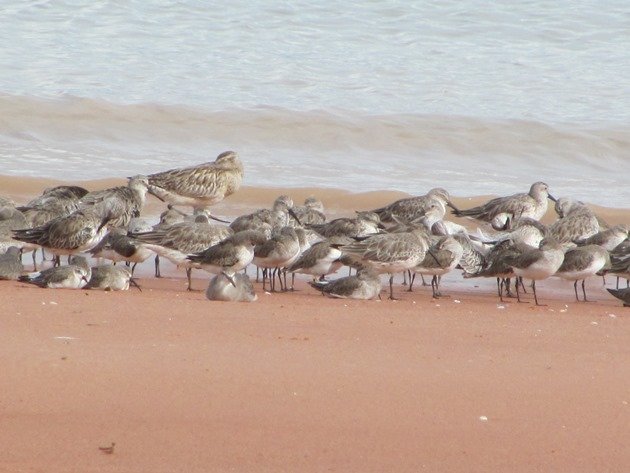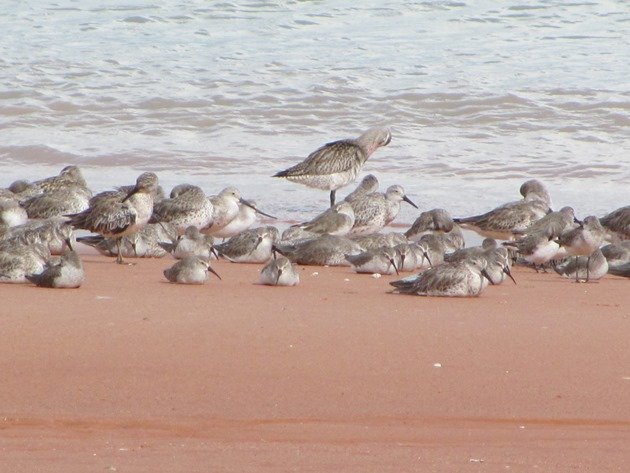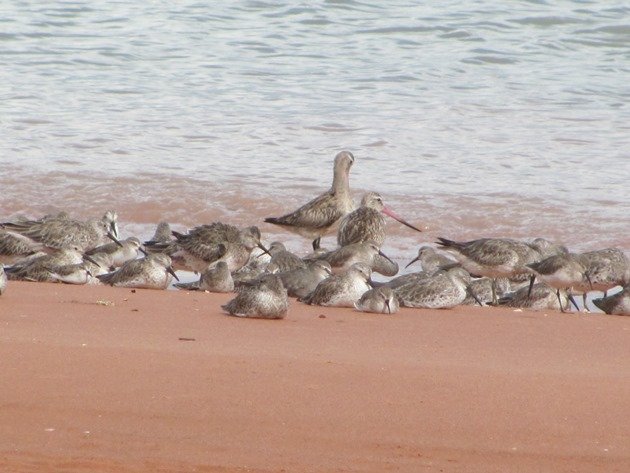 Roosting shorebirds…note the large birds with a long bill…. Bar-tailed Godwits
Another species that is among the shorebirds at present along the beach is the Gull-billed Tern. This race is the Macrotarsa, which does not migrate into Asia. We also have the smaller race Affinis and they are a smaller Gull-billed Tern and migrate into Asia during their breeding season. This pair of birds are in breeding plumage with their black cap covering their eyes.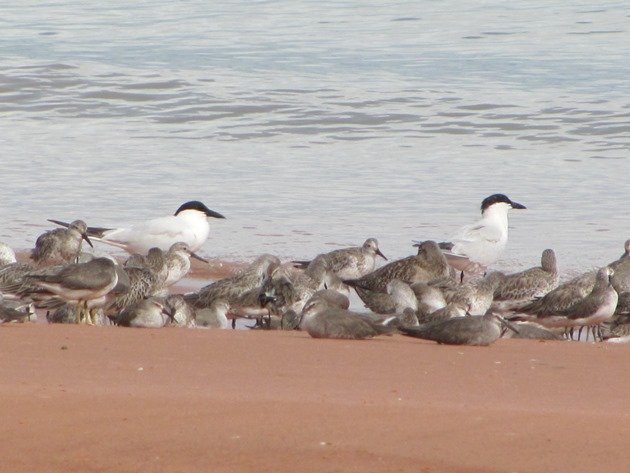 Gull-billed Terns-Macrotarsa-among the roosting shorebirds
Among our shorebirds returning this year from the north was our "lost" Semipalmated Plover. It first arrived in October 2009 and has been observed back here in October every year until this year when it showed up a month earlier. It usually starts out at either the Poo Ponds or the beach nearby and roosts with the Greater Sand Plovers. It is rather distinct by the colour of its legs and its markings are already dull now. It is believed that once it made its first journey south off course it will continue to do so for the rest of its life, so we all await its arrival each year with anticipation.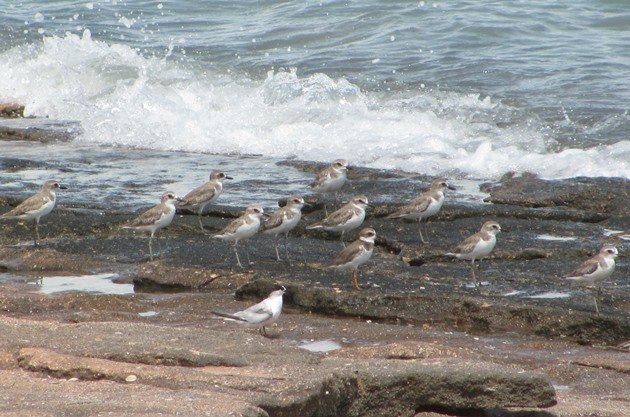 Semipalmated Plover with Greater Sand Plovers and Whiskered Tern
If you really want to get your head around all of the different shorebirds along our shores in Australia then this is the perfect time to visit Broome. It will be challenging, but once you are able to spend time observing so many different species in such large flocks you will soon see the differences and you will no longer need to see the whole bird to identify the species. Of course you may need an umbrella and it will be humid and warm, but there is one huge advantage of visiting in November or December….it is mango season! We have had to bring ours in to ripen once again, because there are some rather hungry Fruit-bats, Great Bowerbirds, White-gaped Honeyeaters and Red-collared Lorikeets eagerly helping themselves.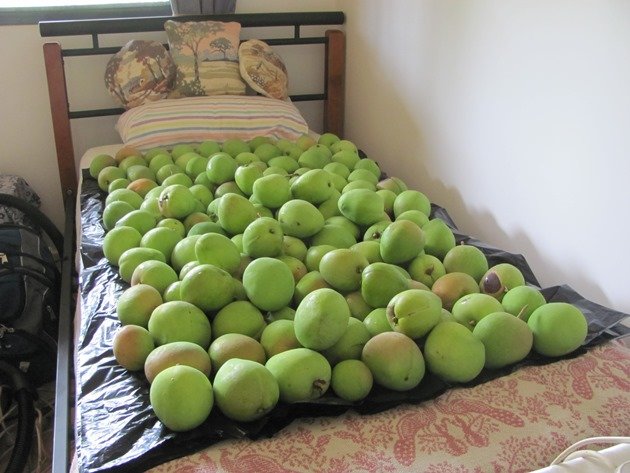 Mango ripening away from the birds!
If you want to make the shorebird identification easier you can always visit Broome just before they migrate in March, April and May and the Red Knot will be red. All of the birds will look significantly different due to the weight they put on prior to migration and the change in their plumage.
Actually, any time of year in Broome is perfect for shorebirds! Even when the shorebirds have migrated there are still some young and old shorebirds that do not migrate, but the most important thing is to know what time is high tide and be on the beach when they are roosting. It is then that you can "get up close and personal" and learn all about their different characteristics.