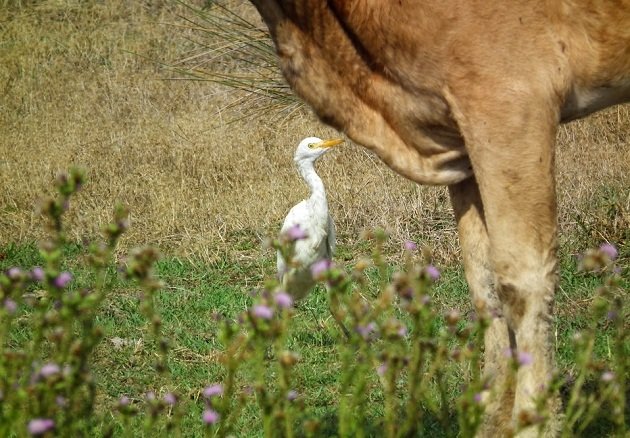 "The estuary and the delta of the River Kalamas form the most important wetland of northwest Greece", so the "Birding in Greece" guidebook claims for the area where I am heading, a bit late since I overslept this morning.
Driving north along the Ionian seacoast through the city of Igoumenitsa, there is a place where the main artery takes you right, further away from the sea – follow it for 150 metres (500 ft) and then turn left just before a small stadium. The rest of the road follows the sea for some 3.5 km (2.2 mi) to the first of a series of lagoons – the Drepano Lagoon, which is usually dry by late summer, but it held a lot of water this September. Yet, beside a few Little and one Great Egret, a raft of Eurasian Coots, no birds.
The next one, the lagoon of Vatatsa (at the eastern side of the Valtos Bay), offered a lot more egrets, one Squacco Heron, two distant Dalmatian Pelicans and quite a few little things chirping from their hiding places in the tamarisk bushes by the road. Waiting, hoping but no, they are next to impossible to see…. One in flight… lands on that reed stem… checking it with binoculars… is it? Mounting the already prepared Swarovski STX on window clamp… yes, it is! One lovely Zitting Cisticola in full sunlight, showing itself for several more seconds, before it disappears.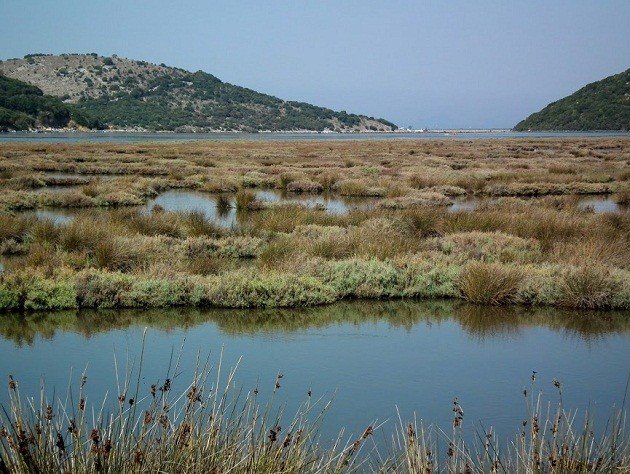 The lagoon of Vatatsa
Tarmac road takes me towards a wooded hill with a stone tower on its top, a local landmark. Wherever you wander in these lowlands, you can see it and have a sense of direction. It is a moderate 26o Celsius by now, but it is already noon, not the best period to look for birds.
Two buzzards flying above the hill, I am checking could they be Honey Buzzs, no, only Common. At the same time, a flock of egrets is flying low against the hill. Some more Little Egrets, I think and pay no further notice. But, passing numerous Red-backed Shrikes, Western Yellow Wagtails and a herd of sheep among tussocks of long grasses, I remember those egrets. Could they possibly be…? I am checking the grass for any flash of white and soon my suspicion is confirmed: Cattle Egrets (cover photo)! This species is still uncommon in the Balkans and despite the recent spread, Kalamas is the most reliable site for it in Greece (and this made my only second ever observation of them in Europe).
Further north, I reach the Kestrini River and turn left. Oddly, a banana is growing wild by the roadside, while the area is mostly dried out and converted into citrus orchards interspersed with numerous irrigation canals (citruses require a lot of water). The canals aren't bad for birds, either. Soon I find two Common Greenshanks, several Common Moorhens, some smallish dabbling ducks turning from eclipse into winter plumage – Garganeys and one, no, two Common Snipes in the same party, posing for a long time, showing those enormous beaks. I was the first to leave – undisturbed, they remained there.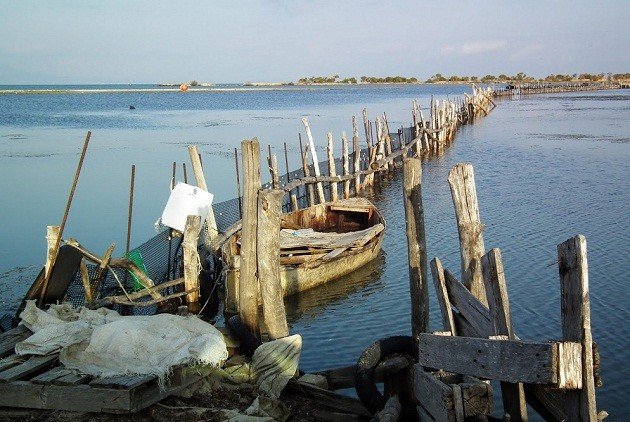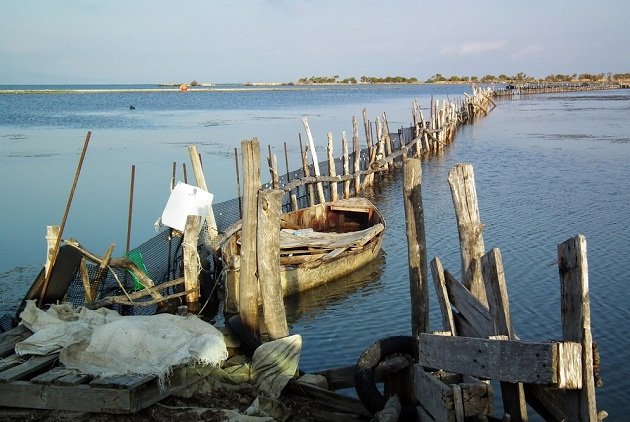 The lagoon of the old delta of the Kalamas River
A pick-up truck stops by my side, a young Greek asks me if I am lost? No, I am just looking for birds. "Not all those who wander are lost."
Now the temperature goes up to 28oC. It is getting a bit hot. Driving along its southern bank, I am trying to follow the River Kestrini to the sea. A dirt track is getting worse, one large pothole after the other, but I naively continue. Some waders in flight, three Tringas and one Calidris. I am not good with waders; I need to see them standing to be able to tell them apart – in flight I can go only to the genus level. One more canal, and… a Water Rail shows well! Turning left, and then left again, driving next to the sea, yuck! Potholes are so deep that I choose to navigate those ugly ones again, at least I know how bad they are.
I am going back to the tower hill to cross the Kestrini River and check the northern bank. The southern did produce some nice birds, but required a lot more work than payment for it.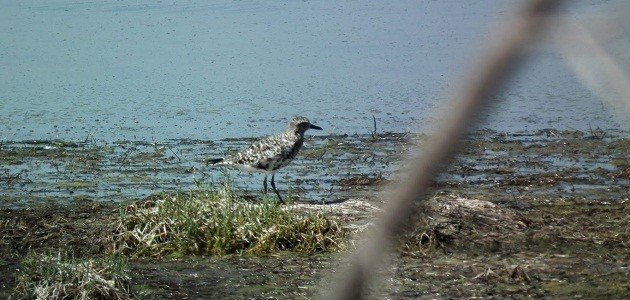 The Grey Plover
After I crossed the bridge, I turn left to go towards the sea. And when I saw the habitats, I knew that I hit the jackpot! I reached the narrow strip of the riparian forest and the vast mudflats, saltflats and the lagoon of the old delta of the Kalamas River (due to the irrigation, the current Kalamas Delta is pushed further north).
The first good bird was one Grey Plover (in North America a.k.a. the Black-bellied Plover) perhaps five metres from the road. I reach for my camera, only to realise that the batteries were flat. After I changed them, I realised that I had forgotten to recharge the other set! So, I was downgraded to mobile phone photos. Oh, well…
I managed to follow a dirt track all the way to the sea and one distant beach visited only by seagulls… Yellow-legged and Black-headed Gulls, to be exact. I am checking the narrow strip of sand that separates the lagoon from the open sea… Sandwich Terns, three, then seven more, one Eurasian Curlew, several Grey Herons…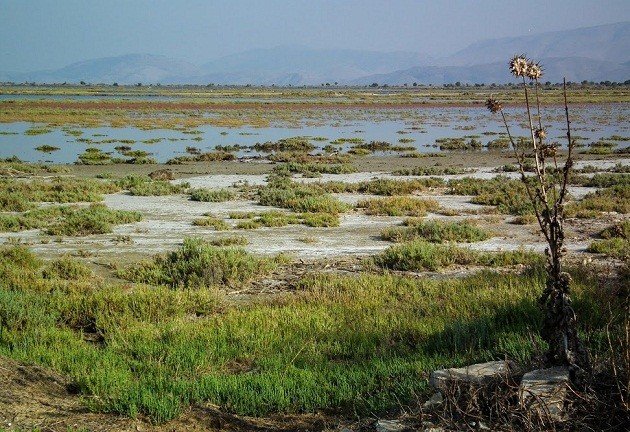 The saltflats of the old delta of the Kalamas River
It is getting really hot now, 30oC and I am in a car in the open, without any shade… any shade big enough for a man – trackside bushes offer bits of shade large enough for a dog to lie down. I remember a line from the writings of late Slovenian rock climber, Nejc Zaplotnik, saying that, back in 1970s in the camp IV at Yosemite, there was a sign: Only for dogs and climbers. Well, this dirt track is only for dogs and birders, that is for sure.
There is a tin fishing hut on stilts and some sort of netting across the lagoon, either to prevent the larger fish getting in, or getting out of it. A few moored boats with piles of fishing nets, but no people.
Barn Swallows and Sand Martins (a.k.a. Bank Swallows in the Americas) are flying above, Common Kingfishers are hunting (on this bank alone I will record six of them), quite a few Common Redshanks, while the roadside bushes are alive with migrating flocks of Willow Warblers.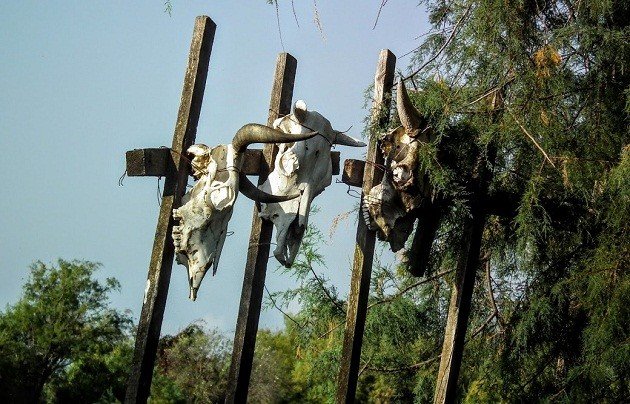 One Great Egret and no less than 19 Eurasian Spoonbills. I couldn't see the legs of all birds, but those I was able to check had no rings.
Every 50 metres or so, I stop to mount the scope and scan the area, sitting and sweating in a car parked in the sun. And I know I am in Heaven. My definition of Heaven clearly involves a place hot as Hell, but with so many birds one has to shovel them away to clear the path.
Finally, a bit of shade – the only one for miles around. The building looks like some abandoned sluice tower, now used as a fodder storage, but it offers proper shade, right next to a strange wooden fishing boat, so narrow and lightweight that the mount for outboard engine is on its gunwale, like on a canoe. I am having a sip of water, thinking, if any cold beer seller would appear now, I'd give a Golden Fleece for a six-pack of Mythos!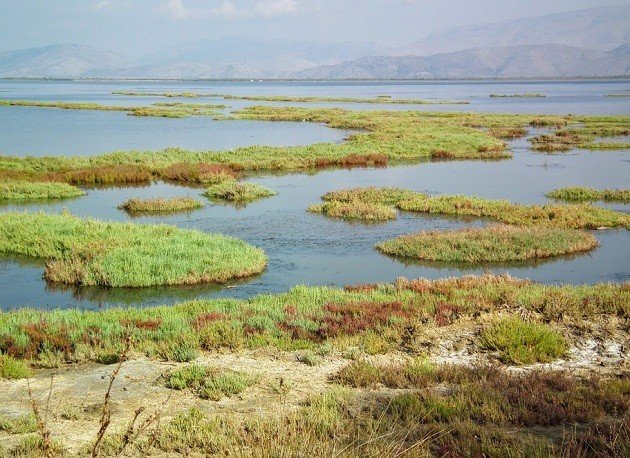 The Xeradi Lagoon
After the tower, the habitat changes from lagoon into saltflats with bare ground, grassy areas, some black mudflats and smaller lagoons. The first bird in this area is one Little Ringed Plover, followed by numerous Little Egrets and kingfishers.
But I couldn't help asking myself: what would I see if only I had come here earlier in the morning? And, four days later, I did exactly that, which gave me enough time afterwards to explore a new area immediately north, the Xeradi Lagoon.
Along the track leading there are numerous Crested Larks (by cattle corrals), Spotted Flycatchers and Whinchats (in reedbeds), until I reach the sea and climb the dyke to spot many grassy islets. One large tern – a Caspian Tern is flying above them, while at the most distant islet, a great many Dalmatian Pelicans are roosting. Sixty, 30, 7, plus 4 – I actually counted 101 pelican, but adding the distance bias, it is more likely to be 110-120 of them.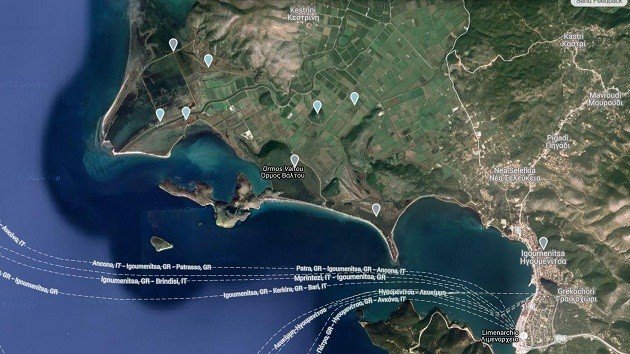 eBird hotspots of the Kalamas Delta
Recommendation
To be properly explored, the Kalamas area requires one full day – or even a day and the next morning, and if you are staying at the island of Corfu (Igoumenitsa is the ferry port for the island) or in the resort town of Parga, further south, it may be worth devoting a day to this area. That would allow you to search not only the Old Delta, which is what I did, but also the New Delta as well as the Kalamas Gorge with its colony of Griffon Vultures, northeast of Igoumenitsa.