Most birdwatchers that visit Ecuador for the first time concentrate in the north-east and west slopes near the capital Quito.   The diversity in these slopes plus the high altitude land give a unique taste of the Tropical Andes hotspot which is considered the highest biodiversity place on earth.
On a recent scouting trip to southern Ecuador I came across some amazing birdwatching areas and birds that are commonly visited by those looking for a more complete exploration of Ecuador. One of my favorite places was Cabañas Yankuam which is located in the southeastern lowlands at the Cordillera del Condor (Condor Mountain Range),  although this is technically not on the slopes of the Andes it is an amazing place worth mentioning.  This mountain range is considered and Important Bird Area by Birdlife International.
My favorite bird photographed was the Orange-throated Tanager (Wetmoretraupis sterrhopteron) which is listed as Vulnerable on the IUCN Red List of Threaten Species.
Orange-throated Tanager (Wetmoretraupis sterrhopteron)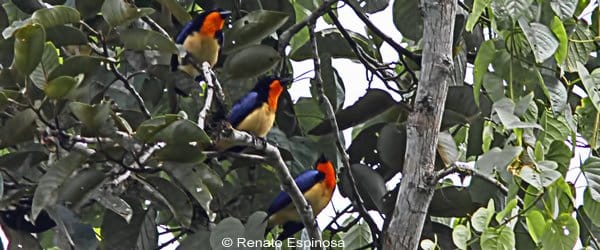 Orange-throated Tanager (Wetmoretraupis sterrhopteron)