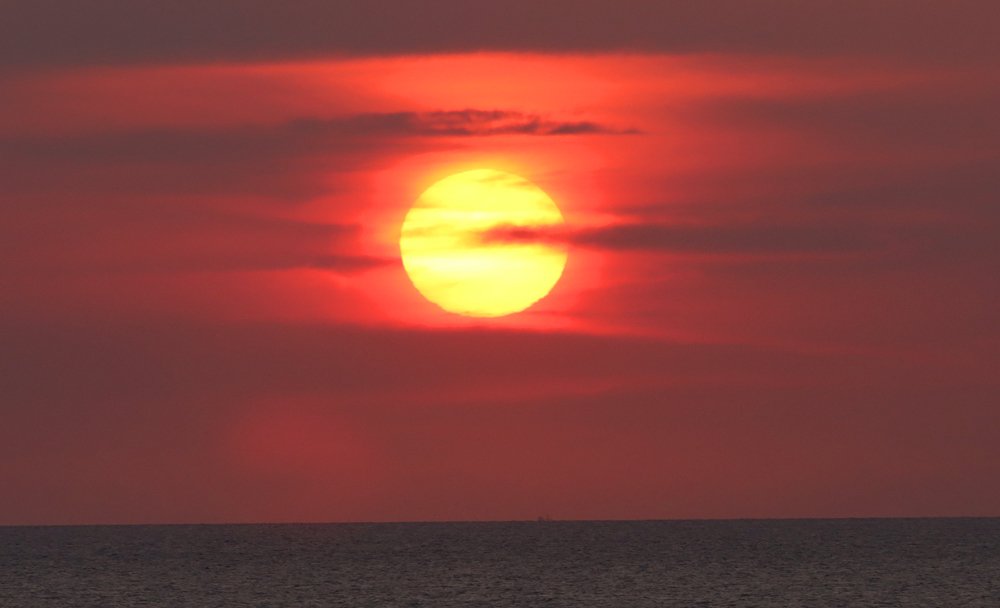 2020 will be remembered as a year that we'd like to forget. COVID-19 was the worst of it but we also endured horrific wildfires, tremendously damaging hurricanes, another year of the worst President of the United States in history, and the list could go on ad infinitum. But despite all of the negatives there were still some positives. In this post, we'll share the most positive of the positives, at least for those who write for 10,000 Birds who decided to share.
For a birder every year is a blank slate on which to write a new list. Of all the birds that make the list for a given year one of those birds must be the Best Bird of the Year. Though travel was greatly curtailed for virtually everyone this year we all managed to see some birds, whether it was on a trip we were lucky enough to take before COVID lockdowns or a shockingly stunning bird on a local patch. Once you've read through our Best Birds of the Year please feel free to share yours in the comments and you can even include a link if you'd like!
We'll start off with Redgannet, who chose a surprisingly common bird:
As ever, the criteria for my Best Bird of the Year were not based on rarity. Far from it. The Black Kite (Milvus migrans) is ubiquitous as a scavenger across the whole of India, often seen by the hundred wheeling over towns.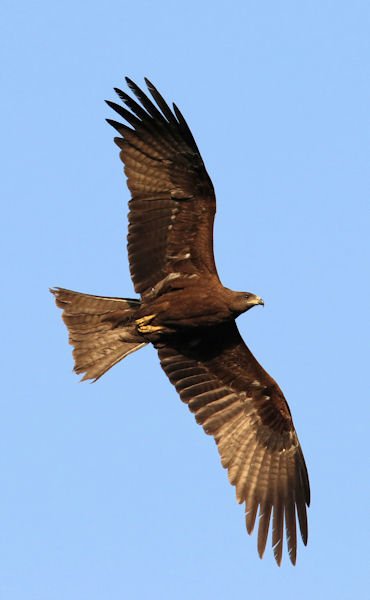 This one gets my BBOTY accolade simply for being there and showing off in an exuberant display of acrobatic flight. As a bittersweet afterthought, it was also the last bird I photographed in India before losing my sponsored travel opportunities.
Redgannet, you'll have to come visit New York City sometime soon. I'm sure once we get a vaccine that I can show you something better than a Black Kite! Clare (and Grant!) are up next, with a wonderful Australian species:
It is very hard to choose a Best Bird of the Year any year. This year we were fortunate to observe birds in Victoria at the start of the year before all of the lockdowns. We then returned home to Broome and waited for restrictions on local travel to lift. We are always content bird-watching around Broome anyway! Later in the year we were able to travel around the north of Western Australia. Our 2020 year list stands at 324 for Victoria and the north of Western Australia combined, so we are more than happy with that under current circumstances. I have chosen Gang-gang Cockatoo as my bird of the year.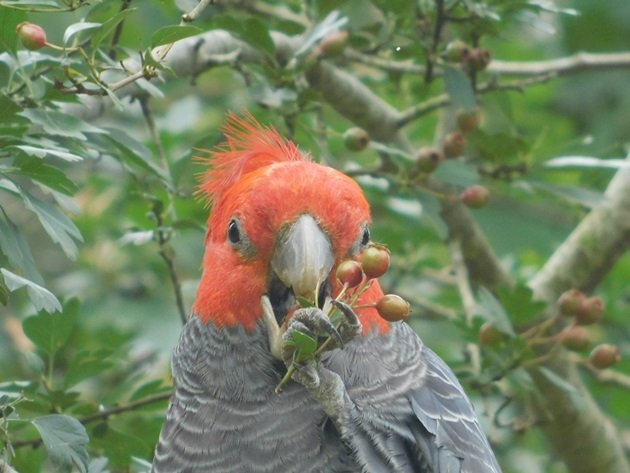 It is a bird we need to travel to find and travel is something we are all restricted on nowadays. The Gang-gang Cockatoo is a big colourful bird that can still blend into the environment. At the time that we were enjoying the Gang-gang Cockatoos early in the year in Victoria the bush fires were raging in Australia and it seemed that nothing could be worse. How naïve we were. Bird-watching is a great pastime to focus on when the news around the world is so devastating. Our plans for 2021 are to enjoy our local birds and if we can go further afield we will.
Kai chose a heck of a bird for his BBOTY:
My bird of the year was a rather late entry, a bird I just saw a few days ago in Tengchong, Yunnan. A Collared Owlet. This is a bird I had been looking for for a long time – it is not actually particularly rare in China (in fact, I have heard its call many times and also use it as the wake-up call for my mobile phone), but somehow I had never seen one, to the point of writing frivolous comments in eBird-Lists ("Collared Owlet. Details: Heard. Scientists now hypothesize that there are two morphs of this owlet, one of which is invisible. Unfortunately, this morph is the dominant one at Fuzhou NFP") that somehow survived the review process, possibly because the reviewer has had similar experiences.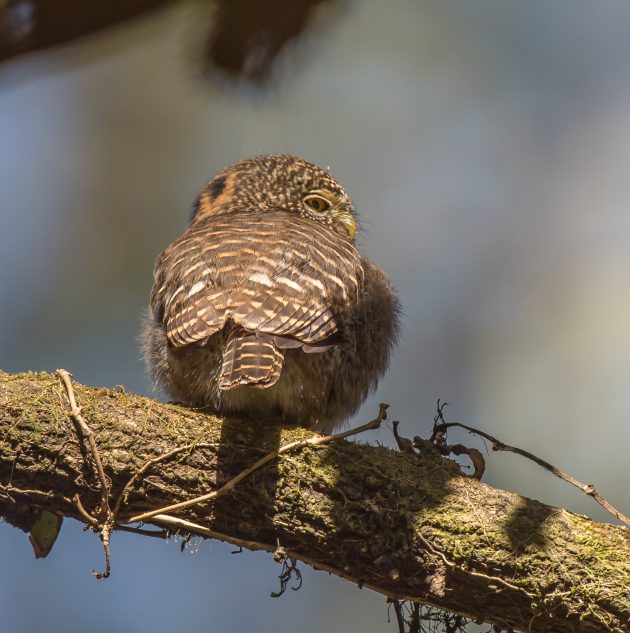 But there it was, suddenly, pretending to be a little stub on a tree, and not immediately flying away. So, I could capture it in all its owlish glory, complete with fake eyes at the back and nicely illustrating the capability of the owl to turn its head by almost 180 degrees in each direction.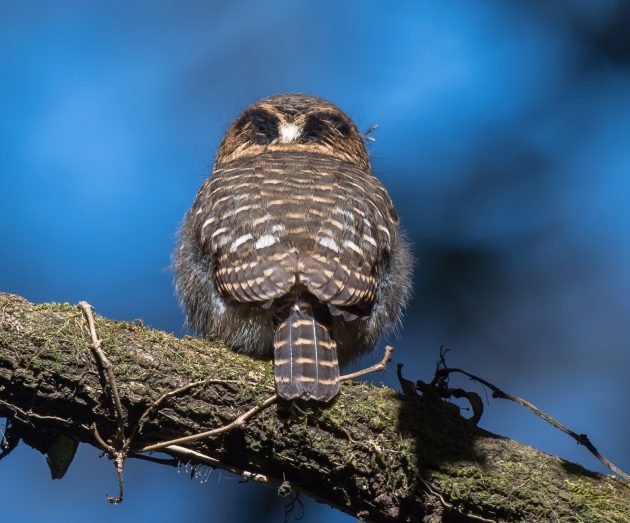 One thing I have learned about writing for 10,000 Birds is that the rules are never strictly enforced – so, while Corey asked to include one picture, I will include three, so you also get to see the fake eyes.
Ha, the joke is on Kai! I only included two of his images! Next up is Paul, who chose a truly marvelous hummingbird that he decided back in January was his Best Bird of the Year:
Sparkling-tailed Hummingbird: I have a Mexican birder buddy who lives just west of Guadalajara, in the next state over on Michoacan's western side. For years, he has been taking people to see the beautiful Sparkling-tailed Hummingbird (also known as the Sparkling-tailed Woodstar). The male of this species has a royal blue throat, a white chest and rump, and a long v-shaped tail with intermittent white patches that makes it looks like part of it are floating in space. How cool is that? I had always wished I could visit him and see it.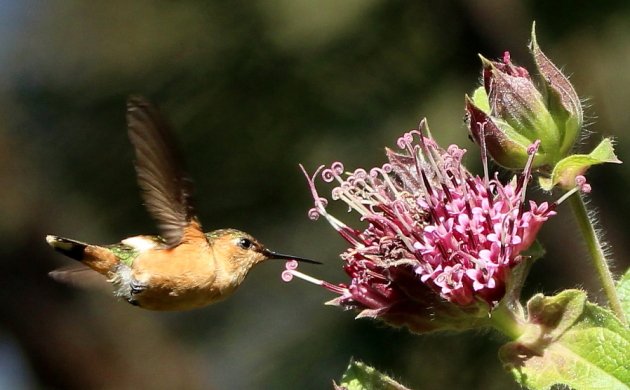 Then, in January, a female Sparkling-tailed Hummingbird turned up and patiently worked a thistle-like flower at one of my very own sites. The female is mostly a rich brown, but has that same white rump, and a tail that is as short as the male's is long. And in July, I saw my first male at a new site. Finally, in August, a third site gifted me a male and female both perching on a single small tree. Since three times is a charm, I nominate the Sparkling-tailed hummingbird for my 2020 BBOTY.
A quick postscript – Paul had a fourth sighting after he sent the description above. If three times is a charm what is four times?
Dragan seems to be confused as to what blog he writes on, as his BBOTY isn't even a bird, but here's how he described his encounter in his blog post:
The next morning, through Yellowhammers and Eurasian Skylarks singing all around me, I went birding. Turn-off to a macadam road winding through the forest and… there's a Chamois on the road! In a second, it disappeared into trees, down towards a rocky gorge, but not before I spotted it.
Yes, yes, I know, not countable – it's not a bird. Chamois is an agile goat-antelope with short hooked horns, found in mountainous areas of Europe from Spain to the Caucasus. It was probably grazing the lush mountain meadows at dawn and was on its way back to the gorge when we met.
A non-bird Best Bird of the Year? Preposterous! Fortunately, Patrick got us back on track though he missed what would have been his Best Bird of the Year:
The first documented Burrowing Owl for Costa Rica in more than a century would have been my Best Bird of the Year but since we all dipped on that one day wonder, the little lost owl is my "almost best bird of the year". For my actual best bird of 2020, that title goes to the one and only Masked Duck.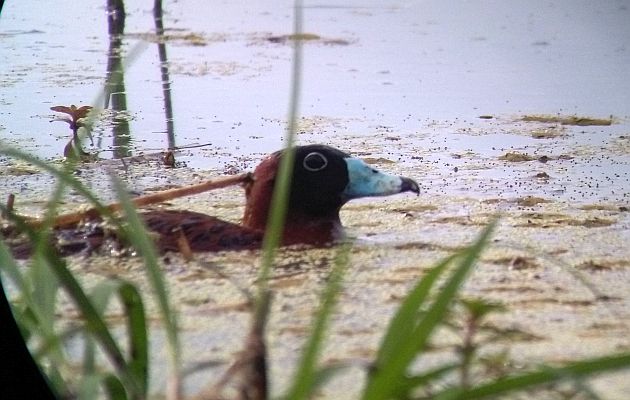 This weird little skulking waterfowl is a species I had hoped to chance upon in various places for quite some time. However, it wasn't until the infamous year of 2020 that I finally laid eyes on it in the marshes of Las Pangas in southern Costa Rica. I give special thanks and appreciation to world birder Pirjo Laakso and her husband Bjorne, and local guide Pepe Castiblanco because seeing this nemesis lifer was only made possible by Pirjo organizing the trip and hiring Pepe and myself to guide her. If you ever run into her while birding, please buy her a nice cold beer, she deserves it!
I'd like a beer too, please, as I have never seen a Masked Duck. Donna is up next and she has a bird that she had to chase:
It's Common Cuckoo for the win! In a year divided by pre-pandemic birds (travel!), deep-pandemic birds (all local), and still-pandemic birds (a little travel), it is the Rhode Island Common Cuckoo that will define this year for me. Common Cuckoo is a fascinating bird, an obligate parasitic breeder that employs numerous strategies, including fraud and murder, to survive. It bears an iconic name associated with insanity and betrayal, but also with time and seasonality. I saw the Cuckoo the second day of its visit.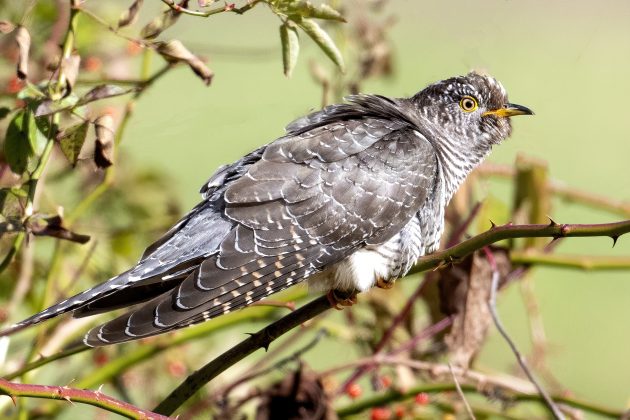 It ate wooly bears within an arm's length, perched over my head while I checked my phone, and delighted the twenty or so masked birders watching it with its independent nonchalance (the numbers swelled in succeeding days, so I was fortunate to come when I did). It was the second Common Cuckoo I'd ever seen, an ABA bird (my 700th ABA bird!), and, most importantly, a sign that wonder strikes when you least expect it and it eats fat caterpillars.
Milestone birds are always awesome, especially when they are a special species like an out-of-the-way cuckoo! Carrie, on-the-other-hand, got a bird precisely where it belonged, even if she didn't get a photo, as she tends not to:
In the first week of March, I was in San Antonio. In hindsight this was an absolutely terrible idea, but given what I knew at the time… at any rate, although it wasn't a birding trip, I did manage to pick up a couple of lifers, the last of which was Neotropic Cormorant. Besides being the last lifer of 2020 for me, it was Bird of the Year-worthy for a few reasons – first, that cormorants in general are unfairly maligned but actually quite cool; second, that Neotropic Cormorants in particular are cool even for cormorants, with a variety of hunting strategies including plunge-diving and cooperative fishing; and third, that these particular individuals were conveniently hanging out with the more familiar (to me) Double-crested Cormorants, so I could easily see the size and plumage differences that are otherwise on the subtle side.

Here's to a better 2021!
Amen to a better 2021! Tristan could certainly use a better year, though his BBOTY was a pretty good one – and he too did not get a photo but he found an illustration:
By the end of October, things were looking pretty grim for my ten-year stretch of recording at least one life bird each year, a streak I've maintained since I began keeping a life list in 2010. The closest I've ever come to breaking that run was in 2014, when I only had six lifers all year. But in 2020, with all my travel plans cancelled and pretty much everything shut down, I wasn't straying too far from Albany, New York for birding. And as is the case for most of us who've been birding for more than a couple of years, finding lifers at home usually means it's got to be something fairly rare – and as the leaves began to fall in autumn, I still hadn't added a new bird to my life list for the year.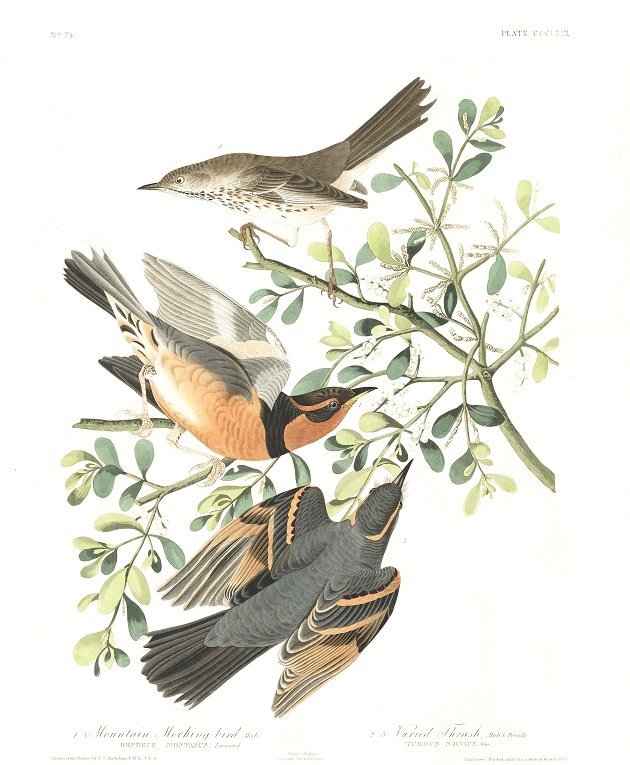 Luckily, something unusual did show up not too far from home – and with just less than two months to go in 2020. A Sage Thrasher – a vagrant from western North America and only one of a handful of New York State records – was found on the other side of the Hudson River over in Columbia County in early November. I was finally able to get over there three days after it was found and saw with almost no effort: a ridiculously easy twitch thanks to the bird's steadfast attachment to the same buckthorn tree during its stay here in upstate New York. Sure, some of us at 10,000 Birds can brag about finding their own Sage Thrashers, but I'll take this twitched rarity any day: this one was Life Bird #611 – and it kept my streak alive for another year. And besides being my only lifer of 2020, the Sage Thrasher deserves to be the best bird of 2020 for this Birds and Booze beat writer simply because it shares a name with a culinary herb, a wine tasting descriptor, and an occasional ingredient in mead and beer. Cheers!
I'll certainly drink to the end of 2020! And to the return of Jochen…you do remember Jochen? It's been far too long since we heard from him around these parts but he came through with a Best Bird(ing Moment) of the Year! We're pleased and have already penciled him in for daily posts for the month of January.
It's been quite the year, hasn't it? Luckily I wasn't affected too severely by the current pandemic: I lost neither life nor family members to Covid, only my job which was replaced the same day I lost it. Short fall, soft landing. Therefore, it is easy for me to reflect here quite light-heartedly on what was my best bird of 2020, instead of reflecting on more severe events of the passing year.
So, how has my birding been this year? Predictably, it contained few surprises (and no lifers either) as Germany took lock-down regulations seriously and travel, even locally, was next to impossible throughout most of the year. I did get to visit the in-laws at the German Baltic coast in January before the lock-down hit, and we took advantage of a short lull in restrictions during the summer and visited the island of Sylt in far northern Germany. Therefore I can't complain too much as I saw quite a few fine birds which I even shortly considered for Best Bird of the Year: a Bohemian Waxwing in a bush right next to the road as we were leaving the Baltic coast for Heidelberg was a very welcome sight, as I only got to witness a waxwing winter once in Heidelberg during the twelve years I've now lived there. A Northern Gannet above the seas off Sylt was also much appreciated as this was my first in Germany (ridiculous, really) and I just love the sight of them far out over a rough sea, mastering the wind and waves. But really, while choosing my best bird of 2020 I felt that it needed to have some connection to the dominant topic of the year. Yes, my best bird had to be a Covid bird for it to count and truly represent what 2020 was all about. However, going through my sightings I was surprised at how few Covid species actually call Europe – central Europe in particular – their home. There is no "masked" anything here in Germany. Neither a "hermit" nor a "solitary" species, no "coronatus" or "coronata." And the corvids all miss the mark by a single letter.
So I dropped the idea of a "Best Bird of the Year" entirely and settled for "best birding moment." This is an easy choice as this Christmas – after years and years of improvising with a "lens-to-scope" adapter to my 400mm lens – I finally got myself an excellent spotting scope by a certain Austrian manufacturer. I also put it to a worthy first field test on December 29th during a successful twitch of an Arctic Diver that had turned up at a small lake right next to Heidleberg. So that particular Arctic Diver was my Best Bird of the Year, as it represents what leaving 2020 behind is all about: looking forward, very bright and clearly now thanks to the new scope, to a much better year 2021! All the best to you, and happy birding trails in 2021. Stay safe. Oh yes, and as you can see by the hand-held image below, 2021 will definitely see me buying a smart-phone adapter to the scope.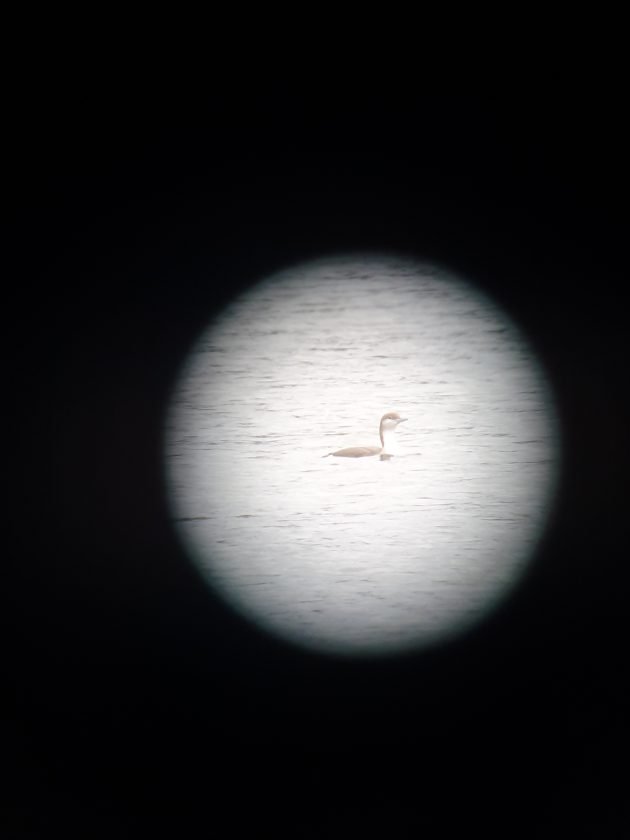 Beautiful, the photo is not. But the bird is great and so is the return of Jochen!
What about Mike and me? Well, Mike's big birding plans for 2020 went the same way most everyone else's did, which is to say not far at all. Focusing mainly on Rochester and the Finger Lakes region turned out better than expected in a year with so many awesome local birds. He added eleven species to his county list, many of which were highly unexpected. Best of all had to be Red Phalarope, super rare for Rochester and new to Mike's life list.
So that takes care of Mike: phalaropes are pretty amazing birds. As for me, well, I could have chosen any of the several new birds among the 277 species I spotted in Queens this year, but I think that my Jamaica trip in February, just before the pandemic completely wrecked 2020, provided more amazing species. And of the lifers I got on that trip I think the Jamaican Lizard-Cuckoo takes the prize, as it is an eye-catching and awesome species to see.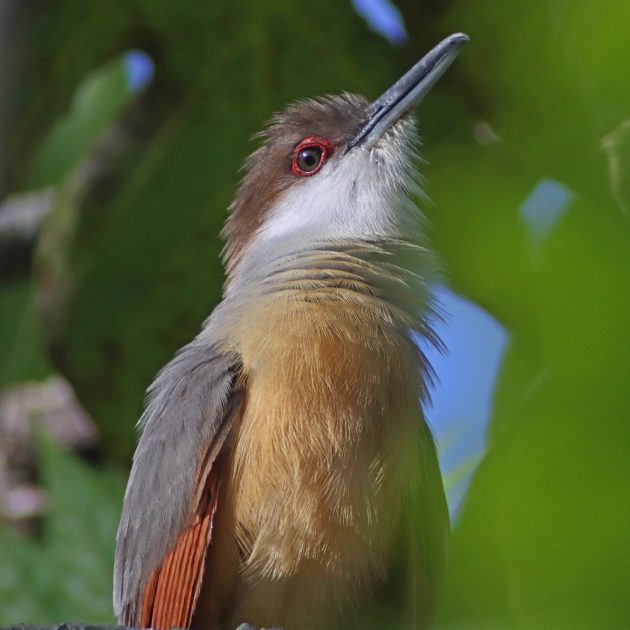 That does it for our Best Birds of the Year. We hope that you all saw a whole lot of good birds in 2020 and that you share your stories in the comments. And we also hope that you see even more in 2021, and that you all stay safe, healthy, and happy! Happy New Year!