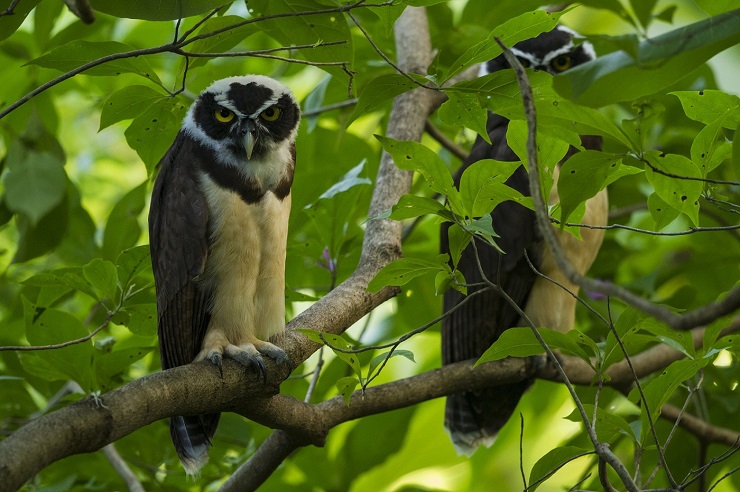 While preparing an article this week for a local newspaper on the nighttime denizens of Tobago, it crossed my mind that I never considered owls as a group, far less target species for any particular outing (except for a select few, upon which I shall expound here). Owls have always held a special place in my heart – and I'm certain that many of you can say the same. There is a mysticism that accompanies their all-knowing gaze, those eyes that seem to peer (uncomfortably) deep within one's soul. I cannot say that I have only begun deliberately seeking owls (owling) as a birder or even as an adult – I have been enthralled by their presence since I was little.
Some of my earliest bird-related memories (what other memories even exist?) involve owls. I remember leaping off the couch escaping whatever mundane conversation to run outside, eyes peering as far as possible into the night sky in an attempt to locate the Barn Owl whose shriek I had just heard. We lived among rolling hills that had seen many years as a sugar cane estate, but prior to that was lowland dry forest. More often than not, my fervor would be rewarded by a silent flyover, dark eyes locked on the wonder-filled eyes of a young Faraaz.
Today, Barn Owls can be found across both islands, hunting open fields at twilight or comfortably resting in abandoned relics of the sugar cane industry. They are sometimes chased by superstitious resident humans, believing them to be harbingers of doom or even the souls of the departed.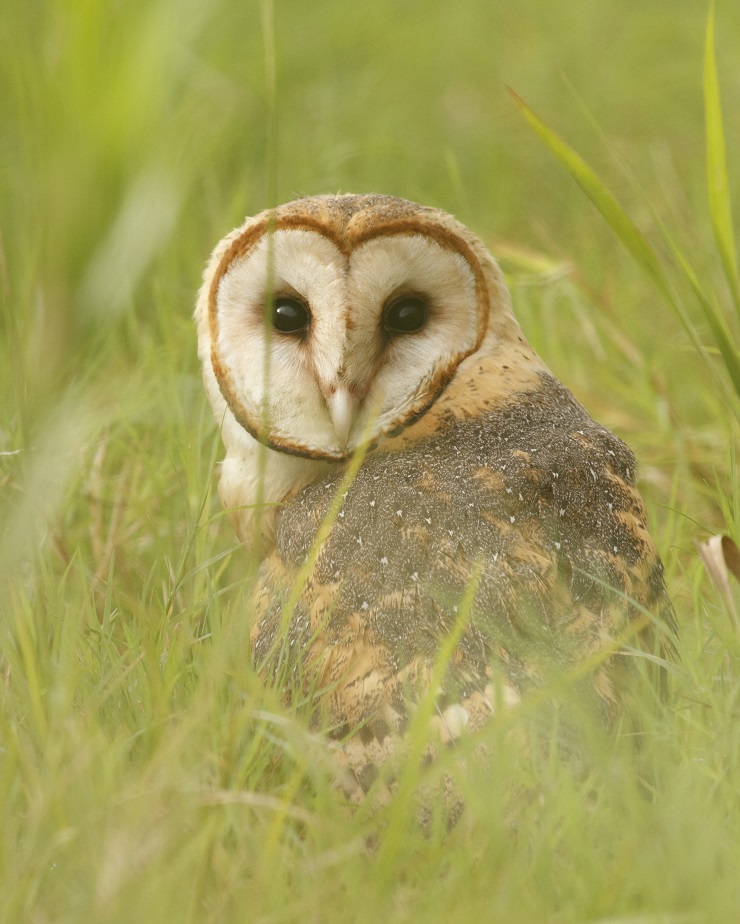 Barn Owl
Another memory from my youth was being encouraged to exercise as I was perceived to be a bit on the chubby side of the spectrum. I was definitely not a huge fan of running – still am not to this very day. Safe to say that I would not have this recollection if it wasn't for occasionally staying out after the sun dipped below the horizon and being graced with the presence of a diminutive Ferruginous Pygmy-Owl on our fencepost. My father referred to it as a jumbie bird, and I, being a legitimate bird nerd corrected him with "no dad, it is a pygmy owl". I had been gifted with this massive volume and of course had perused the bird section with gusto – so although I was unaware of the exact species, I was sure of it being a pygmy owl!
Decades later, a Ferruginous Pygmy-Owl spent several days at our home during lockdown times. It is one of the more commonly seen owls, based on it having a relatively high tolerance for human activity as well as its partially diurnal habits.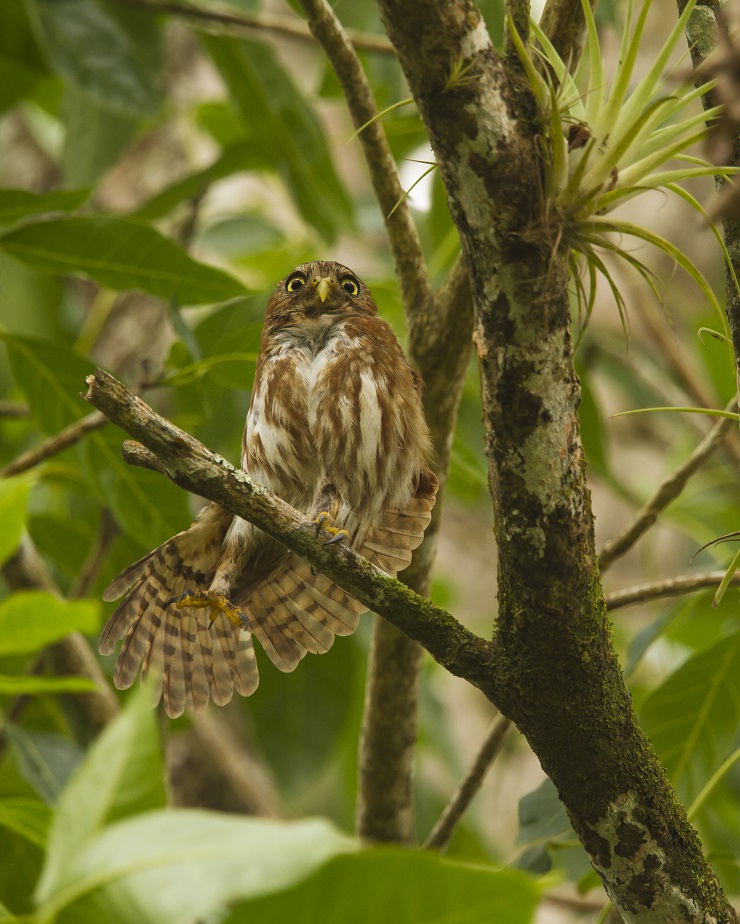 Ferruginous Pygmy-Owl
When I had just started attending birding trips with the T&T Field Naturalists' Club, the first owl I laid eyes on was a roosting Tropical Screech-Owl. It was barely the crack of dawn and we had just arrived on location (which later became my "home patch" for future CBCs) when someone noticed a small, brown owl fly up into a short tree. I couldn't believe it.
Turns out that this species was another common species, and is reliably seen at several sites across Trinidad. Visitors to the Caroni Bird Sanctuary can often see a pair roosting together in the mangrove. Its cryptic plumage and habit of only emerging after dark lend to it not always being detected.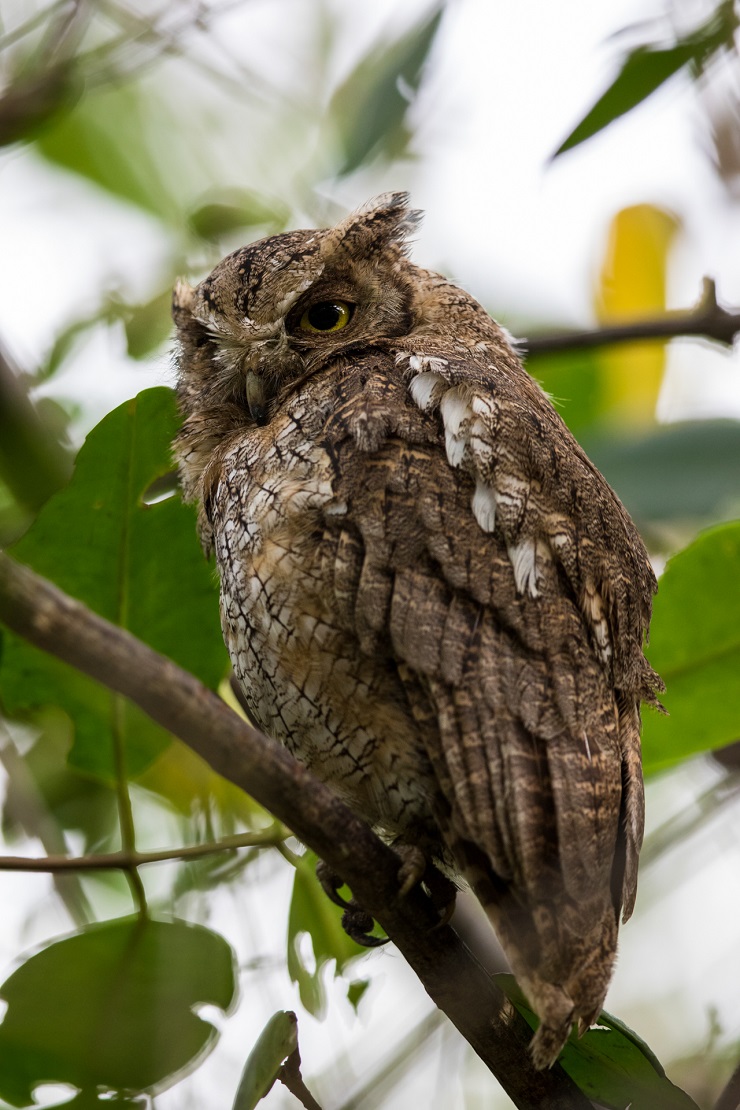 Tropical Screech-Owl
Interestingly enough, I was with the same person who spotted my first Tropical Screech-Owl when I saw a Mottled Owl for the first time. This medium-sized owl has a bone-chilling call and is generally a strictly nocturnal resident of deeper forest on Trinidad. It wasn't yet light, the sky was still a dark blue. But there was enough light for me to discern a strange looking bird flying away from me, while at the same time keeping both eyes fixated on me!
Years later, a small group of us ventured into some forest adjoining abandoned cocoa estates in central Trinidad searching for a view of this bird. This resulted in my only photograph of this species to date. Not my usual aesthetic but I'm thankful that you can still realize that it is indeed a Mottled Owl.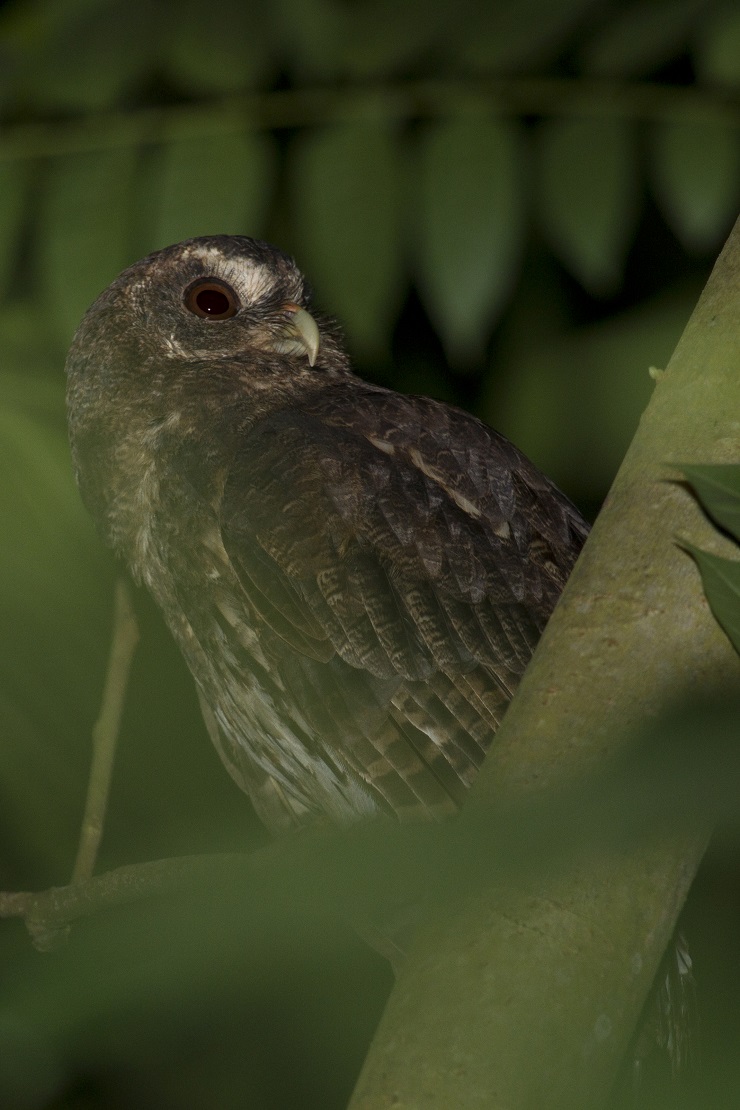 Mottled Owl
The spectacular looking Spectacled Owl turned out to be one of my bogey birds. I spent many early mornings searching suitable habitat for this bird with absolutely no luck. Then one night just upon returning home, I went to shut the gate and heard the unmistakable whoop-whoop-whoop-whoop of a Spectacled Owl! I walked over to a thick mango tree and sure enough, it flew out, majestic, broad, silent wings spread wide – and just like the Mottled Owl experience I described earlier – eyes fixated on me.
Fast forward many years later and I learned of a pair of young Spectacled Owls just near to the local university. A short hike up a steep hill in the late afternoon yielded superb views of the pair. We spent some quality time with these two young birds until their parents summoned them deeper into the forest as darkness encroached.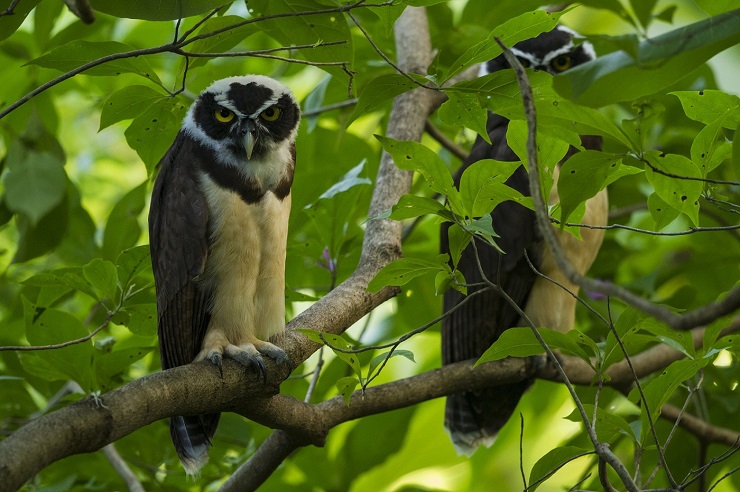 Spectacled Owls
What I thought was the only other resident owl left on my list was the Striped Owl. This gorgeous owl is an uncommon resident of Tobago, and I was never before lucky enough to even hear this bird. Until a couple months ago that is. Stirred after dinner by an unfamiliar vocalization, I galvanized into action – we had only acquired a torch the day before! Following the calls, we scanned various trees for any sign of the bird. Finally, movement caught our eyes and there it was. What was even more remarkable was that there was not one but two!
I ran for my camera and my wife took control of the torch. By our powers combined, I managed to get one good photo of a Striped Owl.
We observed the pair call to each other for around an hour, following them as they went from tree to tree. At one point, they both flew toward each other and touched talons – it was too dark and too swift an action for me to tell if there was some form of prey exchange involved – but it was mind-blowing to witness.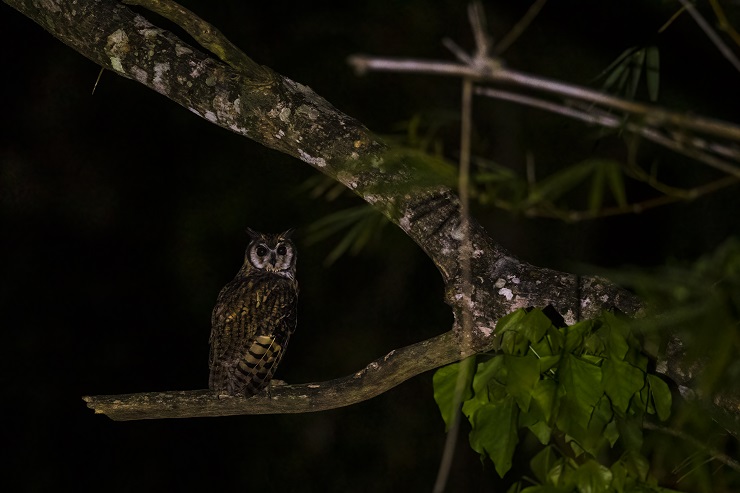 Striped Owl
What makes the sighting of the Striped Owl even more significant is that it is an endemic subspecies to Tobago – and there isn't much information available on this particular subspecies. We know that it is larger than the nominate, but some sources are unsure of its status as it is rarely reported. I noted that the vocalizations were a bit unfamiliar – this is because no recordings exist (at least on xeno-canto) of this particular subspecies.
I also mentioned that I thought this was the only resident owl left for me to see – books reflect this but in 2018 a young herpetologist spotted a large, dark owl while out one night. He took a few pictures and moved on. This owl was later confirmed to be a Stygian Owl – the first (and up to now, sole) record for the country! You can see the discoverers speaking of their experience (and a brief appearance of the author of this post) in this video.
For those of you who have been birding in T&T – how many of these have you seen? Perhaps heard?