When I finished work yesterday I raced to the winter entrance of Papscanee Island. Papscanee is not actually an island, but it is a marvelous preserve, part mature forest, part open fields. It is directly across the Hudson River from the south end of Albany. I got my first and only Cerulean Warbler here last spring so you can imagine my attachment to the place.
The entrance road, filled with fuel tankers, is lined with giant storage tanks that hold a variety of petroleum distillates, and smells of lightly-toasted oil. That is, until you are suddenly driving between crow-coated, snow-covered corn fields.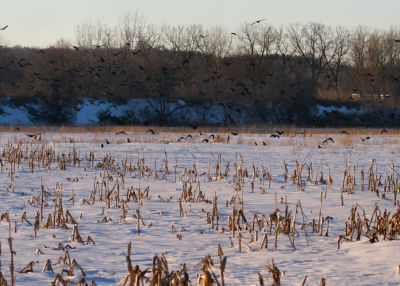 American Tree Sparrows were also along the road, but refused to cooperate with my camera. I only have a couple of pictures of the brightly-colored, winters-only sparrow, and none of them are very good. A Red-tailed Hawk made a brief appearance along the distant treeline, causing the crows to raise a raucous cry.
I parked my car where the road ends and the trail begins and quickly learned why cross-country skis or snowshoes are popular in winter. The Valentine's Day snowstorm had dropped its heavy load of snow a full week ago and the darned stuff hadn't melted yet. The day was warm too, so the nice crust one can sometimes walk on was non-existent, and the simple stroll became a steady slog.
I kept myself going by reminding myself of other visits to this portion of Papscanee, like last January, when a wintering Gray Catbird practiced its song softly, hidden in a thicket. It sang for about fifteen minutes before it went silent, putting different phrases together, but more softly than I have ever heard one sing.
But remind myself of past experiences as I might, the only birds I encountered, excepting the ever-present crows, were two Downy Woodpeckers and a Red-bellied Woodpecker that vocalized several times but wouldn't show itself. I reached the Hudson with sweat on my forehead and snow in my boots. Fortunately, the sun had melted and dried a small section of the floodwall so I sat and looked at the frozen Hudson while I cooled down and got my breath back.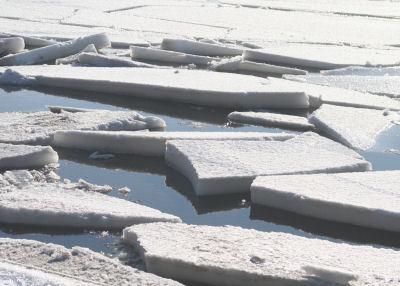 Hudson River ice chunks
The only bird life was a single Canada Goose honking as it flew overhead. Then the wind started to blow a bit and it was time to make tracks.
Walking back to my car I heard Blue Jays, a Pileated Woodpecker and a Northern Cardinal and was startled by three Mourning Doves bursting from beneath bushes. On the last stretch of the trail, which goes through what is normally a swampy forest, but was today a snowy forest, I kept hearing a high-pitched call. It finally dawned on me that I was hearing Brown Creepers. I spotted one, then two of them working their way up separate tree trunks. I watched them, each in turn, get to the top of their current tree and fly to the bottom of another to resume looking through each and every crevice in the bark for food.
I guessed which tree the nearest creeper would fly to next and positioned myself for a photograph but was frustrated when the creeper had other ideas. I guessed again and was wrong. Third times the charm, right? Wrong. I decided to try a new strategy and simply rush to the next tree the creeper landed on, hoping to get there before it creeped (and yes, I know it should be "crept" but I like "creeped") too high. Below is the best of the resulting pictures.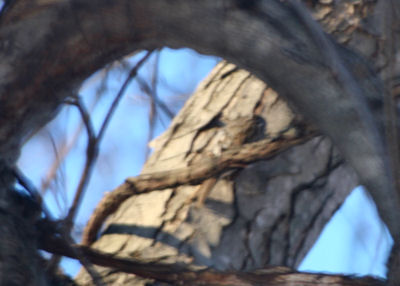 What, you can't find it? Look harder!
Soon enough mosquitoes will be thick in the air at Papscanee and I'll wish it was winter again.