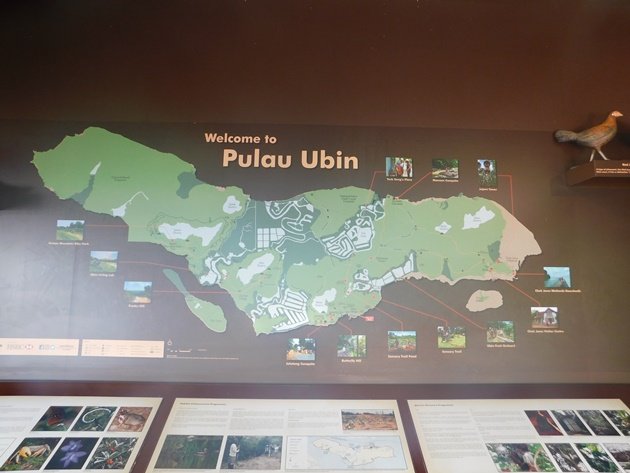 Pulau Ubin is a small island off the north-east coast of Singapore that is easily reached by a small boat from the Changi Point Ferry Terminal. The small boats do not leave in either direction until there are 12 passengers and each passenger pays SGD3 cash for each journey. However, we did note signage that said if you travelling with an animal you would have to pay for twelve passengers and travel alone with your animal! Our visit to Pulau Ubin was on March 22nd and we spent 7 1/2 hours on the island. There had been rain the day before, but the paths were not muddy. We were on foot for the whole day, whilst other visitors either rented bicycles or took a mini-van to get around the island. There are many trails covering both the shoreline and the forest and the quarry areas as well. Mountain bike trails are also available near the Ketam Quarry area of the island.
It was mostly easy walking all over the island, but due to a very high tide with sea water covering the trail we were unable to walk the loop trail from the Mamam Campsite. We returned down the same road and all other areas around the island were easily accessible. There are plenty of lookouts and shelters, but there is no drinking water available at the toilet facilities, so you need to carry plenty of water. There are also wild boars and macaque monkeys and you are advised to not rustle plastic bags, because they associate the noise with food. It is illegal to feed wild animals, take animals, birds and insects and it is also illegal to release animals in Singapore.
We started our day by walking from the main jetty to Chek Jawa Wetlands. We soon observed a variety of birds including Pacific Swallow, Asian Koel, Tree Sparrow, Olive-winged Bulbul, Ashy Tailorbird, Olive-backed Sunbird, Red Junglefowl, Asian Glossy Starlings, White-bellied Sea Eagle, Spotted Dove, Collared Kingfisher, Great-billed Heron, Brahminy Kite, Malaysian Pied Fantail, Pink-necked Green Pigeon and Zebra Dove. Although the tide was in we were still able to observe several species of shorebird on Pulau Sekudu. There were Grey Plover, Common Sandpiper, Whimbrel, Pacific Golden Plover and Bar-tailed Godwit. The Bar-tailed Godwits had developed their breeding plumage and were roosting on a small rock close to the island.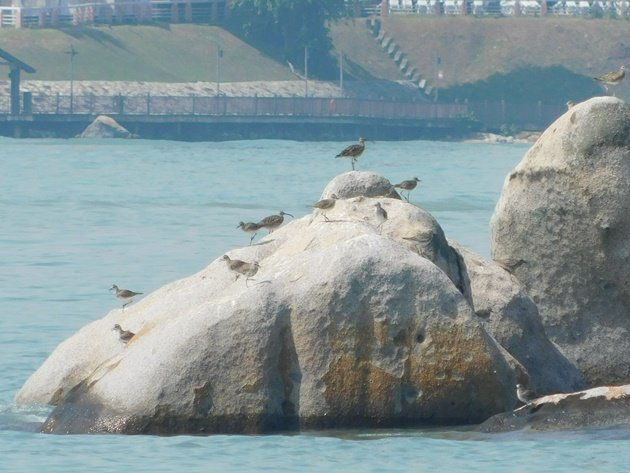 Shorebirds on Pulau Sekudu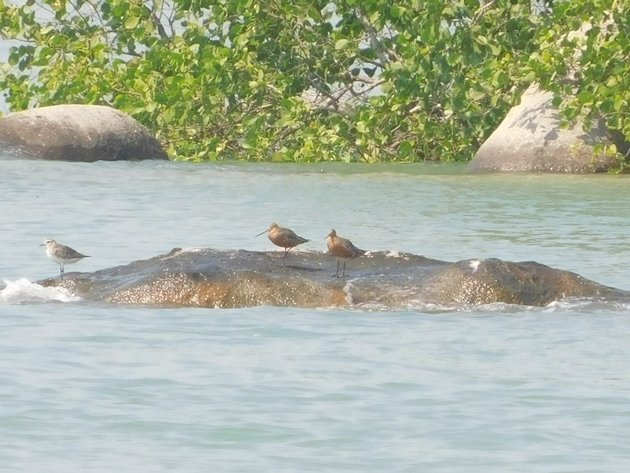 Grey Plover and Bar-tailed Godwit in breeding plumage
One bird species that we had hoped for during our visit to Singapore was the White-rumped Shama. Our first encounter was before we reached the Chek Jawa Wetlands and the views were not ideal for photography. Rather than try and photograph a bird in dense forest we chose to enjoy observing it. We don't know if it was due to the recent rain, when there had been no rain for some time, but there were White-rumped Shama throughout the island and they were all singing! We were lucky enough to observe a minimum of nine White-rumped Shama and heard several more! I was finally able to take some photographs of a beautiful bird with such a spectacular tail! They were calling out and flitting among the trees in the forest throughout the island.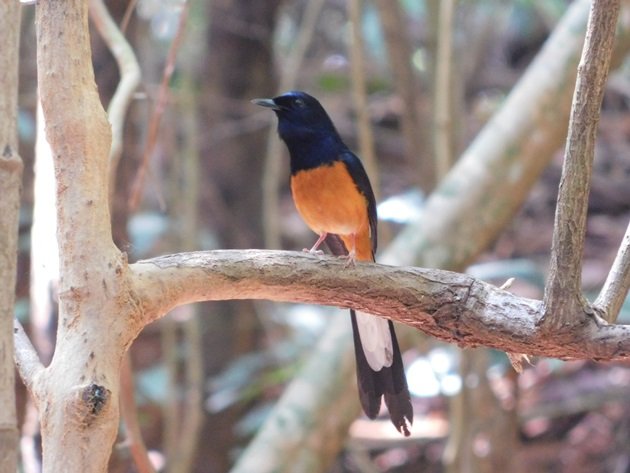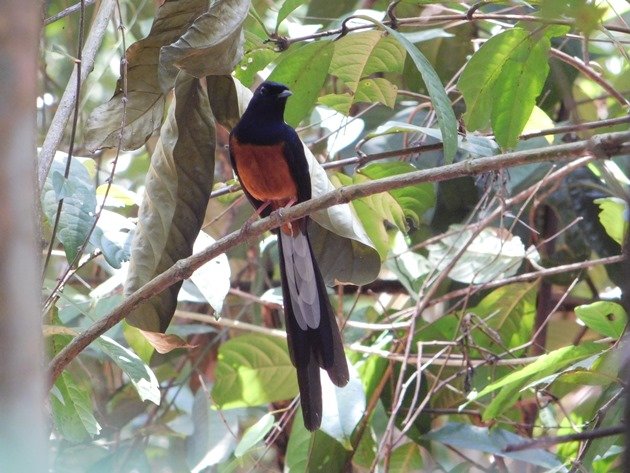 White-rumped Shama in the forest
By the time we crossed the Puaka Bridge and walked up Jalan Wat Siam it was the afternoon and there were no other people in that area at all. In fact the island was not busy in any area, especially if you were on foot. We encountered Straw-headed Bulbuls, Oriental Pied Hornbills, Grey Heron, Purple Heron, Changeable Hawk Eagle, Crimson Sunbirds, Laced Woodpecker, Rufous Woodpecker, Common Flameback, Javan Mynas, Barn Swallows, Blue-throated Bee-eaters, Blue-tailed Bee-eaters, Black-naped Orioles, Asian Brown Flycatchers, Oriental Magpie-Robins, Pied Imperial Pigeons, Copper-throat Sunbirds and Common Tailorbirds. It was proving to be a very good day for birding Pulau Ubin.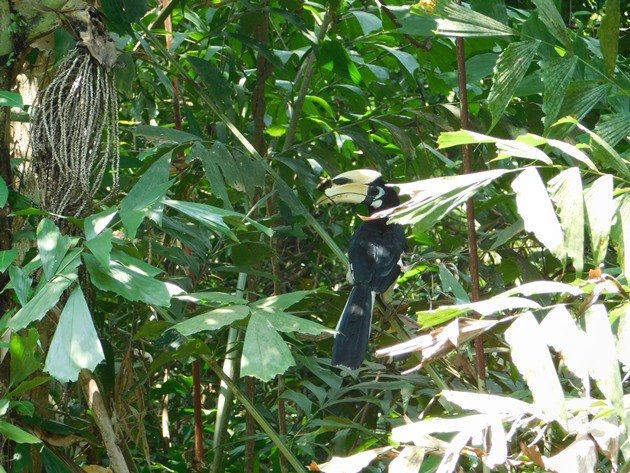 Oriental Pied Hornbill
Once we returned to the jetty area we decided we should just do one more lap of the area around Sungei Ubin. It was getting late in the day and we still had the energy for a another short loop through the mangroves and by a lagoon. It proved to be a good decision. We encountered a Grey-headed Fish Eagle flying through the area, which kindly landed in a tree and allowed for photography! However, as I moved forward a Black Bittern that was not even visible suddenly decided to change location in the reeds and a Stork-billed Kingfisher flew among the trees!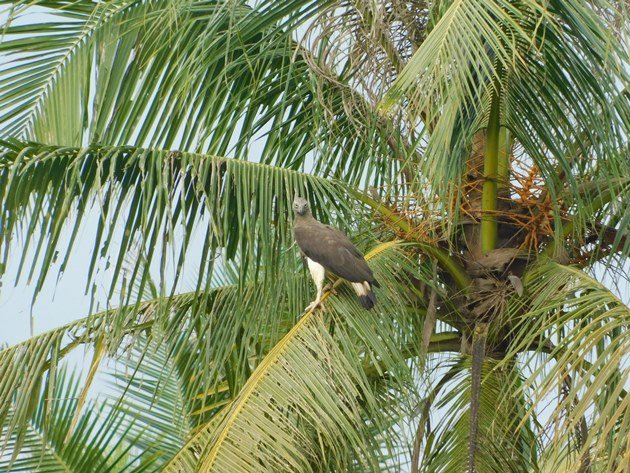 Grey-headed Fish Eagle
The last bird species to be added to our bird list for the day on Pulau Ubin was the Thick-billed Pigeon. We had encountered almost sixty bird species and had a very enjoyable day out. To really appreciate the bird-life on Pulau Ubin you really do need to allow a few hours. You are likely to be rewarded all year round!