Another year is about to come to an end and for us birders who can't help but keep a year list, it means that there are precious few days to add a few more species. What am I missing? What can I still get with a quick trip to the nearest reservoir? Better check eBird again, better check the rare bird alert once more to see if we need to rush to the beach, that feeder with the lost warbler, bunting, or hummingbird. It's go time for those last missing holes in the list so no matter how much the temperature drops, or how hard the wind blows, or how many holiday events, chores, or other duties we need to attend to, we need to just prioritize and fit in some birding time.
Or, we could also call it quits, feast on cookies, drink mulled wine, and glance at the feeder now and then from the cozy warmth of a heated home. Either way, we can relish in our best birds of the year and feel satisfied that once again, we have all seen a bunch of cool birds. The trophy is imaginary, the congratulations are autonomous but so what, we are birders dammit! Now for my top ten species identified by moi over the course of 2016 and not in any real order:
1 Jabiru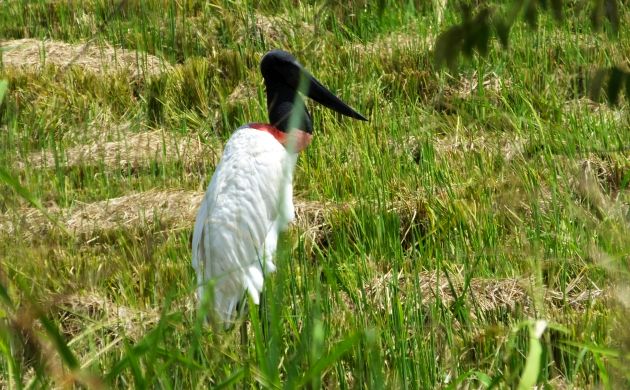 Even if this giant stork wasn't so rare, it would probably still make it onto the list by merit of its cool sounding name. I saw two foraging in a rice field near Playa Panama.
2 Black-and-white Hawk-Eagle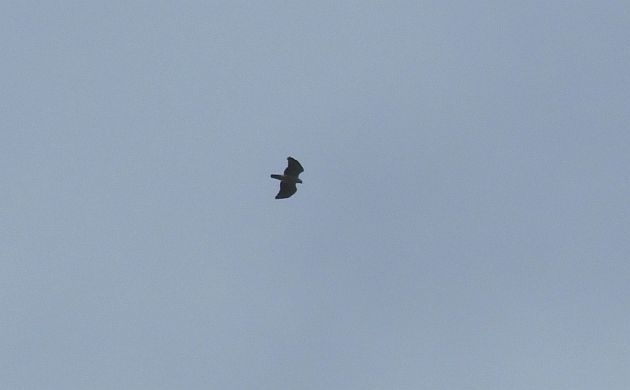 I was very pleased to add this powerful raptor to the year list because it's rarely seen and gave me a sweet, annual hawk-eagle trifecta. I lucked out with a high-flying bird last week at the El Tapir reserve.
3 Tiny Hawk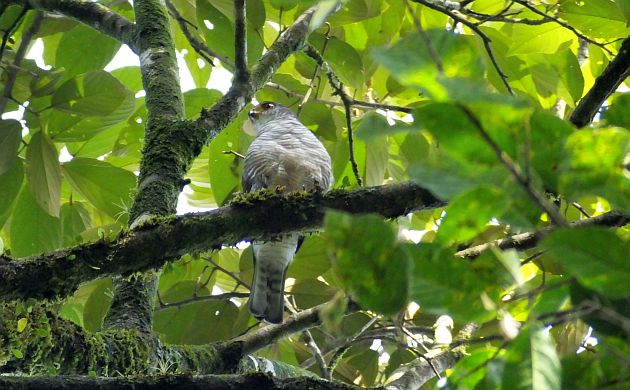 Another really good one for the same reasons as the hawk-eagle. Always unexpected, thanks to the sharp eyes of my friend Susan, I had extended looks at one in foothill rainforest as it feasted on a honeycreeper.
4 Buff-breasted Sandpiper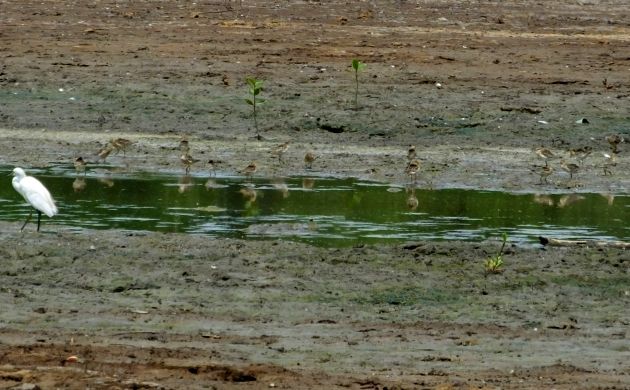 Yeah, I guess this should be my bird of the year. It was new for my country list, is a rare migrant in Costa Rica, and we saw maybe one of the biggest flocks recorded in recent history at the shorebird hotspot of Chomes. That's what those distant brown birds are in the image above.
5 Chuck-wills-Widow
This big old nightjar migrates through and winters in Costa Rica but finding one is always unexpected. I was very pleased with close looks at a bird from dawn at the Caribbean lowland site of Casa Calateas.
6 Rufous-crested Coquette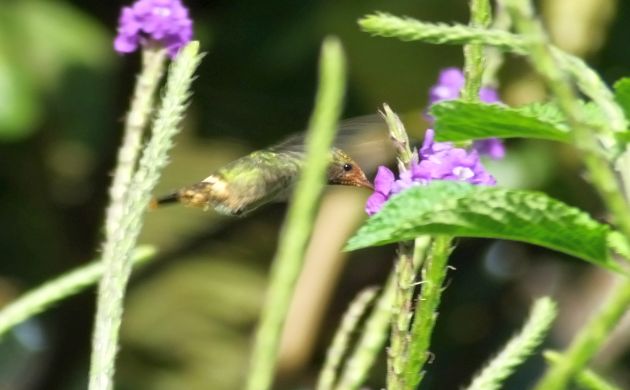 Oops, did I say that Buff-breasted Sand. was my bird of the year? Maybe I should have said it was this one! After a 100 years of not being documented in Costa Rica, one finally had the common sense to show up right at the birding hot spot of Rancho Naturalista! Thanks to the courtesy and good nature of the lodge owners, lots of local birders got the chance to see it, including myself. Very gracious to the folks at Rancho and this little lifer, country bird, and year bird!
7 Great Jacamar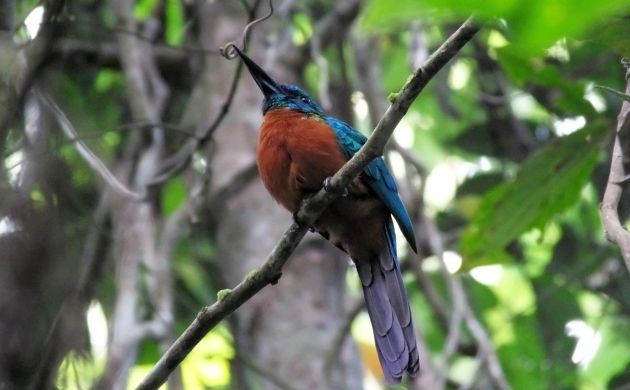 Expected in the Amazon, not so much in Costa Rica. They are on the list, they are here, but not so many, and they sure aren't easy to find! A calling bird through the scope at Hitoy Cerere was a wonderful one for 2016.
8 Great Green Macaw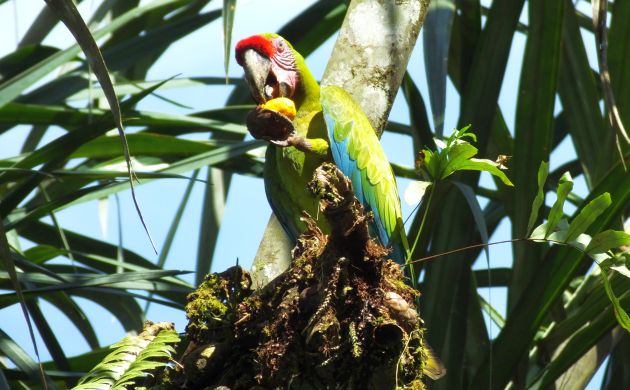 I see them every year and it's not that tough to see in Costa Rica, but it's endangered and always spectacular so it makes it into the top ten. This one feasted on palm fruits at the La Selva entrance road.
9 Turquoise Cotinga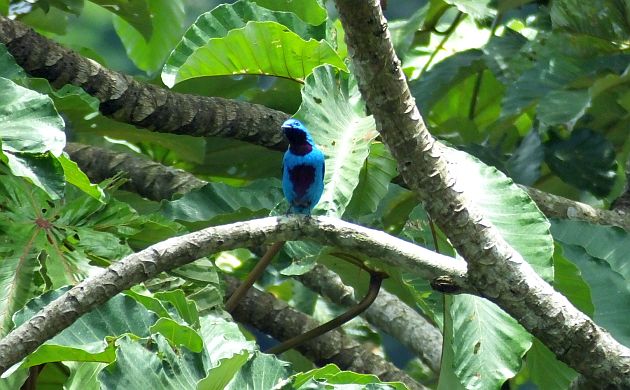 Any of the "blue cotingas" are special no matter what the occasion. They should always win a prize or be honored in some way. I was happy to see this species on more than one occasion at Talari Mountain Lodge, and at Luna Lodge.
10 Northern Parula
Yeah, how does that make it onto a year list when you can see dozens in Florida and lots of other places? Because, in Costa Rica, you would be lucky to see one at all. For me, this was a much awaited country first during the Christmas Count at Finca Luna Nueva.
I guess those are my top ten, honorable mentions going to Bicolored Hawk, 12 owl species, Uniform and Yellow-breasted Crakes, Lanceolated Monklet, Yellow-billed Cuckoo, Black-crowned Antpitta, Yellow-billed Cotinga, Blue-headed and Warbling Vireos (both rare migrants here), Costa Rican Brush-Finch, and Black-cheeked Ant-Tanager. Since I have seen or heard over 675 species in Costa Rica this year, it was hard to pick the best of the bunch but there they are. This selection doesn't take into account memorable birding experiences like being surrounded by the varied species of a mixed flock moving through primary rainforest, glimpsing the treasure shimmering green of a quetzal in flight, or helping two of the world's top listers add Black-crowned Antpitta, Sulphur-rumped Tanager, and other sweet species to their lists but I'll save those for another time.