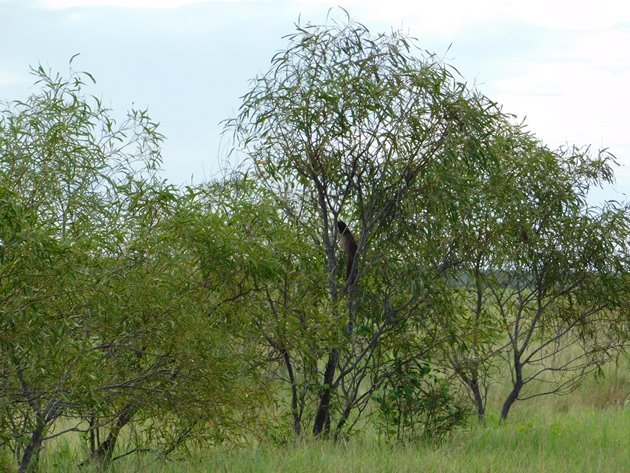 It is currently Pheasant Coucal breeding season. Despite the fact that they are part of the cuckoo family they do actually raise their own young. I mentioned last week that we have had a Pheasant Coucal crashing around in our garden. We have also noticed that the tree in the above photo has had a Pheasant Coucal in it on every trip out on the highway across Roebuck Plains in recent weeks. It has been way too reliable at being there, but now the reason is obvious!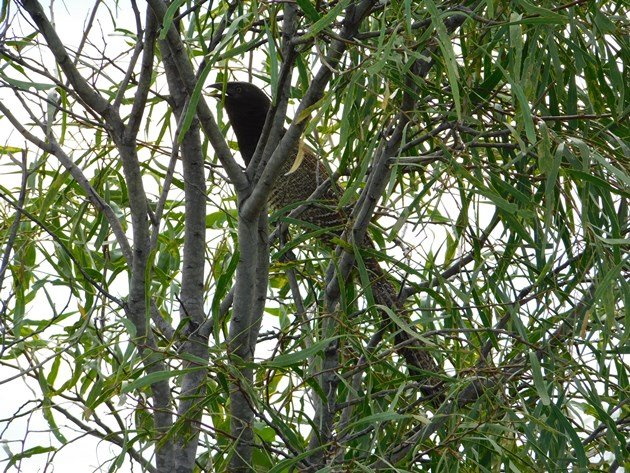 Adult Pheasant Coucal
Pulling up near the tree last weekend we discovered that there were at least two juvenile Pheasant Coucals and the adult. There are quite possibly more juvenile birds, but with the long vegetation it is hard to know for sure. Pheasant Coucals can lay up to five eggs, but we don't know how often this actually occurs.
I tried to photograph one of the juvenile birds, which was quite large, but was also behind some long grass seeds. The parent bird watched and the highway is not very busy at this time of year. There is not a lot of disturbance despite the close proximity to the road.
Juvenile Pheasant Coucal
The other juvenile Pheasant Coucal that we could see was at the base of the tree to the left of the parent. In the header photo it is the shape that appears to be part of the bottom of the tree. It was quite cryptic and remained low to the ground. Pheasant Coucals are generally ground dwelling birds anyway and are never in a rush to fly anywhere.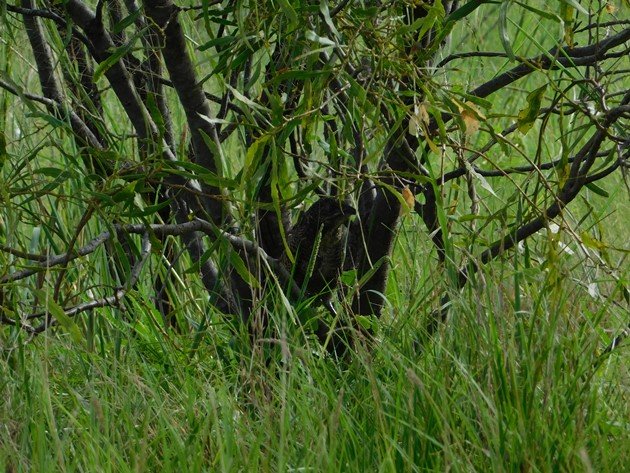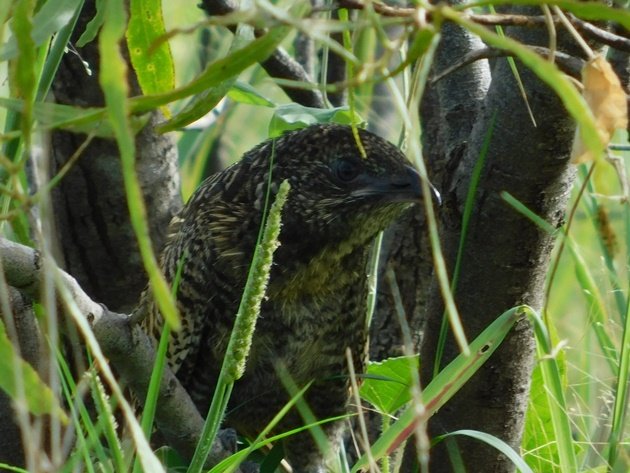 Juvenile Pheasant Coucal at the base of the tree
A large truck came by and the adult Pheasant Coucal moved away from the edge of the highway. It sort of flew if you could actually call it flying and then landed poorly in the top of a bush. The juvenile Pheasant Coucals ran through the tall vegetation and could no longer be seen.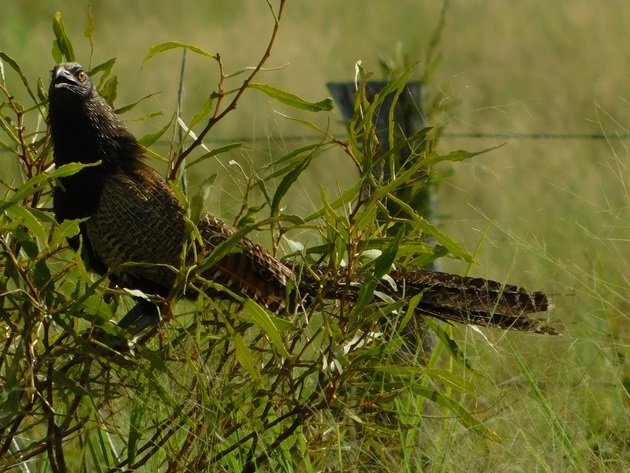 Adult Pheasant Coucal balancing precariously
It was interesting to observer the interaction between the adult and juvenile birds so close to the highway. They had obviously chosen to nest near the highway due to the habitat. There are not many trees or bushes in that area, but it is flooded and a great source of food. They have plenty of frogs available and other insects.
The call that the adult Pheasant Coucal made towards the juvenile birds was completely different to the typical call that you hear. The typical call is available on this website. The sound was a lot more of an alarm call as the traffic came by.
Incubation time for Pheasant Coucals is only fifteen days and nesting around thirteen days. It means that conditions don't need to be ideal for too long, which is handy when the weather is constantly changing.
We were delighted to discover why the area had been so reliable for Pheasant Coucals for a few weeks!