I hoped to see a Black-necked Stilt at the familiar but wonderful Jamaica Bay yesterday, and, well, I did.  It was foraging amid the geese, swans, gulls, terns, ibis, herons, ducks, blackbirds, and swallows at the west end of the West Pond.  Two other birders were already on the bird, or, had been on the bird, but it wandered quite a bit and there were lots of other birds, to say nothing of vegetation, for it to hide behind.  But still, it is a stilt, and stilts are pretty obvious, even in a crowd.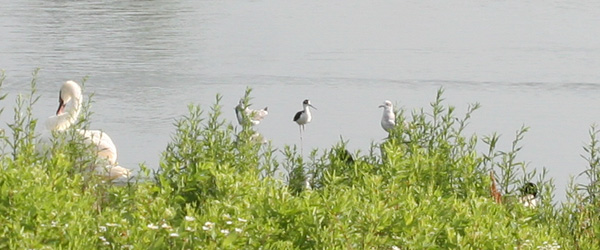 It was difficult to stand there watching the stilt, mostly because of all of the other birds.  A Wood Duck was hiding amid the hordes of Mallards and Canada Geese.  Black and Yellow-crowned Night-Herons were flying in and out of the pond.  American Oystercatchers, Least Terns, and my first Black Skimmer of the year were in sight, as was a Tricolored Heron and, briefly, a flyover Little Blue Heron.  It was pretty nice.  How often do you get a picture of these two together?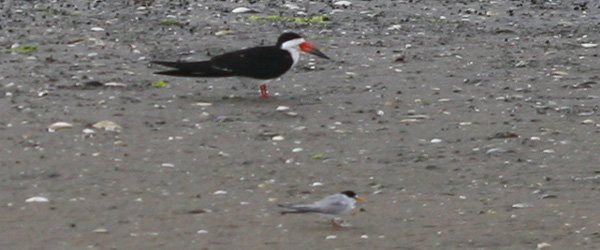 Black Skimmer and Least Tern at Jamaica Bay
Or, for that matter, these five?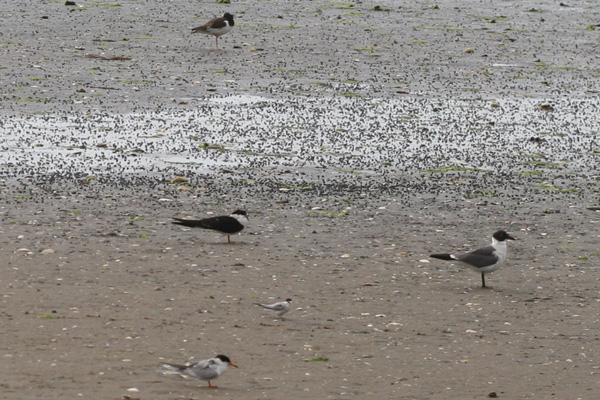 After soaking in all of the birds on the south side of the pond I continued around, seeing all three mimids, a host of Tree Swallows (families with fledglings were everywhere), and a Least Bittern that flew across the trail directly in front of me.  Wait, what?  Yes, for the second year in a row a Least Bittern flew across the trail directly in front of me in almost the same spot.  It was a great look and I got to watch it fly across the pond and land in the reeds in the southeast corner.
Not bad.  Not bad at all.  Into the gardens I went where the usual suspects like White-eyed Vireos and Yellow Warblers were about, still singing, and back out I went rather quickly as the deer flies were a bit too hungry for me to want to linger.
The Barn Owl box at Big John's Pond held a Barn Owl but it didn't cooperate, sitting back in the box and remaining barely visible.  The East Pond was loaded with Mute Swans: I counted 197.  That is absurd.  They are not all this cute.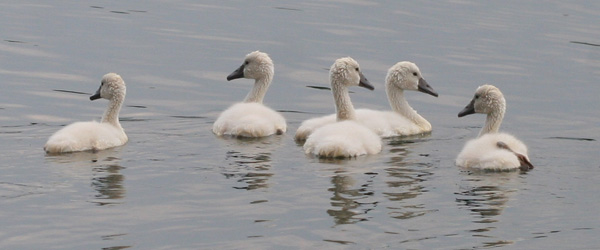 Not bad for an hour-and-a-half of birding.  Especially considering the bittern, the stilt, and the skimmer were all new birds for the Anti-Global Warming Big Year List, bringing me up to 201!  Over 80% of the way to my goal of 250…with six months to go!