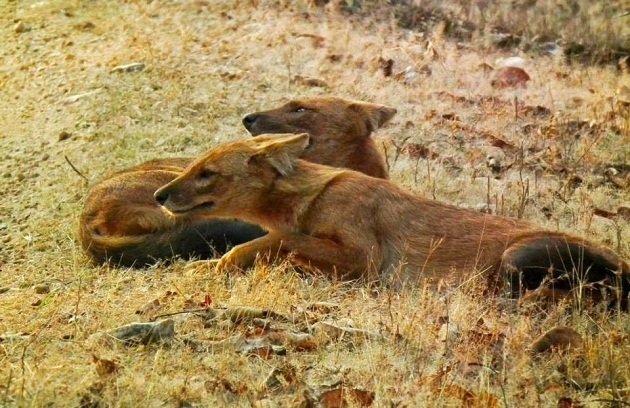 India, February 2013
I am camping in the dry-deciduous jungle in eastern Maharashtra, near the geographic heart of India. It is February and evenings are cold. We have rented army-style tents erected on concrete platforms surrounded with shallow but steep-walled ditches. "What are these ditches for," I asked my friend Nitin Bhardwaj.
"Against snakes," he said. "Deep in the forest, there is a temple of 'Nag' or Snake, hence the name of the reserve – Nagzira." Anyway, it is winter and the snakes should be hibernating.
Nitin hopes to enlarge his collection of photos of Tigers. Me? I am curious to see whatever awaits us in the Nagzira Tiger Reserve.
In the morning, still sleepy, we enter the jungle, where a sounder of Indian Boars (a long-maned subspecies Sus scrofa cristatus) is watching us, standing among the first trees, right next to the road. One White-eyed Buzzard has turned its back to us. It is too early to show.
Further down the road, we reach a derelict building with a large veranda hidden among the trees – an abandoned hunting lodge (if I were in a situation to invest, I would choose to upgrade this into a luxury wildlife lodge). Clearings around the house offer favourite grazing to small herds of Chital deer and a playground to Gray (or Hanuman) Langurs. Birds included common species such as Black Drongos, Jungle Babblers and a Hoopoe.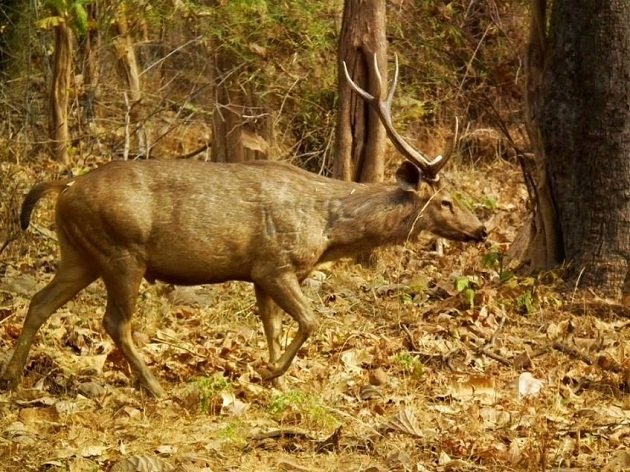 Sambar
Among teak and bamboo thickets, a winding forest road takes us deeper into the enchanted Snake Jungle, but alas, not a Tiger in sight. (Nitin will stay for a few more days and get his close-ups of Tigers.) One Nilgai – the largest of Asian antelopes and a few Sambar deer later, we hit a jackpot: there is one jackal-like animal sitting among the dry leaves!
Some dog? Who cares? Well, one reason might be – this animal is not only endangered, but even rarer than the Tiger! We are observing a Dhole, also called Asiatic or Indian Wild Dog. A hundred metres down the track, several more Dholes await us, totalling eleven dogs.
The sun is barely high enough to shine over the tree-tops and their rusty coats are glowing with the light. Some are lying down, sleepy, others sitting and yawning, one is defecating…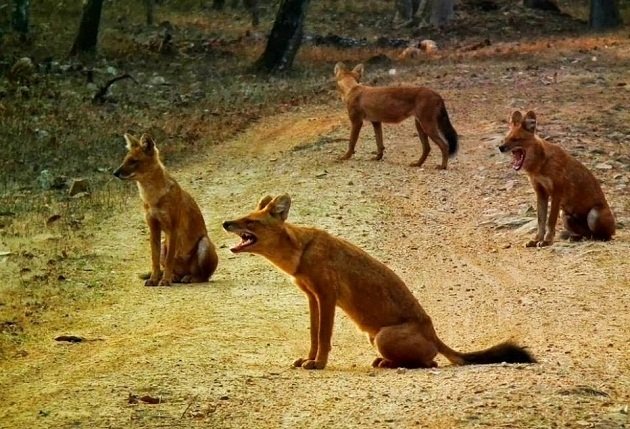 They are opportunistic feeders, eating anything from berries and fruit, to large deer and even young Gaurs, and inhabit a wide range of habitats: mostly open and closed forests, but also grassland, scrub and various mosaics of these, from lowlands to alpine steppe (above 3,000 m). During the Pleistocene, Dholes were found across the Northern Hemisphere, including Europe and North America, sharing their space with sabre-toothed cats. These days, the species shares habitats with Tigers, Snow Leopard, Bears, etc. If they can survive next to such neigbours, how come they are endangered?
While the second reason is the expected habitat fragmentation and destruction in the most populous region of the World, the first, somewhat surprisingly, is the lack of prey animals. According to IUCN, because of illegal hunting and habitat degradation across most of Indochina, ungulates occur at levels well below natural. Even in protected areas of north-east India, prey densities are very low. The Guardian recently published the latest population analysis by the IUCN's Dhole Working Group that has revealed that the area of occupancy of this species has significantly declined – close to 50% since the previous assessment in 2008!
Only in protected areas in southern and central India (e.g. Maharashtra), prey densities are high and Dhole numbers stable (source: IUCN). According to an as yet unpublished update to the IUCN Red List, there are only 949 to 2,215 breeding Dholes left in the wild – which is far below the number of the world's breeding tigers (source: the Guardian).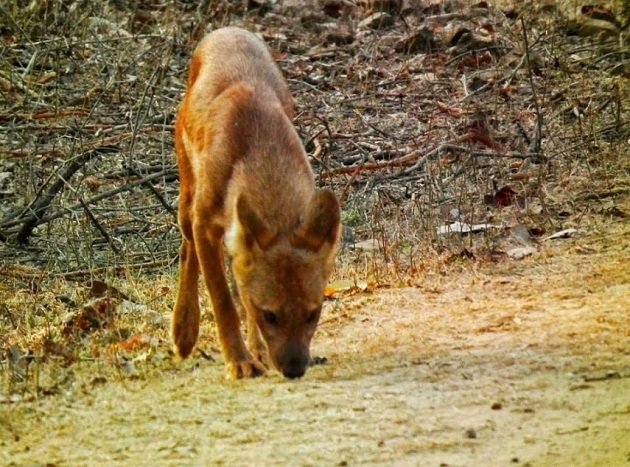 And we are parked perhaps 20 metres from the nearest rusty-red Dhole! It is a fitting end to a great wildlife watching adventure (see the links below), but it could not last for long: we have a plane to catch in a few hours, so we hastily head for the Nagpur airport.
To Nitin, this was a recce trip for his new wildlife photography tours enterprise. In the second half of August, his next tour is planned into the magnificent mountains of Ladakh, in the very north of India, to search for the impossibly-iridescent rainbow-like Himalayan Monal. If interested, there are a few more places left.
2023 edit: To my great sadness, late last year my friend and travel buddy Nitin Bhardwaj, a devoted wildlife photographer, an adventurer and a tour leader from Delhi lost his 3 years long battle with cancer. I remember him as the most confident man I've ever known. R.I.P. Nitin Bhardwaj 1976-2022
Previous posts about the same tour:
Melghat Tiger Reserve: The Search for the Rarest Owl of India
Tadoba Andhari Tiger Reserve: the Gaur Morning
Tadoba Andhari Tiger Reserve: the Tiger Afternoon