Anarchy – discontent – upheaval!
Desperate fights over territory, water, and food!
Poisoned air! Unhappiness!
I fear we are lost. We must do something!
-Peter Sis in The Conference of the Birds
The Conference of the Birds, an amazingly well-illustrated adaptation of the twelfth century Persian poet Farid Ud-Din Attar's epic poem, is well worth the cover price of $27.95.  Peter Sis, known for his many books for children – to say nothing of his MacArthur fellow and Caldecott award winner – has made a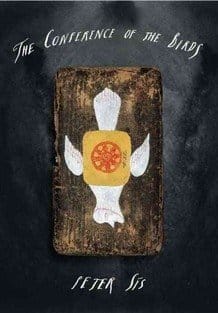 book for adults that is simply gorgeous, from the detailed and beautiful illustrations to the paper on which those illustrations are printed.  On my first reading I gasped aloud several times as I opened to particular amazing images and subsequent looks at the artwork have not lessened their impact.  The amount of time and effort that went into the illustrations is evident and this reader, for one, appreciated Sis's dedication.
The story that was originally told by Farid Ud-Din Attar is a simple one. The world's birds gather at the request of the Hoopoe and set out to find the king of the birds, Simorgh, who they believe will solve all of their problems.  The difficult journey to the mountain of Kaf leaves few birds alive to learn that "they are Simorgh the king…and that Simorgh the king is each of them…and all of them."
The lesson, though simple, is wonderful in its telling and Sis makes the story come alive through his art. It is amazing that the problems the birds face and the lesson that they learn translate so well to the current day and political situation, as organic protest movements that eschew individual leaders or spokespeople arise around the globe. If everyone is king and can act to solve problems then no problem is insurmountable and the king can not die.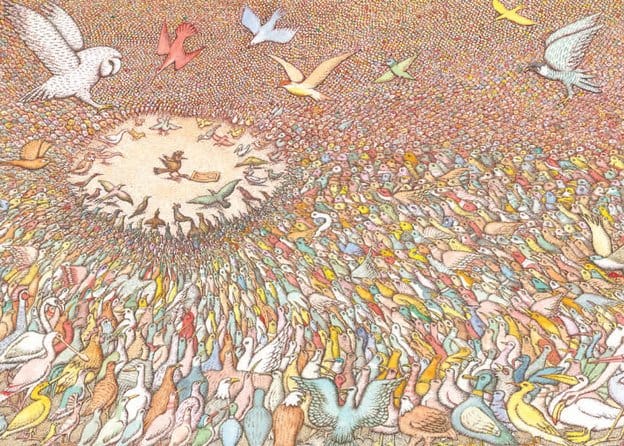 Sis himself is no stranger to desiring political freedom, having grown up behind the Iron Curtain in Czechoslovakia. He told NPR news that "The birds never needed passports. … We always thought, the birds can go wherever they want, and we couldn't really. The birds were very much the symbol of … free movement for me."
Birds and freedom go hand-in-hand and the combination of the two makes for a powerful and beautiful book. Go get The Conference of the Birds and enjoy it as much as I do.
Hardcover: 160 pages
Publisher: Penguin Press HC, The
Language: English
ISBN-10: 1594203067
ISBN-13: 978-1594203060
Product Dimensions: 10.1 x 7.2 x 0.8 inches
…