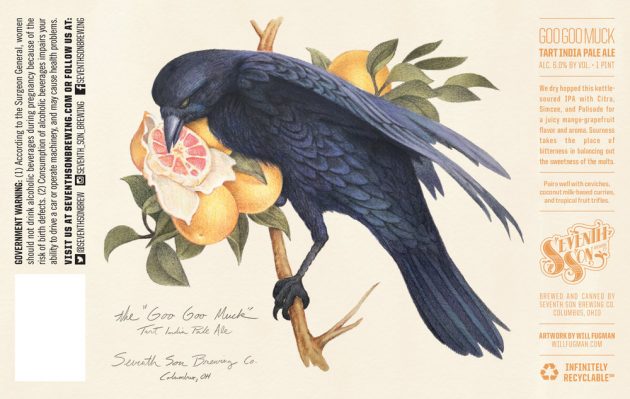 We've been retreating into the world of wine of late here at Birds and Booze, but in case you were wondering, little has changed in the brewing industry during our brief digression this winter. For better or worse, the IPA – and its many, novel variations du jour – is still king. In some ways, I'm relieved to only occasionally find worthy bird-inspired art amongst the endless formations of IPAs on beer store shelves, arrayed in the now-ubiquitous 16-ounce, matte-finish cans that's become the obligatory format for craft-brewed takes on the style. Given the sheer volume of IPA now on the market, if there were just the slightest increase in the number decorated with birds, we could get by reviewing nothing but birdy IPAs year-round. While I do love IPAs, beer drinkers – like birders – appreciate a good deal of diversity in their finds.
Still, when I find a good beer with a bird on it, it deserves a mention here, IPA or not. Enter the "Goo Goo Muck", a tart India Pale Ale by Seventh Son Brewing Company of Columbus, Ohio. The odd name comes from an obscure 1962 rock 'n' roll record by Ronnie Cook and The Gaylads, better known from a version by the campy, B-movie-inspired rockabilly punk band The Cramps, though I'm not sure what inspired this tribute. Also unknown is the connection with what is apparently a raven feeding on grapefruit on the label by illustrator Will Fugman. It's a rather appealing image as far as beer can artwork goes, almost reminiscent of the style of great ornithological illustrators like Louis Agassiz Fuertes. But there is, I admit, something amiss to this New York birder about the sight of a raven eating a grapefruit. Maybe it's a California thing.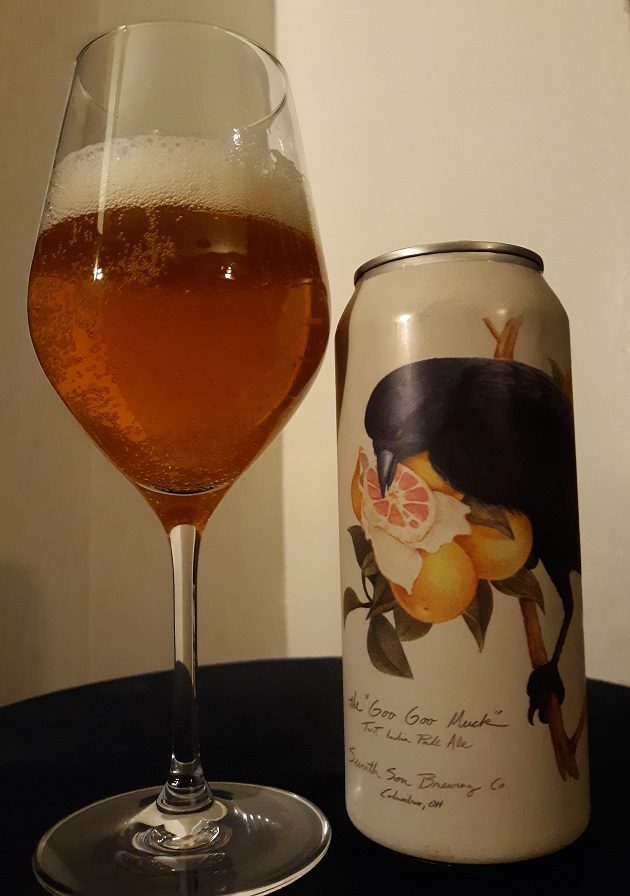 The "Goo Goo Muck" is on the milder end of the sour IPA range, with a slight, refreshing tartness that doesn't overwhelm the palate. This appealingly golden-hued beer is intensely citrus, but with gentle, floral notes of orange blossom honey and balsam fir in the bouquet. Grapefruit is clearly the dominant flavor from beginning to end, but Seventh Son works in a good deal of malty sweetness underneath it, before all gives way to a powerfully bitter citrus finish.
Good birding and happy drinking!
---
Seventh Son Brewing Company: The "Goo Goo Muck" Tart India Pale Ale





Three out of five feathers (Good).