This past Sunday I had made plans with Daisy to take two of our close friends, Kerry and Becky, to see the Great Horned Owls in Alley Pond Park.  Neither Kerry nor Becky are birders (though, if you remember, Kerry is getting there) but the idea of seeing an owl is often enough to get even non-birders interested in birding.  Kerry had the added inducement of seeing something she had never seen in a park she had visited hundreds of times while growing up in Queens.  Of course, because Daisy, Kerry, and Becky are non-birders the time of our visit didn't coincide with sunrise, though I did go early myself to make sure I had one of the owl's locations pinned down and to do some birding on my own before the four of us visited later.
When we did all go I was happy to let Kerry and Becky each use a pair of my binoculars while Daisy took over camera duties and I lugged the scope.  It was odd to be birding bereft of binoculars but the birds in Alley Pond Park in winter are highly unlikely to be something I can't identify even without optics (you know, expert birder that I am) so I felt comfortable with just the scope.  Before we reached the owl's location we came upon a mixed-species flock that gave Becky and Kerry fits as they tried to adjust to focusing binoculars on the fast-moving sparrows and juncos.  I set up the scope on a Red-bellied Woodpecker and was amused by their oohing and aahing because I had forgotten that most people haven't taken the time to look twice at a woodpecker, and even less people have had the opportunity to look at the crimson cap of a Red-bellied Woodpecker through some of the best optics money can buy.
Anyway, because the four of us were rather obviously looking at birds we attracted the attention of folks out walking their dogs or just out for an amble in the park, so, inevitably, questions about what we were looking at were fired at us.  I found that having a scope was actually much more useful than a pair of binoculars in getting people to see for themselves: binoculars have to be taken off and passed round and adjusted, whereas a scope, once it is set on a stationary bird, can be used by all merely by putting one's eye to the eyepiece.
We got to the spot where the owl was perched high up in the now-bare-for-winter-canopy and I challenged my three companions to find it.  Daisy, who has been on such expeditions before, found it relatively quickly, mostly, I think, because she knew to look for a shape up in the trees that just didn't look like natural tree.  Then I put the scope on the owl and we all oohed and aahed over the birds sharply-hooked beak and fearsome visage.
Once we were done drinking in the Great Horned Owl (no pictures because it was so high and distant and my digiscoping lens is still busted) I agreed to show them the Raccoon that I had found curled up in a tree cavity, after first warning them that all they would see was a patch of fur that stuck out of the too small hole.  Was I ever surprised to see a different Raccoon perched atop a nest box on the way to the Raccoon I thought we were going to see!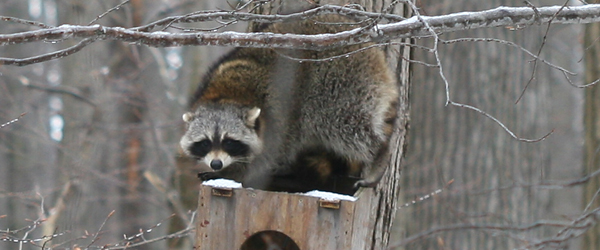 He eventually climbed into the box, and answered our wishes by giving us all the curtain call that we wanted.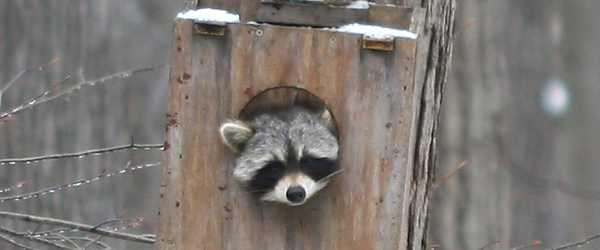 Of course, passersby couldn't help but be interested in a sight as cute as a masked bandit peeking out of the nest box like that so the scope proved its worth once again, and the two ladies that stopped were pleased as punch to get such nice looks at both the Raccoon and the Great Horned Owl.
A somewhat distant flock of sparrows held my interest for awhile (and I even picked a Fox Sparrow out of the White-throated Sparrow scrum) but little brown birds are of virtually no interest to non-birders so we continued on our way.  A juvenile Red-tailed Hawk that perched on a path side branch was another reason to unlimber the scope, and the looks we had at it, though marred by branches in the way, were still very nice.  And a cooperative Northern Flicker that was eating berries was another prize worth examining through the scope: Daisy was happy to see her favorite woodpecker and Becky and Kerry were amazed that a polka-dotted woodpecker existed, let alone in their own borough!
Of course after such an outing one needs refreshments and we enjoyed a sizable repast at the Fame Diner before Kerry and Becky dropped us off at home where Daisy and I watched the tail end of the New York Giant's dismantling by the NFC title game-bound Philadelphia Eagles (sorry, Mike, I just couldn't resist).  A not-so-lazy Sunday well spent, I do believe.