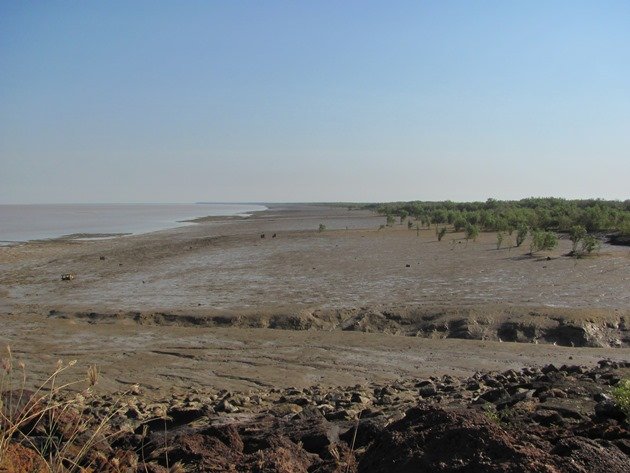 It is incredibly hard to choose the "best birds of 2017" and so this post has to be about the most memorable birds from 2017. Although we had trip lists, garden lists and various other lists we had not started the "Year List" until 2012. Somehow I got convinced by others on this website in 2012 to do one and have continued ever since and I have no regrets! We had always done a New Year's Day list and so it was just a continuation of the list for a further 364 days! It is always exciting at the beginning of the New Year and when you go on a trip, but towards the end of the year you do eagerly await the day you can start over with a new set of sheets to mark off what you see. As this post goes up the sun will have set in Broome and the birding will be over for 2017, but we have been able to add Pacific Swifts to the 2017 Year List in the past few days as Tropical Cyclone Hilda came to Broome dropping heavy rain and very strong winds. There's a bit of cleaning up to do as far as the vegetation, but the bird-life appears to have made it through the storm.
I have decided to choose five memorable birds from Australia and five memorable birds from the UK and in no particular order, because I can't choose favourites! The header photo is of the mudflats where we saw our first ever Great-billed Heron in Derby on 18th September. We had just made a decision to head over to the UK and thought we should make one more bush camping trip before we headed off. We had never actively gone searching for a Great-billed Heron and they do not come down the coast to Broome, so after consulting the tide charts we decided to go and see if we could find one. We knew any view would be distant and arriving at the wharf we had a pleasant afternoon watching the tide go out, but no Great-billed Herons came into view. The mudflats offered many birds including large numbers of White-faced Herons, but not the heron we were hoping for. On the morning of September 18th we were up early from our bush-camp and we were at the wharf as the tide turned and there in the distance was a Great-billed Heron feeding on the mudflats. We spent a couple of hours observing the bird through the scope and watching all of the other activity and questioning why we had not taken the time to sit at the wharf for a bit longer on other occasions over the years! The Great-billed Heron had to be the first memorable bird, because I don't have a decent photograph of it! One day!
The second memorable bird for Australia for 2017 has to be our first ever Sarus Cranes on July 17th. It is a long drive from Broome to Queensland and once you have got that far you may as well go the extra mile towards Karumba if you have the time! Looking at any field guide for Australia you know you will be passing through Sarus Crane habitat, but that does not mean the highway will pass through the area where they are on the day that you are travelling. We were more than delighted to discover a family of Sarus Cranes close to Normanton and then several more on the way to Karumba. Karumba was our "end of the road" before we turned back towards Broome on a trip that saw us travelling over 8000kms/4971 miles and seeing many birds along the way.
Sarus Cranes
The third memorable bird for Australia for 2017 is the Purple-crowned Fairy-wren, because not only was it an obliging pair of birds that we found at Big Horse Creek, but the cutest little bird as well! We encountered them on several occasions on the trip to Queensland and saw both sub-species.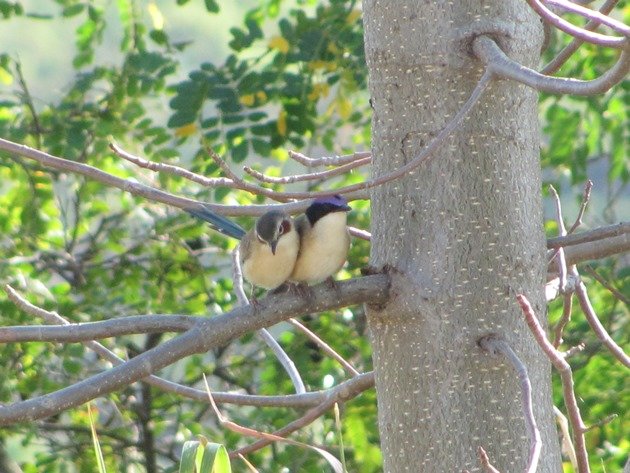 Purple-crowned Fairy-wrens
The fourth memorable bird for Australia for 2017 is the Spangled Drongo we encountered at Karumba before we headed out of town. We had spent several hours birding and had only pulled over to check emails before heading back into the bush to camp and a pair flew over and stopped nearby. If it were not for checking emails we may well have missed out on seeing this bird! It's funny how technology can assist in your birding adventures! The unexpected birds when you are otherwise distracted can sometimes be the best!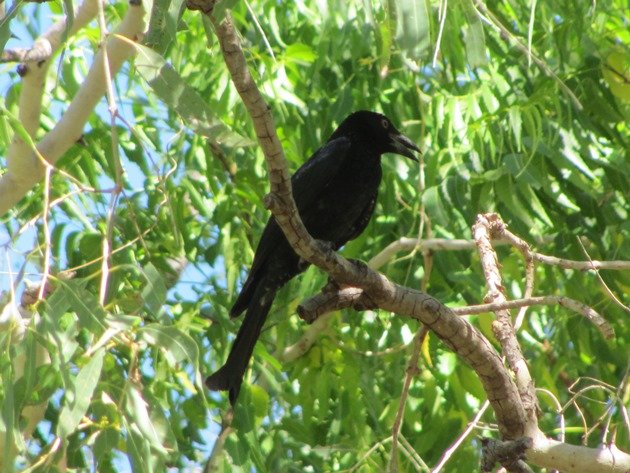 Spangled Drongo
The fifth memorable bird for Australia for 2017 is the Grey-headed Lapwing, which was also a "lifer" and had arrived in Australia while we were in the UK. It had been at Halls Creek for some weeks when we got back and by the third week of November we decided we needed to head off camping in the bush again once more before the tropical rains came and we could not do so. We did in fact get caught in several isolated tropical storms during the trip, but they were short lived and made for interesting skies! It would not have mattered if we had gone away camping and not encountered the Grey-headed Lapwing. It is an interesting time of year to head bush and bird anyway, but of course we were very happy to be able to spend a few hours observing it. Reading the Asian field guides we probably had a better chance of finding a Grey-headed Lapwing on that day in November in Australia than heading overseas in search of one!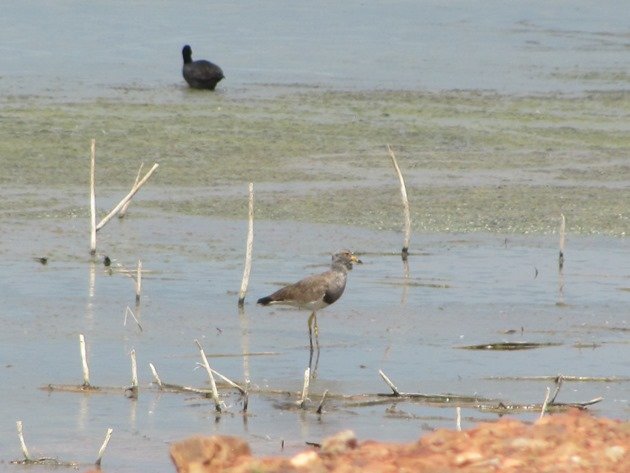 Grey-headed Lapwing
Choosing five birds for the most memorable birds for 2017 in the UK is just as hard, so I will start with the Common Kingfisher that was so hard to photograph last year during our visit. To observe one briefly on our first few hours in the UK with my Mum was a privilege and to then be able to sit watching one so close to the bird hide at Killingholme Haven Pits was an honour!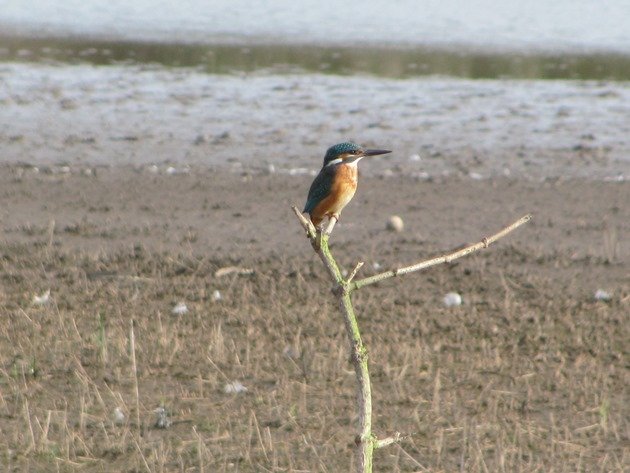 Common Kingfisher
The second most memorable bird for the UK for 2017 has to be the Long-billed Dowitcher on October 9th, because it was a "lifer" and we had not actually gone looking for it! It just goes to show that you can go walking in less than ideal weather and come across the most amazing birds! It can become problematic as you try and write the birds you see in your notebook as the rain starts to fall!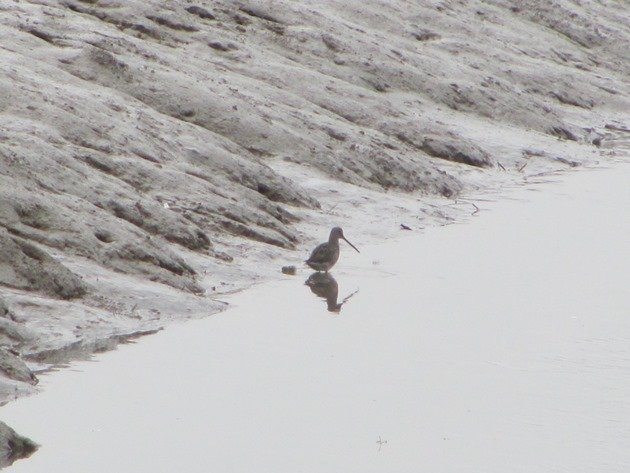 Long-billed Dowitcher
The third most memorable bird for the UK is the Black-tailed Godwit individually marked with colour bands. It is a memorable bird, because not only had we encountered it the year before, but it was marked on 11th August 1998. The full history of the resightings of this Black-tailed Godwit are listed here and we hope we are able to encounter it in the future when we visit the UK.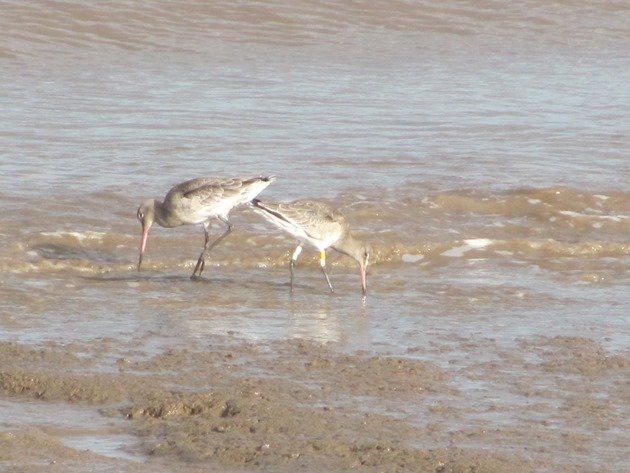 Individually marked Black-tailed Godwit
The fourth most memorable bird for the UK is a Brambling. We were walking and birding at Spurn National Nature Reserve on 10th October and my Mum was just ahead of us. We were heading out towards the lighthouse at Spurn Point when Mum stopped suddenly, because she had a bird feeding at her feet. We soon joined her to see a Brambling picking away at the track that used to be the road until the point got washed out a few years ago. The Brambling had most likely just arrived in the UK and was eagerly feeding and it was the only individual we saw in the UK. It was the beginning of the colder weather and we were just starting to see the arrival of many birds from further afield including Stonechats, Redwings, Fieldfares and Goldcrests.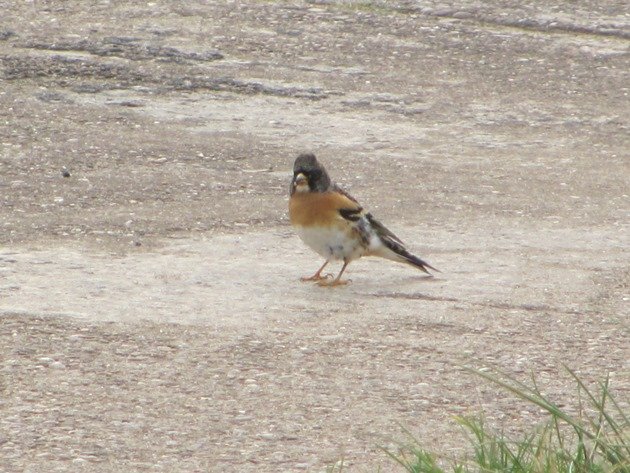 Brambling
The fifth most memorable bird for the UK is a Barnacle Goose. We had decided to head to Frampton Marsh RSPB on October 26th, which we had done on exactly the same date in 2016. My Mum had not been birding there before and she had also never seen so many geese and ducks! Although there are good numbers where she lives near the Humber River there are also numbers congregating at Frampton Marsh in October. We had encountered a lone Barnacle Goose among the Canada Geese on October 26th 2016, so we eagerly scanned the large flocks of geese for that one lone Barnacle Goose on October 26th 2017. There it was! We all wondered if it was the same individual as the year before! We also went walking and birding at Freiston Shore RSPB later that afternoon and discovered two more Barnacle Geese, so they were starting to arrive in the UK in that area.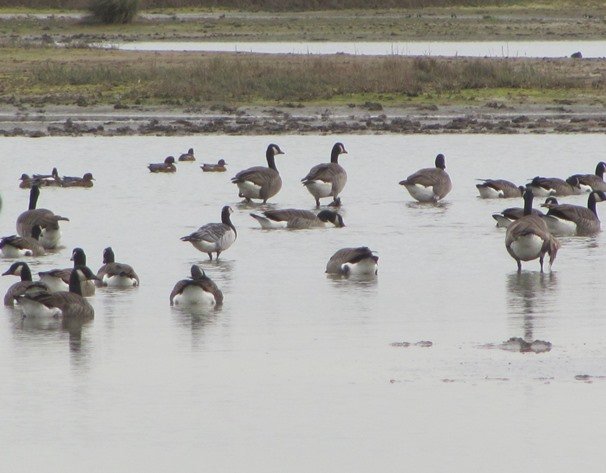 Barnacle Goose among Canada Geese
I apologise to all the other birds that I saw that could not be included when I had to choose ten memorable ones!
So, a New Year starts and a New List starts…..
Happy New Year to you and your families and may you all have good health and good birding memories!!