Besides birding, I have another hobby that I like to indulge when I travel: seeking out books from small regional presses. Nearly every town with a souvenir shop has a book or two about the local ghost stories, true crimes, battlefields, and the like. Often they lack polish but make it up in character, being labors of love by the same sort of people who run one-room Historical Societies. Other times, they turn out to be small hidden gems of literature.
Overlap between this hobby and my birding is sadly rare. Small-scale birding literature in the haunts I frequent is often limited to a checklist and perhaps a second pamphlet listing local hotspots, with a hand-drawn map. But occasionally one does stumble across a fine work in the local ornithology genre.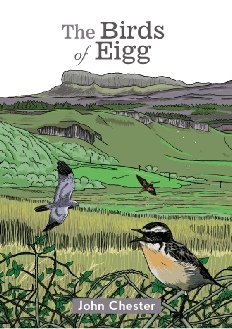 The Birds of Eigg is such a book. As the titles implies, this is an account of all the birds of Eigg, an island of the Inner Hebridies near Skye in Scotland. Author and Scottish Wildlife Trust ranger John "Bird" Chester has patrolled the island for nearly three decades. His personal fieldwork, supplemented with research into records dating back to 1794, are melded here to create not merely an exhaustive list of recorded species with notes on their status, dates, and population trends, but a portrait of a patch. Chester is a "nerd" in the best sense — his patience, attention to detail, and commitment to completeness shine through in every species account, from the common breeders like Great Tit and Snipe to one-off visitors like Gadwall and the introduced, then extirpated, Golden Pheasant.
Chester delves deeper into some high- and low-lights of his tenure on the island in a brief Reflections section that verges on memoir — from a frantic bicycle ride across the island for a brief view of Black-headed Bunting to the football (soccer) match that led him to miss the island's second recorded Arctic (Hoary) Redpoll — a match his team lost, and for which the only consolation was that he'd found the first Redpoll himself. A nice touch is that we also get glimpses of the author from the outside, with short reminisces by Scottish Wildlife Trust volunteers and Eigg locals who know him well. After three decades, birder and patch have become thoroughly identified with one another in a way that speaks to comfort, permanence, and the building of wisdom. Every island, park, and Patagonian picnic table should have a tribute this loving.
Indeed, my only complaint about this book is that, having not visited Eigg myself, I can't in good conscience put it on my shelf of souvenirs. I may have to visit the island myself — which was perhaps the cunning plan all along.