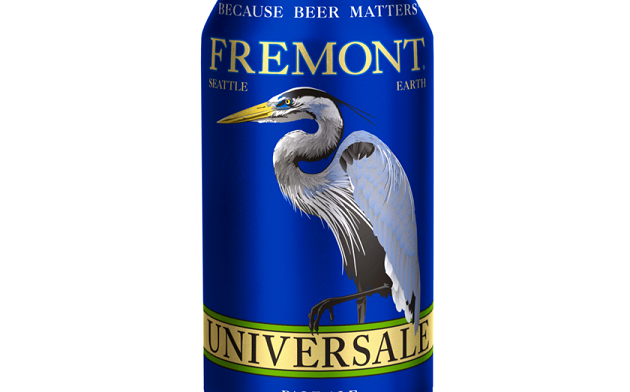 In upstate New York (where I call I home and do most of my birding), Great Blue Herons serve as both augurs of spring and emblems of wintertime perseverance, depending on the year. In my last seven years living here, I've seen one on New Year's Day counts twice. I assume these have been especially hardy birds eking out a living wherever they can find open water for another week or so, before the deep freeze of midwinter sets in and sends them further south.
But it's more often the case that I see my first-of-year Great Blue Heron in late March or even early April. Sometimes they show up in February if we get hints of an early spring, along with Turkey Vultures, Killdeer, Red-winged Blackbirds, and a few other eager and opportunistic early migrants.
I knew for sure I hadn't seen a Great Blue yet this year, but the heron on the can of this week's beer – Universale Pale Ale by Fremont Brewing of Seattle, Washington – reminded me just how long it's been. Turns out I haven't seen one since locally since late July! I don't know what I must have been doing to miss such an unmissable bird all of last fall.
Fremont Brewing is located in Fremont, a neighborhood of Seattle and formerly an independent city. The residents there have been calling their part of town "The Center of the Universe" since the 1970s, and that claim was the inspiration for this pale ale by the local Fremont brewery. There's even an impressive signpost at the spot, along with a proclamation from the county council, which states "the Metropolitan King County Council plainly postulates and proclaims Fremont to be the Center of the Universe, indeed, and hereby supports Fremont in its gallant endeavors to apply to the United Nations for sovereign status under international law." If that pronouncement isn't credible enough for you, the helpful Fremont signpost lists accurate distances to destinations such as Atlantis and the Bermuda Triangles for wayward passers-by.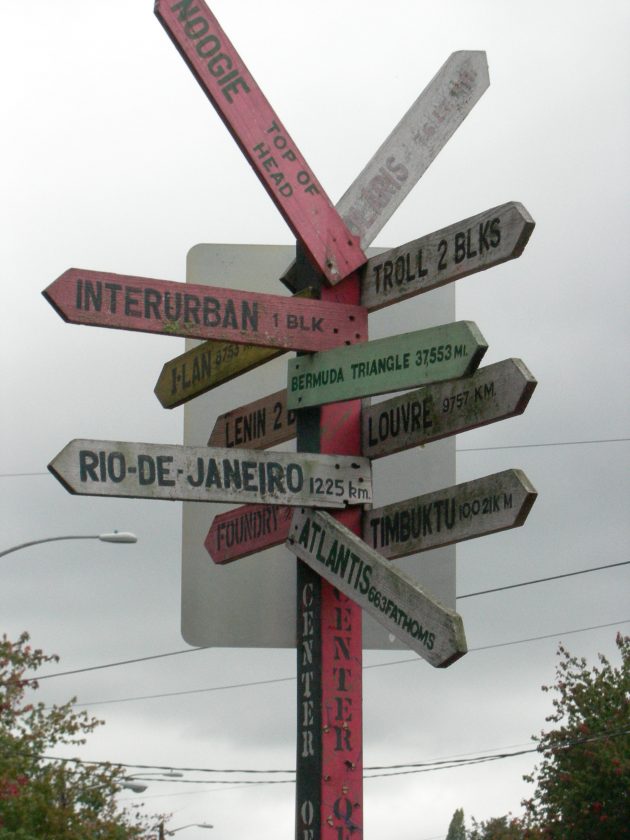 You can get there from here: the whimsical signpost planted at the Center of the Universe in Fremont, Washington.
Apparently, the rationale behind this Seattle-centric model of the universe is the conviction that it must be true since no one can prove that it's not. Well, the cosmological principle of modern physics states that the universe is homogenous and isotropic, and therefore lacks a definitive center. But we won't let science get in the way of Fremont's claim – which is actually one of the better ones from the many places on earth that claim this distinction. (Consider, for example, the assertion by Irish radio and television broadcaster Terry Wogan that Wolverhampton, England is the center because bathtub water there drains straight down the plughole.)
I assumed a site as important as the axis mundi would also merit being an eBird hotspot, so I checked: it isn't. There is, however, an eBird hotspot for the Geographical Center of the Continental United States, so be sure to submit a checklist next time you're in that part of Smith County, Kansas. There's also an eBird hotspot for one of the best-known claimants to the title of The Center of the Universe: Times Square in New York City – though with eight species recorded, it certainly didn't earn this title based on avian diversity or abundance. (And yes, three of those eight species are Rock Pigeon, European Starling, and House Sparrow.)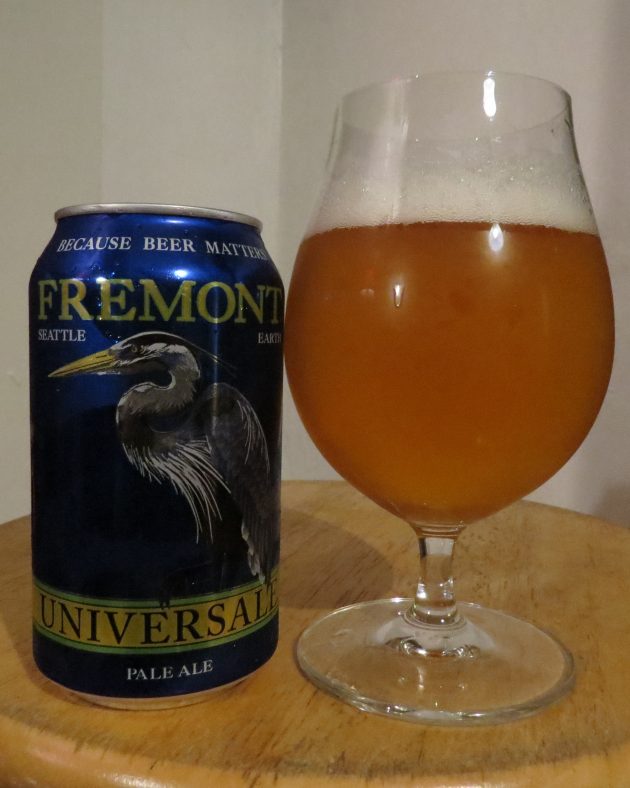 That being the case, let's return to Fremont in the Pacific Northwest, where Great Blue Herons are quite common along the Fremont Cut, a narrow canal that runs through Seattle between Lake Washington and the Puget Sound. The Fremont brewery stands on the north shore of the canal, and I imagine it's a wonderful spot to watch the birds go by while enjoying their Universale Pale Ale. This hazy gold beer is hopped with the Centennial and Simcoe varieties, offering aromas of orange flower water, candied citrus, and a woody touch of cedar that match well with its sweet bready malt. Universale has a wonderfully biscuity flavor with the soft, stone fruit sweetness of dried apricots, light hints of caramel, and a pithy but not overly bitter finish, making this a refreshing beer for year-round enjoyment, regardless of the seasonal presence of Great Blue Herons.
Good birding and happy drinking!
---
Fremont Brewing: Universale Pale Ale





Three out of five feathers (Good).
This can of Fremont Brewing Universale Pale Ale came to me courtesy of fellow 10,000 Birds beat writer Jason Crotty – thanks once again for your generosity, Jason!