The first ever documented nesting of Common Ravens in New York City ended successfully, with all three nestlings becoming fledglings.  The happy change in status from nest-bound birds to flappy free fliers occurred over the last week, with the birds leaving the nest on May 31 and walking along the water tower support on which their nest was built and gradually branching out from there.  Yesterday morning, June 7, was the first day that no ravens were detected at the nest site, despite my assiduous efforts.
A parent myself now, and proud of each and every new action my son takes, I can't help but wonder if inside the minds of Corvus corax parents there isn't some pride as well.  After all, raising kids anywhere is hard enough, and successfully raising kids out-of-doors in New York City on a diet of scavenged food can't be the least bit easy.
Below is the last decent shot I got of any of the ravens; in it a freshly-fledged youngster begs for food from an adult while one of the fledgling's siblings watches from the nest.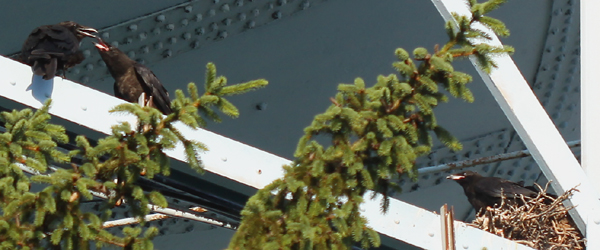 I can only hope that the ravens return to nest again next year, as they reportedly did last year and they obviously did this year…after all, who can resist nesting ravens?
For those who want to see some better images of the youngsters go check out Fotoportmann.