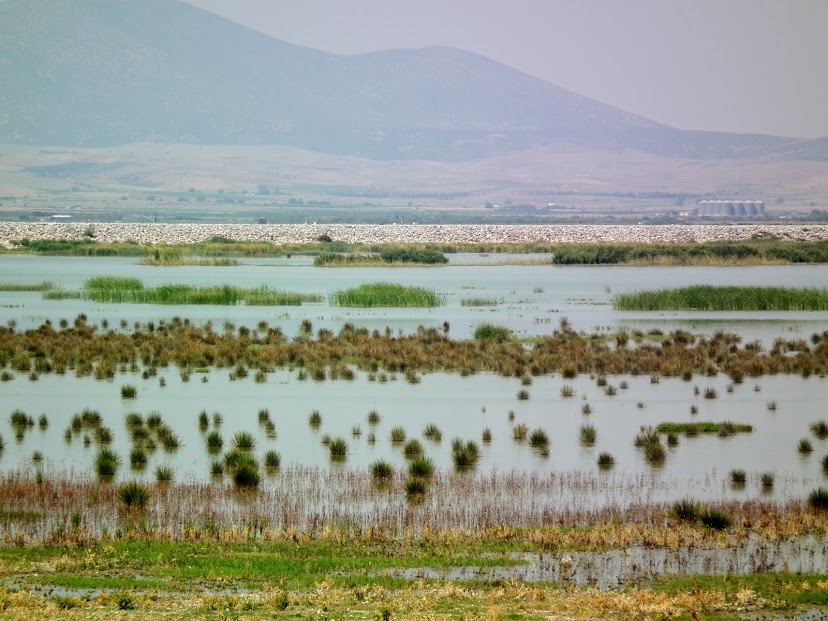 I was tired, as if it were my shoulders that held the sky suspended… So much so that I made no birding plans for this vacation. Oh, I brought the binoculars, all right, which birder in his/her sane mind leaves home without them, but we were going to a peninsula with no obvious birding spots, and most birding would be done by accident, from the roadside.

And then, a few days ahead of our trip, a British birder Clive Mason left a comment under my old blog on birding Lake Karla, just north of the Pelion Peninsula in central Greece, saying that he wouuld be in the area next week.

If it weren't for Clive, I would probably miss the opportunity, but a week later we were there together. Formed in a tectonic depression at the beginning of the Quaternary period, 2.58 million years ago, this wetland occupied most of the eastern part of the Thessaly Plains. It was shallow, with depths not exceeding 2 m / 6.5 ft, and depending on the season, its surface area fluctuated from 40 km2/15 mi2 to 180 km2/70 mi2.

In 1960s, under the wheels of misguided progress, it was drained. It was only then that the local farmers learned the soil was too salty for good yields. And all that water and the environmental services coming with it, were lost.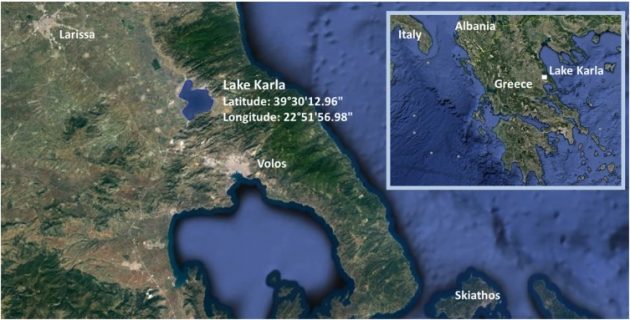 With EU funds, the restoration started in 2009 when embankments were built to create one large and six more small reservoirs. What is now recreated of the lake where the god Apollo was married and where the Argonauts built their kingdom is officially called the Reservoirs of the former Lake Karla. The lake IBA has about 230 so far eBirded species. It was an odd feeling to be back at the "former lake" which I birded in 2017, way before the pandemic. 

We started at the southernmost corner, birding all the way to its northern end (all but the western embankment). The day started with one of the very best birds, a juvenile Masked Shrike well seen several metres away (later we will see another juvenile, do adults start migrating earlier?). A Cirl Bunting, several of many Northern Wheatears of the day, a Blue Rock Thrush (that only Clive saw!), Red-rumped Swallows, a Crested Lark, several Red-backed Shrikes (both adults and juveniles), Eurasian Golden Oriole, several Lesser Kestrels, Syrian Woodpecker, Short-toed Eagle, Western Marsh Harrier, Eurasian Spoonbills and a Squacco Heron, Pygmy Cormorants (a lifer for Clive), one Mediterranean Gull, Redshank, Greenshank, European Turtle Dove…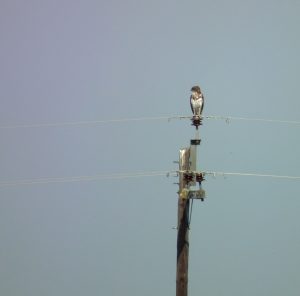 From the south, we moved to the eastern embankment, driving along the dirt track underneath it: Whinchat, European Bee-eater, two Short-toed Eagles, one posing on an electricity pylon just ahead of us (right), then a dead, electrocuted White Stork hanging from the next one, Common Ringed Plover…

And from there, we tried to find some tavern to refresh ourselves in the nearby village of Kanalia, but there were none to be noticed, so we headed north. A middle of the road stop inside (almond?) orchards for Black Redstart, Spotted Flycatcher, several Willow Warblers and one Eurasian Reed Warbler, three Sombre Tits. At Pirgos Point, farther north, there were a Black Stork, Collared Pratincole, several immature Greater Flamingos, Dunlins and Little Stints. And on our way back, another Lesser Kestrel and a Levant Sparrowhawk.

A great day, thanks to Clive. Checking the eBird now, a bunch of local birders visited the lake a dozen days later, to find 200 Spanish Sparrows, Eastern Black-eared Wheatear, Western Rock Nuthatch, Sardinian and Cetti's Warblers, Zitting Cisticolas and Calandra Larks, Woodchat Shrike, Caspian Tern, Temminck's Stint – that we dipped! Now I feel like going back!!