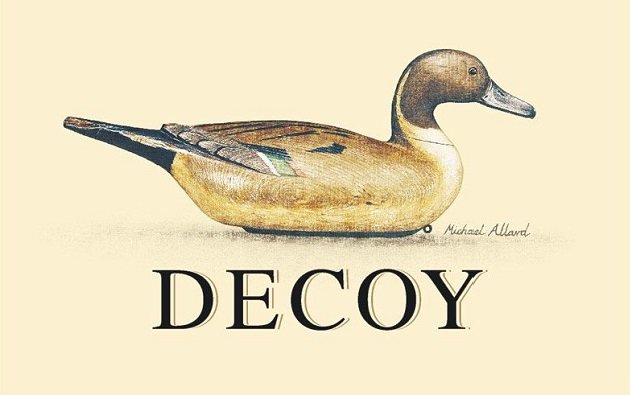 This just might be a birding joke as old as the hills, but it's one I hear without fail every year come Christmas Bird Count season in upstate New York. Not long after the compilation gets underway starting with the order Anseriformes, we come to Aix sponsa and the compiler asks – hopefully – "Any Wood Ducks?"  Now, Wood Ducks are somewhat uncommon in eastern New York in winter and after an inevitable few seconds of silence, some smirking wisecracker pipes up with "Do wooden duck counts?" At least this joke tends to come with a warning, as it's usually the work of the same wag who responded to the request for Mute Swan counts just moments before with "Yes – heard-only!"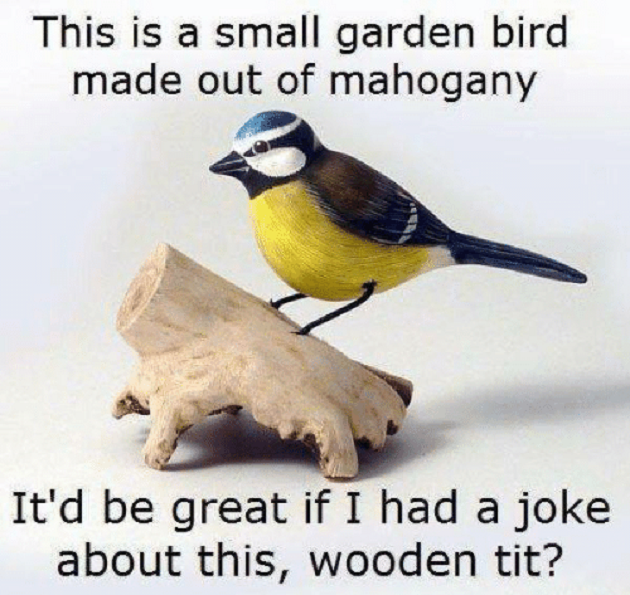 Dad-level bird jokes are right at home at Christmas Bird Count compilation dinners.
It's a corny joke, of course, but it makes me wonder if any duck decoys have ever actually been erroneously counted in the 119-year history of the Christmas Bird Count. I suspect it's quite possible. I'll admit to being momentarily faked out by the plastic owls that people put out in a futile attempt to ward off crows, which demonstrates that decoys work on birders, if not on birds themselves. It's also worth noting that decoys need not be particularly realistic, or even designed as decoys to begin with, a fact attested by the many double-takes suggestively-placed plastic bags have elicited from me and my binoculars.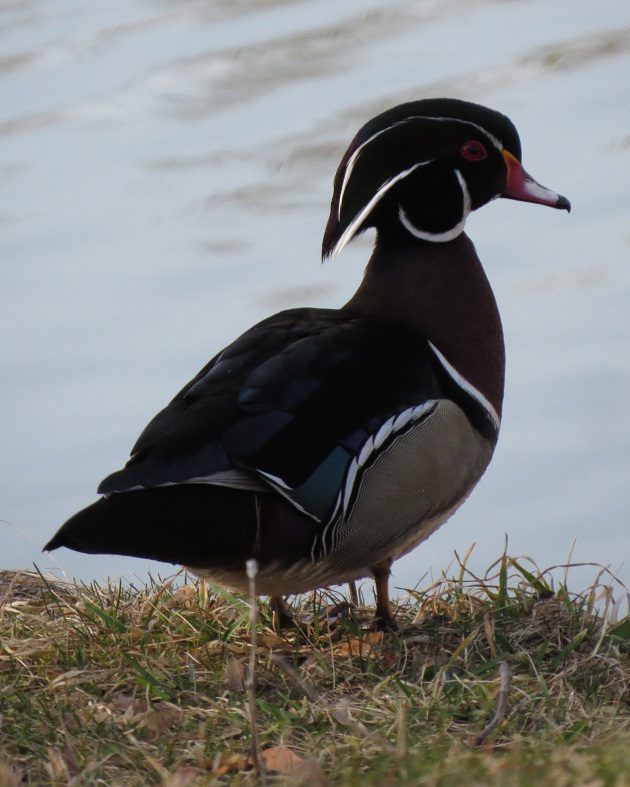 Not a fake drake: Sometimes I can tell the difference between a Wood Duck and a wooden duck.
Originally, a decoy was a closed-ended wickerwork tunnel used to catch grounded wild ducks by driving them into this trap with dogs. This form of woven snare was introduced in England from Holland in the 17th century and the English name is in fact a corruption of the Dutch de kooi, meaning "the cage". Eventually, the name came to be attached to another kind of game hunting device with which we're more familiar today: life-sized wooden carvings of waterfowl floated on water to fool birds into landing within range of nearby hunters lying in wait.
Over time, the word "decoy" has lost its fowling connotations and has come to mean any kind of trick or fakery. It's also the name of a line of wines produced by Duckhorn Vineyards of St. Helena in California's Napa Valley. Decoy wines are notable in being made to enjoy upon release, along with a modest price tag that belies the good quality of these young vintages. The playful name admits the ruse, of course, and Decoy might be commended for their honesty.
As objects, decoys too have outgrown their modest origins, evolving from rugged articles of hunting gear to greatly revered pieces of decorative folk art, with the finest examples boasting sophisticated artistry and sculptural detail of impressive ornithological veracity. They're even big business in the world of fine arts and antiques: for instance, one Red-breasted Merganser decoy fetched a record $865,000 at auction at Christie's in 2007.
Given the improbable rise of the decoy from humbly whittled hunting tackle to six-figure, high-society collectable, it isn't  surprising that a handsome painting of a Northern Pintail (Anas acuta) decoy adorns the labels of each of Decoy's wines. But there's more historical cachet to this story than an artfully carved model duck. This particular figure was carved by Richard Ludwig "Fresh Air Dick" Janson, a legendary California carver who earned his nickname in his days as a seafaring fisherman in Alaska for his strange penchant for sleeping on the main deck no matter the weather. Eventually, Janson settled in northern California and lived on his "ark", a boat he beached in the tule marsh near the mouth of the Sonoma Creek on the edge of the San Pablo Bay. Here, Janson lived a reclusive life as a fisherman, hunter, and carver, fashioning duck sculptures out of California redwood that are now prized by collectors as the finest examples of Pacific coast decoy art.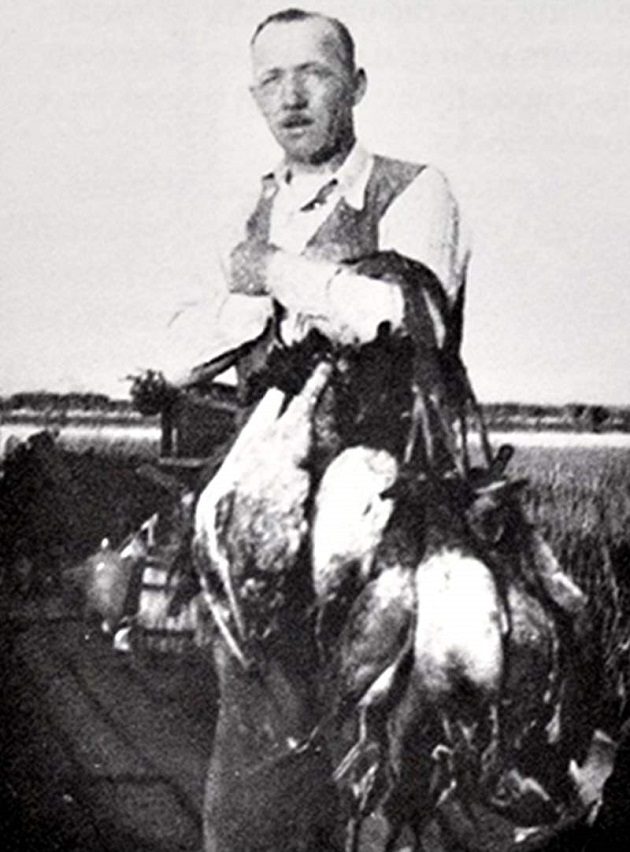 Raider of the Beached Ark: "Fresh Air Dick" Janson with a collection of  "study models".
Unfortunately, Janson's ark caught fire in 1951 and he died later that year at the Oak Knoll Sanitarium in Santa Rosa. The Richard "Fresh Air" Janson Bridge that carries California State Route 37 over the Sonoma Creek in what is now San Pablo Bay National Wildlife Refuge is named for this colorful carver. I wonder if the wizened hermit would be more amazed by the two-lane highway bridge named for him, or by his art appearing on a $20 bottle of red.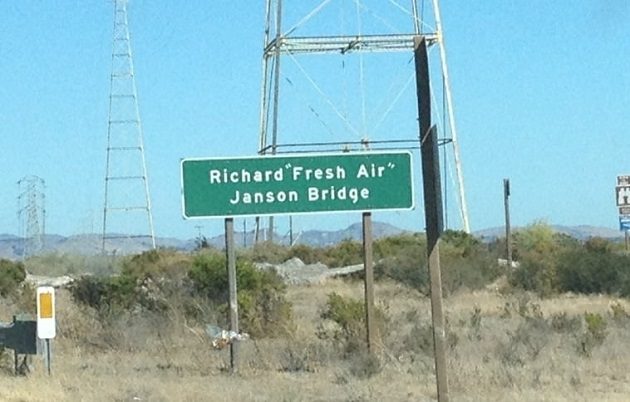 This bridge really does exist. Also, not too far from the bridge sits an isolated outhouse in the middle of the marsh known as "The Lone Toilet", which seems to be a bit of a local landmark – and probably a godsend to any CBC teams in the area.
Decoy is based in the Napa Valley,not too far north of "Fresh Air" Janson's bridge. Their 2016 Cabernet Sauvignon is a blend of several red wine grape varieties, principally Cabernet Sauvignon, with some Merlot, Petit Verdot, Petite Sirah, and Cabernet Franc. It's pleasantly complex and well-rounded red for its age, offering robust cherry and blackberry aromas laced with a bright menthol and pepper notes. The palate is deeply fruity and juicy, with a hint of warming cinnamon spice and a smooth cocoa sweetness offset by gently oaky tannins. Cabernets like Decoy with a balance of acid and tannin tend to pair well with stewed tomatoes and spice, making this wine a good choice for your Christmas Bird Count chili potluck. At the very least, a glass or two might make the corny jokes somewhat more tolerable.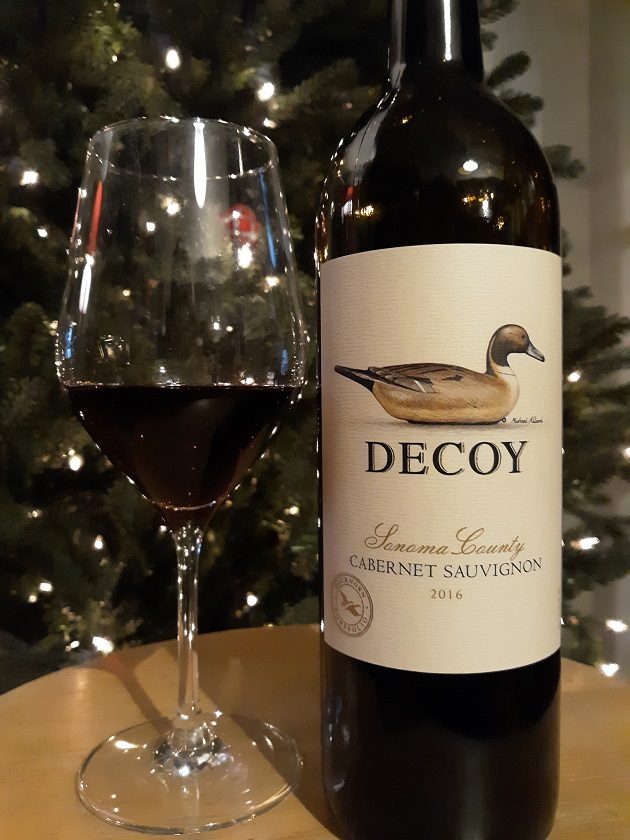 Good Christmas Bird Counting and happy drinking!
(And be sure to watch out for those wooden ducks and bad compilation jokes!)
---
Decoy: Cabernet Sauvignon (2016)





Four out of five feathers (Excellent).