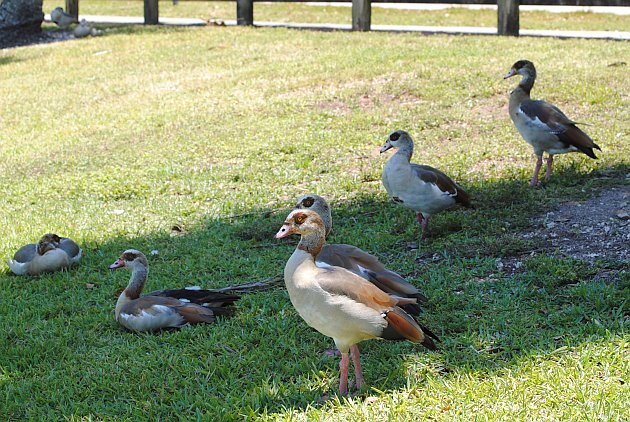 In February of 2013, I wrote a piece outlining my thoughts on which exotic bird species should be added to the American Bird Association (ABA) checklist.  My number one choice at the time was Egyptian Goose (Alopochen aegyptiacus), an adaptable sheldgoose from Africa that was rapidly becoming established in peninsular Florida. In 2014, the Florida Ornithological Society Records Committee (FOSRC) voted to add this species to the Florida state list. The ABA Checklist Committee quickly followed suit.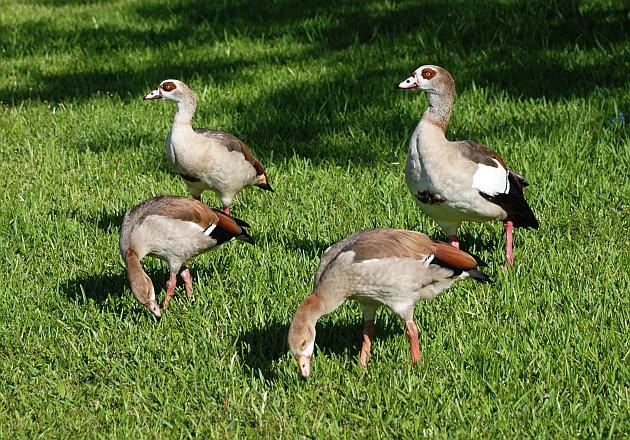 Egyptian Goose parents watching over nearly fully grown goslings. They are excellent parents!
This species continues to expand and consolidate its range within peninsular Florida, and it is reasonable to think that this bird will colonize the southern two-thirds of the state within the next ten years if left unchecked. Outside of Florida, there are also growing populations in Los Angeles, San Antonio, and Houston. With its proven track record of adapting and spreading in areas with cold winters such as Germany and England, it might even be able to colonize large portions of the southern United States.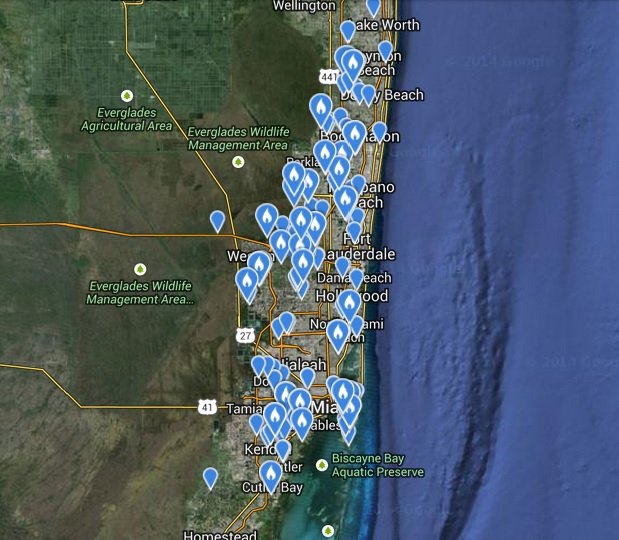 Egyptian Goose sightings submitted to eBird in 2011-2012.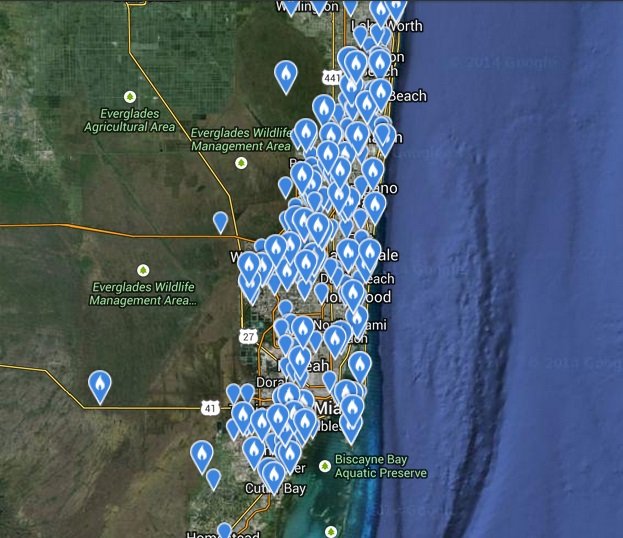 Egyptian Goose sightings submitted to eBird in 2013-2014. This species continues to increase and consolidate its range in southeast Florida from Homestead to Vero Beach. 
The 10,000 Birds readership also suggested Scaly-breasted Munia (Nutmeg Mannikin, Lonchura punctulata) as another likely choice for the next ABA-countable exotic. They were right! In 2013, California voted to add this tiny estrildid finch to the California state list, and the ABA Checklist Committee also followed suit. There is also a survey underway in the northern Gulf Coast from Biloxi, Mississippi to Pensacola, Florida to quantify the population size of this bird in that region.
So what is the next ABA-countable exotic? In 2013, I suggested Yellow-chevroned (Brotogeris chiriri) and Mitred Parakeet (Psittacara mitrata) as my second and third choices. With a long historical presence in the city and an expanding population, Yellow-chevroned Parakeet seems to be the most likely choice from a Florida perspective. This parakeet is gradually expanding northward into areas previously occupied by the ABA-countable White-winged Parakeet, a close cousin and likely competitor for food and nest sites. For example, flocks of White-winged Parakeets around Miami International Airport now also contain an increasing proportion of Yellow-chevroned Parakeets — this was not true a few years ago. Furthermore, this little parrot has another aspect going for it. Although most parrot species persist only in urban and suburban areas, this small parakeet also occurs in agricultural areas of the Redlands and Homestead in southern Miami-Dade.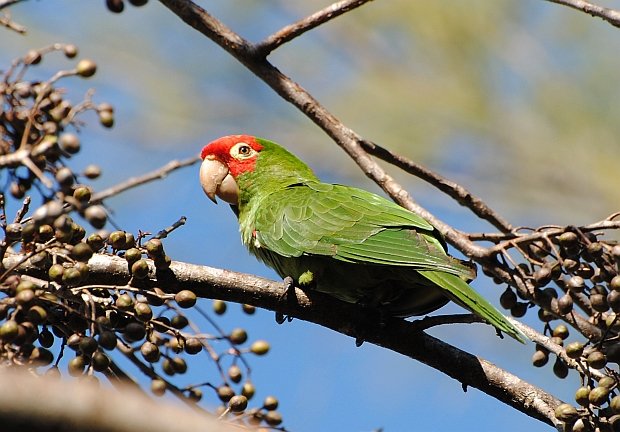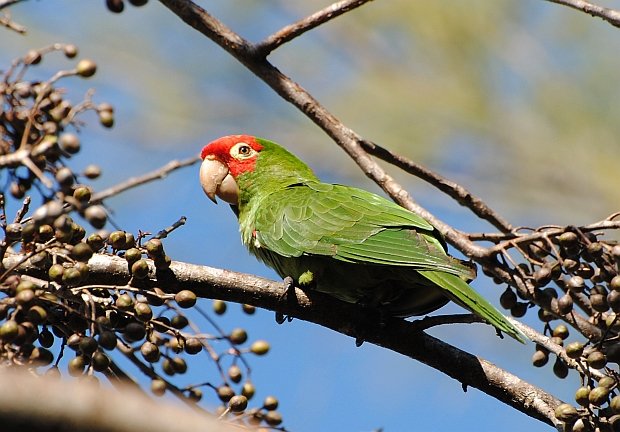 Red-masked Parakeet is found in several major cities in California and Florida.
The large parakeet populations in southeast Florida are gradually increasing while simultaneously becoming less diverse as certain species compete for limited resources (particularly nest sites) better than others. Who are the current winners? The populations of the following are the most robust in southeast Florida: Blue-crowned (Thectocercus acuticaudatus), Mitred, Red-masked (Psittacara erythrogenys), and White-eyed (Psittacara leucophthalma) Parakeet. Red-masked Parakeet, a near-threatened endemic of southwestern Ecuador and northwestern Peru, has sizeable population clusters in San Francisco, Los Angeles, San Diego, Miami, and Fort Lauderdale. These are the famous parakeets of the documentary The Wild Parrots of Telegraph Hill, which is based on the population in San Francisco. Perhaps not as widespread but perhaps more numerous overall, Mitred Parakeet has a population in Los Angeles as well as a very large one in the Miami area. In fact, the sheer size of the roost (several hundred) at Dadeland Mall in Miami is a spectacle one should not miss when visiting the area, whether they are countable or not.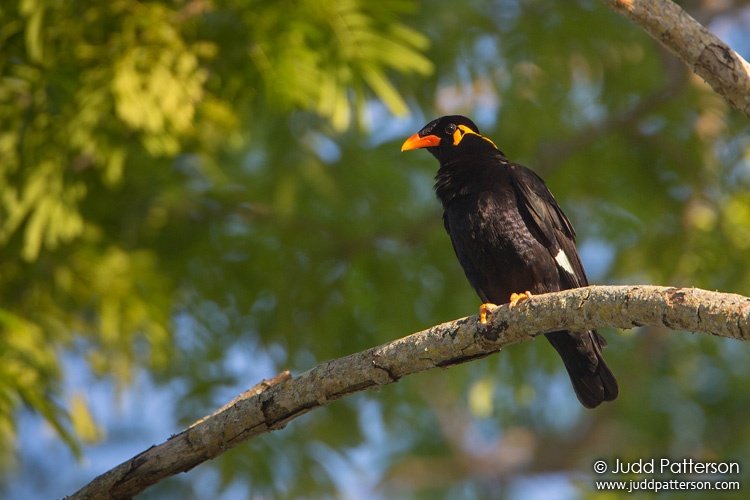 The range of Common Hill Myna in southeast Florida has been slowly contracting.
Outside of the parakeets, the colorful Northern Red Bishop (Euplectes franciscanus) from Africa is a widespread resident of Los Angeles and Orange County in California with a large breeding population that has been around since the 1970s. This popular cagebird also seems to have a toehold in the Houston area. Although present since the early 1970s in southeast Florida, Common Hill Myna (Gracula religiosa) is now limited to a core population of about a hundred individuals in the southern half of Miami-Dade from Coconut Grove to Cutler Bay wherever there is an abundance of lush, tropical vegetation. The type of habitat where it persists in Miami-Dade simply does not exist further north, ensuring that its range and overall population will always remain small.
So what do you think will be the next ABA-countable exotic? Discuss!
If you would like to make a trip to southern Florida in search of Caribbean specialties, exotics such as those mentioned in this article, or general birding, please visit my webpage at www.ecoavian.com or contact me by email at csanchez1230@gmail.com to inquiry about my guiding services.