The last month has been rather hectic. We have just completed the MYSMA (Monitoring Yellow Sea migrants in Australia) summer counts on 80 Mile Beach, which were done in both November & December. It looks like we got it just done in time, as since then we have had some real rain! The Eurasian Curlew was present once more & I had found the Semipalmated Plover on the beach near the Demco Reserve on 9th November, so several people have "twitched" it since! It was still there yesterday if you need to see it! It had been at the "Poo Ponds" since October 2009, but its pond had dried out and I am pleased I found its new location – much better for photography! The Red-throated Pipit first seen by George Swann on December 5th was also still here yesterday – Broome is the place to be for rarities!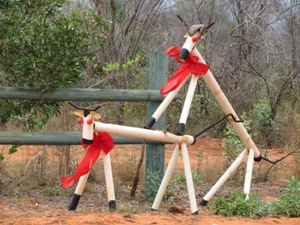 If you venture up to Coconut Wells on the bitumen
you will see someone has the Xmas spirit!
As most of you know we have been busy monitoring the 23kms of beach from Gantheaume Point to Willie Creek south side since July. We were really thinking we were going to have another bad year until I found we finally had a chick from the old bird (banded in 1992 as an adult) at Coconut Wells in November. When you keep an eye on 16 pairs and see up to 60 eggs get laid and lost in a season it can be rather depressing.
On December 5th in between counting at 80 Mile Beach & the Bay we were optimistic and went to see if we still had a chick. There is nothing better than the abuse you get from a pair of Pied Oystercatchers when they have a chick to warn that there is a mad cyclist or crazy walkers on the beach! It has become one of my favourite sounds this year! The bird has now got a flag K5 & we are looking forward to seeing it's movements over coming months & years. The chick from Coconut Wells in 2008 was given flag Z6 & one of it's parent is E3-it lives with other young birds at Bush Point, on the far side of Roebuck Bay. The chick from Cable Beach in 2007 has a flag L1 & is also there. There were over 400 Pied Oystercatchers present on 7th December, so that is encouraging despite the poor breeding success on our section of beach.
We will now show you the importance of the reef at Coconut Wells & what a great food supply it is for the birds there. The Pied Oystercatchers are there throughout the year & the food source is obviously a good reason not to go anywhere else!
Here is K5 on December 5th …..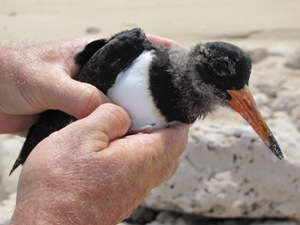 Here is K5 one week later…now this bird has done some serious eating & growing this last week & will be flying before Xmas!
If ever we need evidence of how important the reef is & the food it provides I do think we have it right here!
The day before we put a flag on at Coconut Wells we were 69kms south on 80 Mile Beach and two weeks earlier there had been a Pied Oystercatcher chick that we thought would have a good chance of survival. It was already able to fly short distances, but a plain yellow flag and a metal band were put on, so we can also monitor the movements of this bird over coming years. We never thought we would ever band two Pied Oystercatchers two days in a row-even if it was over 300 kms apart!
We are so pleased we can end the season on a good note & K5 will most likely stay at Coconut Wells for about 3 months, like Z6 did, & then venture around the coast to look for the large flock. How many years until they return to Coconut Wells? Well, looks like there's a lot more cycling & walking to be done for years to come!