It seems like everyone I know has gone back to school. Tom, the birder who has shown me more life birds than any other, is home from surveying school for his spring break and we went out looking for birds this morning before I had to go to work.
Birding with Tom is a pleasure. He knows pretty much every sound that local birds will make so at the end of a birding session with him I always end up having experienced more birds than if I was alone. I've yet to catch him on a misidentification and he doesn't mock me (too much) when I miscall a bird. Not even when I was just getting into birding and got all excited over hearing a Mourning Dove's call because I thought it was an owl.
So we met at sunrise at Five Rivers EEC and walked the paths. Song Sparrows, Northern Cardinals and Red-winged Blackbirds were the most common species but we saw many other passerines. We logged the first Green-winged Teal and Hooded Mergansers of the year at Five Rivers when we saw a pair of each on the Beaver Pond and also had a Tree Swallow and an Eastern Phoebe.
We watched five pairs of Canada Geese each defending their part of the pond while the teal tried to stay out of their way. Then an American Woodcock flushed and we figured we wouldn't see anything cooler than that so we went over to Papscanee for a brief visit.
En route we spotted this partially leucistic American Robin: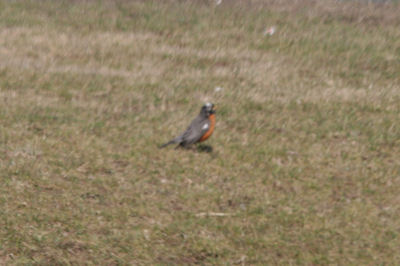 I had never seen such a robin but I understand that it is not uncommon for a robin to be leucistic. Its odd appearance didn't seem to phase it one bit and it interacted with other robins in a normal way. I have to assume though, that if a predator were to pick one robin to focus on, it would be this one. It's tough to be the oddball in nature! On to Papscanee!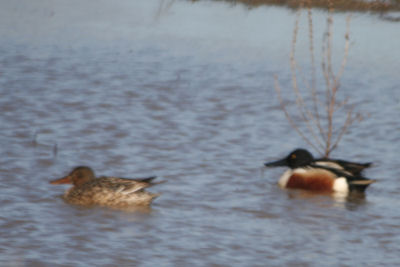 Pair of Northern Shovelers at Papscanee
There weren't as many waterfowl around as yesterday evening and the number of Killdeer was way down as well. The remaining waterfowl, however, were much less skittish, allowing us to carefully examine them looking for rarities. Other than the shovelers above, a Bufflehead on the Papscanee Creek, and the hybrid below, there was nothing new since yesterday.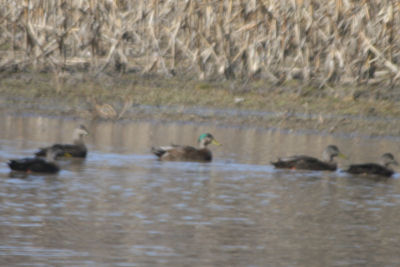 Mallard X American Black Duck (the one in the middle)
I confirmed the identity of the hybrid duck by visiting Charlie's hybrid Mallards page, not that I really doubted Tom's call.
Other than adding my first Belted Kingfisher of the year in New York that was about it. A good morning's birding in good company with a total of 41 species.